The growth here and in other rural recreation spots follows the "people first, jobs follow" model, said Bryce Ward, an economist at the Bureau of Business and Economic Research at the University of Montana. Retirees, rich professionals, telecommuters and entrepreneurs are some of the groups that are driving the growth, Ward said.
"A lot of people get off the plane and say, 'This is nice,' and some find a way to stay," Ward said.
That's what McAllister, a competitive bike rider who works as a dentist in Kalispell, did. Originally from Great Falls, more than 200 miles southeast of Kalispell, McAllister left for college and to serve in the U.S. Army. He moved back to Montana two years ago so he could let his dogs run around off leash and go on hourslong bike rides through secluded, serene forests on workdays.
"You are definitely going to make more in a city," he said. "But it's just not the lifestyle I wanted."
The economic growth is following the people. The services and specialties at Kalispell Regional Medical Center are growing and people are coming from farther away to get medical care, according to a recent report by the University of Montana bureau. While many people still work multiple, seasonal jobs, there are more high-paying, year-round jobs. There was a 29 percent increase in jobs in Flathead County from 2000 to 2015, according to Headwaters Economics.
"The region is becoming more self-sufficient," said Kate Lufkin, marketing and communications manager for the Kalispell Chamber of Commerce, Convention and Visitor Bureau. She moved to the county a few years ago from Missoula, because she was a competitive horse rider and Kalispell houses one of the largest equestrian events in the country. She doesn't compete anymore, but she plans to stay here, at least for now.
Lufkin can be at the top of Lone Pine State Park after work within 10 minutes, she said. "That is cool. That is so cool."
Recreational Boom
It's hard to tell whether tourism is driving the growth in Flathead County, or if the growth is driving an increase in tourism, or if it's a little of both.
Some people, such as Lufkin, think social media has played a part in putting the area on the map. Lufkin said word has spread about the beauty of Glacier National Park and the surrounding area as it's become easier to share high-quality photos and videos instantly online.
For decades now, visitors to Glacier hovered around 2 million a year. But in 2016, an estimated 2.9 million people trekked out to the park, and last summer the number hit more than 3 million for the first time. More people are also visiting state parks in the area, along with Whitefish Mountain Resort, the popular ski resort.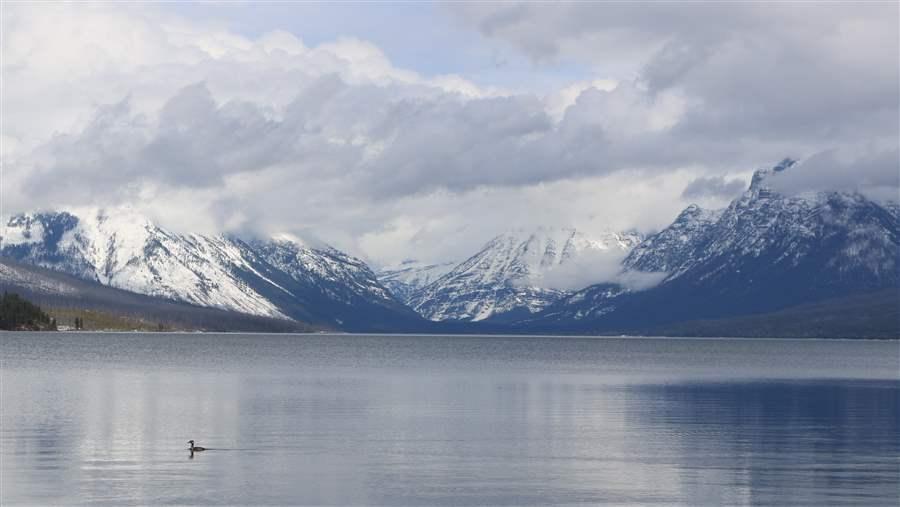 A duck swims on Lake McDonald in Glacier National Park. More people are visiting the park, in northwest Montana, in the last few years. The Pew Charitable Trusts
The growth has pushed park officials and business owners to develop more opportunities for recreation. Whitefish Mountain Resort has added ski lifts and summer activities, such as an aerial adventure course. Nonprofits in Kalispell and Whitefish have purchased forestland and built expansive trail networks. Flathead National Forest is hoping to add more campgrounds.
The question is how to keep the recreation authentic as it grows, said Mark Schurke, owner of Base Camp Bigfork, an outdoor adventure business in Bigfork. Base Camp offers dog-sledding in the winter and other guided activities in the summer. He said the growth is a good thing, as long as it is managed well.
"The more recreating people are doing," he said, "the more they are going to value the land."
In the next few years, county, city and nonprofit partners plan to tear out the railroad tracks that run through downtown Kalispell and put in a new rail park. The hope is that soon, on either side of a new path where the tracks used to be, shops, businesses and residences will tower above any of the town's current buildings.
Another goal is to make housing more affordable as the county continues to grow, which everyone thinks it will: Enough babies are born at the medical center every week to fill an elementary school classroom.
"That's the crazy part of it," Lufkin said. "We're growing like mad."