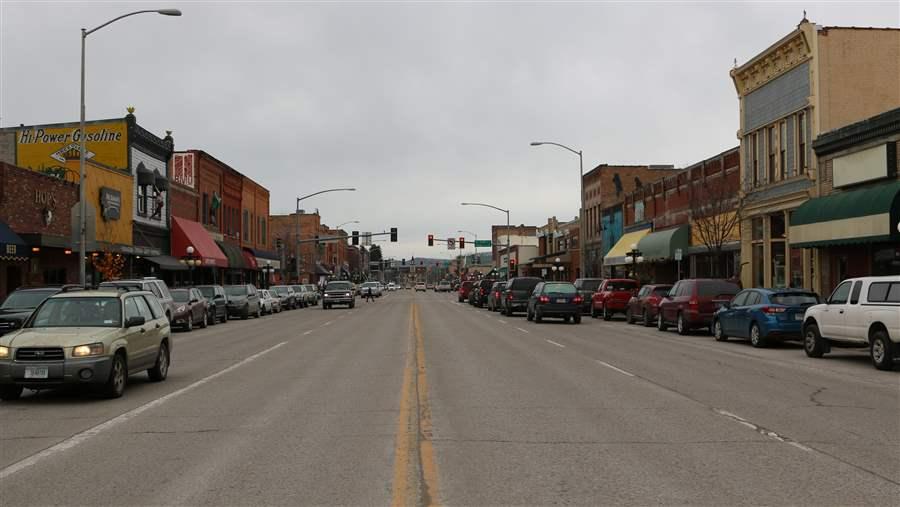 Downtown Kalispell is quiet in shoulder season, when most of the tourists are out of town. Kalispell is the hub of Flathead County, which is growing quickly as more people move closer to the mountains. The Pew Charitable Trusts
Old friends gather in the mornings at Sykes, a historic diner and market in Kalispell's downtown. One recent Tuesday, as the regulars started filing in around 9 a.m., a group of men filled a reserved table near the bar.
One of the men, Ray Thompson, said it's easy to "get lost in the speed of things," now that the town is growing. Thompson owns the restaurant and renovated it in 2010, but kept the original atmosphere and the 10-cent coffee. He thinks growth is good for the county, but, like many other residents, he has some worries.
There is a lack of affordable housing for renters and buyers, and housing is becoming more expensive, the mayor, Mark Johnson, said. The typical home value has gone up by 6 percent since 2009, to about $237,000, according to census data.
The elementary schools are brimming with children, the superintendent, Mark Flatau, said. Enrollment in the district has increased 9 percent since 2010, from 5,450 to 5,920. This has forced schools to get creative: Small groups have met in modified janitorial closets, Flatau said, and some students have started learning in large classrooms with the equivalent of two classes, with two teachers. The new school that is being built will help, he said.
And then there's the traffic, which Thompson and other longtime residents didn't ever expect to have to deal with.
"There are these kinds of things that leave you concerned," Thompson said. "But there are good families and good people."
Just north of Main Street, the growth is more obvious. Construction cranes clutter the big sky for which Montana is known. In the past few years, new commercial buildings, homes and big box stores have sprouted from wheat fields. Signs staked in empty fields advertise more development to come.
There's a Walmart, a Harbor Freight Tools, a Hobby Lobby, and, soon, an REI. Johnson calls this part of town "consumption junction," and others scornfully call it "Anytown USA."
A view of the city of Kalispell, Montana, from the top of Lone Pine State Park. In the distance are the vistas of Glacier National Park. The Pew Charitable Trusts