Stateline: Search and Rescue Teams, Already Stretched Thin, See Surge in Calls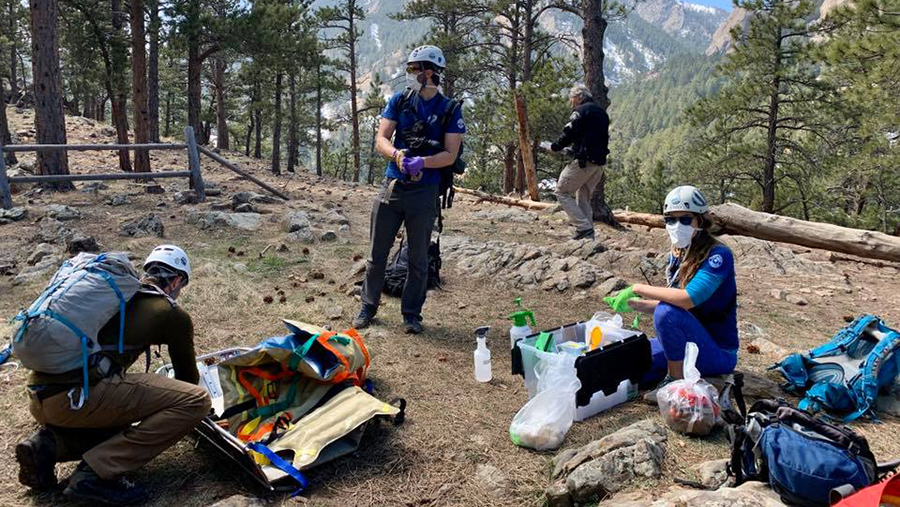 Members of the Rocky Mountain Rescue Group in Colorado wear masks and gloves during a mission earlier this year. The pandemic is compounding many issues that have challenged search and rescue teams in recent years;  Courtesy of Rocky Mountain Rescue
July 6, 2020
By: Alex Brown, Stateline, Pew Trusts
When search and rescue volunteers in Utah's Washington County received three separate calls for help on a recent Sunday, every available member of the team was deployed in response. As they tended to injured hikers and mountain bikers, things quickly went from bad to worse.
"Before we were done with the third call, we got a fourth one, and five minutes after that we got a fifth one," said Sgt. Darrell Cashin, who serves as the county sheriff's liaison to volunteer rescue teams in southwest Utah.
Cashin was forced to split off team members to respond to the new situations, while also deploying sheriff's deputies, who lacked technical rescue training. Responders made it through the day, but Cashin — along with many other search and rescue, or SAR, leaders across the country — warns that the pandemic is compounding already significant challenges.
Nearly all search and rescue missions in the United States are handled by volunteer teams, who mostly pay for their own equipment and work under a patchwork of guidelines and government oversight that can vary widely by state.
The pandemic has led some older and higher-risk members to stay home, while others who have lost work or changed jobs no longer have the money or flexibility to deploy. And the need to postpone or cancel in-person training means fewer new volunteers, accelerating a long-term problem. The pandemic also has forced teams to adjust rescue practices for social distancing and buy protective equipment such as masks.
"We've been very taxed," Cashin said. "When COVID came out, I really thought our rescues were going to drop through the floor. But we're actually having a record year at this point, with a diminished capacity to respond. It was like the floodgates opened. It's been rescue after rescue after rescue, and it's not stopped."
In response, lawmakers in several states are considering proposals ranging from providing state funding for programs and workers' compensation insurance for volunteers to charging people for their rescues.
A Long-Building Problem
For several years, rescuers in many parts of the country have seen a dramatic uptick in calls for help. That's in part because more Americans are going outside; the National Park Service has seen more than 300 million visitors each of the last five years, the highest numbers on record.
And in its 2018 visitation report, the latest available, the U.S. Forest Service noted an increase of nearly 1 million visitors per year over each of the last five years to a new high of 150 million.
Many of the newcomers to public lands are inexperienced and lack the appropriate gear, skills or fitness for major excursions. SAR leaders say they often have to rescue hikers who become lost when their phone loses its signal or dies, or who try to summit a mountain they saw on Instagram without researching the terrain or weather.