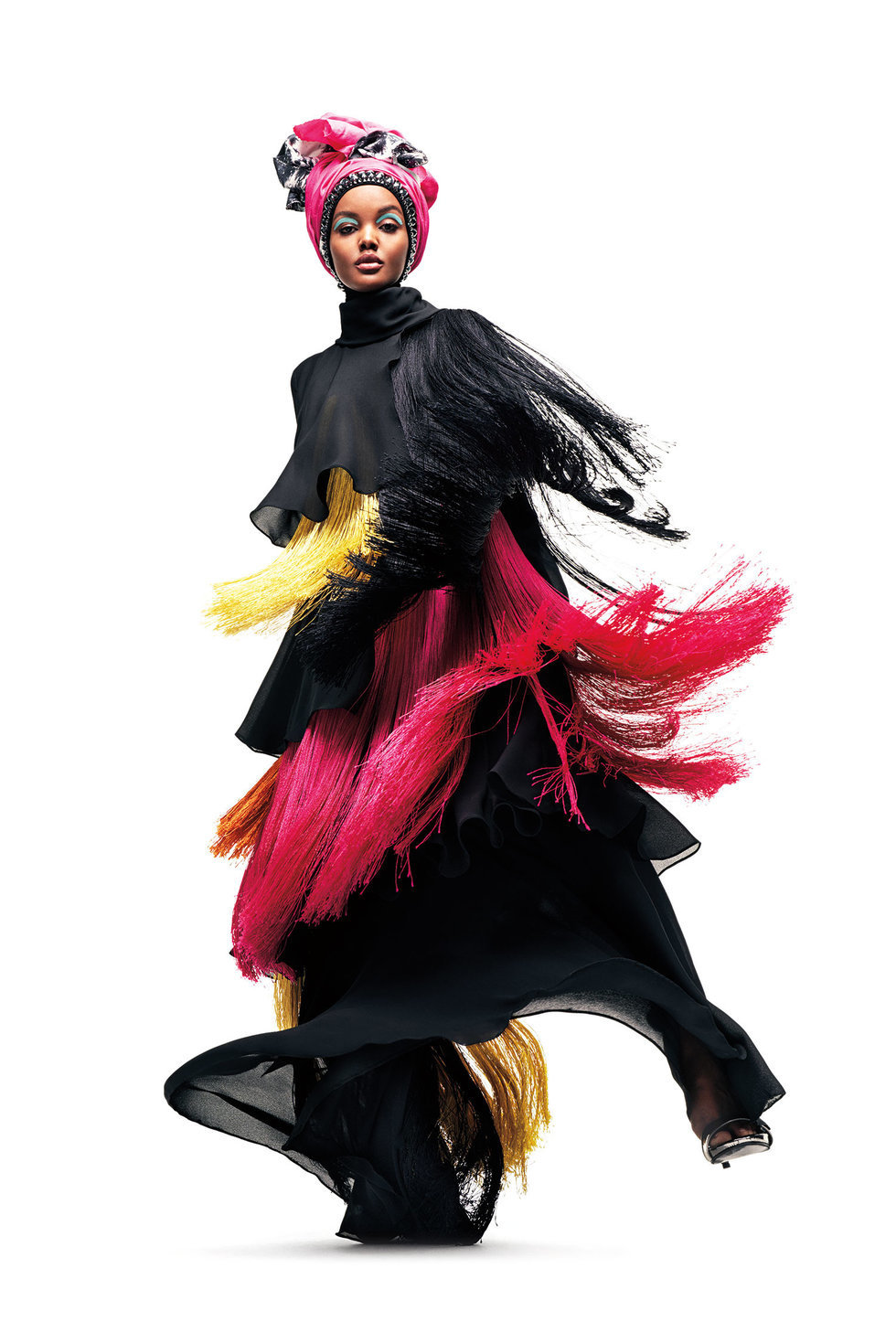 After closing at the de Young Museum on January 6, 2019, the exhibition will travel to Frankfurt's Museum Angewandte Kunst.
IN DETAIL
In recent years, there has been increased awarenessof Muslim consumers as an important segment of the global fashion industry. With more than 1.8 billion practicing Muslims worldwide —among them, 250,000 in the Bay Area alone — the complexity of this topic is both wide and highly nuanced. In the West, however, the image of Muslim women is often monochromatic.
Halima Aden, wearing Dian Pelangi. Sebastian Kim, courtesy of Fine Arts Museums of San Francisco
The exhibition opens with an introduction to the modest fashion industry (currently valued at $44 billion per year). The profiles of established and emerging Muslim designers are boosted by the interest of major Western retailers, as demonstrated by the recent Verona collection at Macy's. Around the world, modest fashion weeks promote these designers in addition to the increasing numbers of Western and non-Western designers who are creating more covered styles. For many, dressing in ways that are visibly Muslim and highly fashionable helps promote a positive awareness of their culture amid ongoing anti-Muslim prejudice.
The next gallery will explore different forms of covering, looking specifically at headscarves, perhaps the most recognizable element of a Muslim woman's dress. Through photography from artists including Alessia Gammarota, Rania Matar, and Tanya Habjouqa, this gallery will show the high degree of diversity in head coverings (and lack thereof) across regions, generations, and individuals. It is important to note that not all Muslim women wear a hijab (headscarf), and even fewer a niqab (face veil). In fact, the number of Muslim women who consistently wear a headscarf in the UnitedStatedhas remained at about 40% for the past decade. The garment is worn for various reasons including personal piety, community conventions, or a variety of political positions.
Muslim fashion is supported by a dynamic online community. Like many modest fashion bloggers, Muslim modest fashion influencers began their engagement with blogging and social media due to the perceived lack of diversity in mainstream media and retail outlets. Showcasing leaders such as Hoda Katebi, Leah Vernon, and Dian Pelangi via Instagram, the exhibition will look at how personal style can serve as a launch pad for larger conversations that draw attention to issues of sustainability and gender, racial, and religious inequalities.
"Muslim women have been early adopters of each new social media application as it has arrived," says Laura L. Camerlengo, Associate Curator of Costume and Textile Arts. "For many modest dressers, fashion serves not only as a medium to share theirpersonalstyle,butalso for discussions about contemporary religious concerns and social injustices and as a tool for positive social change."
The exhibition's regional explorations begin in the Muslim-majority countries of the Middle East, with the work of designers such as Faiza Bouguessa,MashaelAlrajhi, and Wadha Al Hajri, who are taking regional garments and making them uniquely their own. The traditional abaya—a simple, loose black garment designed to cover the body from neck to feet—has received contemporary updates by designers whose experiences are informed by their own transcontinental lifestyles and fashion educations. With a centuries-old history, today's abayas reveal the infusion of regional textile traditions and global fashion trends to form new garments that appeal to both local and global audiences.
Continuing to Indonesia, Contemporary Muslim Fashions explores the rich textile and costume traditions of a country that is the largest Muslim-majority country in the world, and whose designers, such as Itang Yunasz,Khanaan Luqman Shamlan, and NurZahra, employ luxurious fabrics in vibrant colors and complex patterns in their modest-wear designs. Similar trends are found in neighboring Malaysia, where an explosion of social media platforms and e-commerce has produced a rapidly growing market for halal (referring to something permissible by Islamic law) beauty, technology, food, and fashion, such asBlancheur, as well as a high demand for bespoke looks by the Muslim elite represented by leading designers Melinda Looi, Bernard Chandran, and FIZIWOO.
"The transnational reach of modest Muslim fashion is astounding," says consulting curator Reina Lewis, Professor of Cultural Studies at London College of Fashion, University of the Arts London. "In Muslim-majority countries and diaspora minority contexts, Muslim modest fashionistas draw on a mood board of global Muslim fashion inspiration from past and present to create new forms of fusion fashion that travel the world through social media and community and family connections."
 A selection of garments made by Muslims now living in the United States and the United Kingdom, such as Brooklyn-based Céline Semaan Vernon of Slow Factory and Saiqa Majeed of Saiqa London, will show how migration and relocation have also shaped social and religious practices and dress codes. For example, Slow Factory recently partnered with the American Civil Liberties Union (ACLU) to create a collection in direct response to President Trump's "Muslim ban." To explore the rise of Muslim consumer culture, a section of the exhibition will showcase affordable luxury, fast fashion, and sportswear that cater to a modest clientele, including designs by Sarah Elenany and Barjis Chohan as well as Nike's Pro Hijab and a burkini by Aheda Zanetti.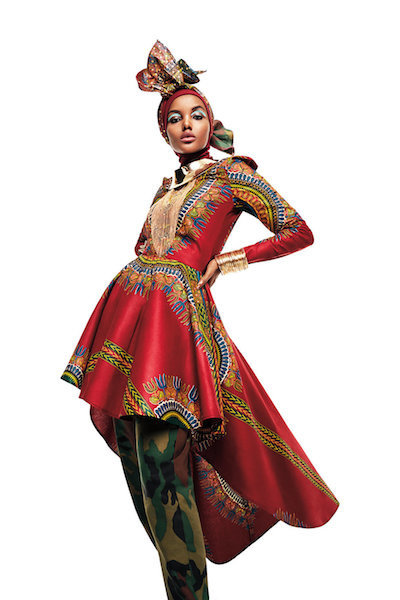 The exhibition's final section explores high-end fashion designs that have been customized to accommodate Muslim women's diverse modesty considerations.  Since the second half of the twentieth century, elite Muslim clients have been important patrons for the couture houses of Paris, where designs were often adapted for regional and religious sensibilities. True to the spirit of couture, this industry has long shown a willingness to modify its creations to suit the needs of clients who wish to dress modestly. Today, this tradition continues among the Western fashion design houses that offer special collections for Ramadan and Eid, such as Oscar de la Renta, as well as retailers that collaborate with international brands to form modest capsule collections, such as The Modist. The growing desire for modest and stylish fashions by Muslim women has given rise to a market that serves diverse needs beyond Muslim communities.
Naima Muhammad for House of Coqueta. Sebastian Kim, courtesy of FAMSF