The Scout Report for a Spring Break: Loneliness; On Broadway; Biomedical Engineering; The Most Dangerous World Ever?; Killer Digital Libraries; Landscape Architecture; The Muse, a Free Job Hunting Service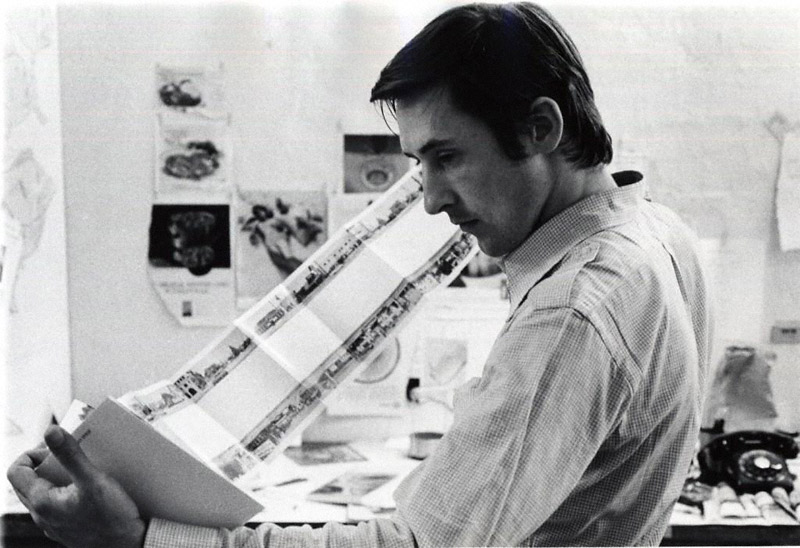 On Broadway: Ed Ruscha holding his book Every Building on the Sunset Strip, 1967. © Ed Ruscha. Image courtesy of Jerry McMillan and Craig Krull Gallery, Santa Monica. © Jerry McMillan.  
The Risks of Being Lonely
Loneliness and social isolation linked to early mortality
http://www.medicalnewstoday.com/articles/290934.php

Loneliness Can Be Deadly, Study Says
http://www.youthhealthmag.com/articles/11844/20150317/loneliness-can-be-deadly-study-says.htm

Why Loneliness Is A Growing Public Health Concern — And What We Can Do About It
http://www.huffingtonpost.com/2015/03/21/science-loneliness_n_6864066.html?utm_hp_ref=science

You Asked: How Many Friends Do I Need?
http://time.com/3748090/friends-social-health/?iid=time_speed

Researchers Study "Super Seniors" for Clues to their Longevity
http://canadajournal.net/health/researchers-study-super-seniors-clues-longevity-23991-2015/

Feeling Lonely Tonight? 7 Strategies to Combat Loneliness
http://psychcentral.com/blog/archives/2013/11/08/feeling-lonely-tonight-7-strategies-to-combat-loneliness/

The statistics on loneliness are show stopping: one in five Americans are persistently lonely; loneliness has been linked to depression, anxiety, and suicide; and, despite an increase in social media, loneliness has nearly doubled over the last 30 years. This month Perspectives on Psychological Science published a special issue on the topic of loneliness and what researchers found made headlines around the world. One study showed that persistent loneliness is a bigger killer than obesity. Another zeroed in on the biological underpinnings of the condition. A third examined group therapy, individual therapy, and community interventions, and found all three to be effective interventions for helping the lonely. Now that we know the true impacts of loneliness, researchers think it's time to treat it as a serious public health issue – and for those reading the research, it's almost certainly time to reach out to others and make a connection. 

The first link takes readers to Medical News Today, which offers coverage of the new studies as well as a call to treat loneliness as a public health risk. The second and third links, from Youth Health Magazine and the Huffington Post, expand the coverage with quotes from researchers and experts in the field. Next, Time's Mark Heid uses Dr. Robin Dunbar's research to ask how many friends we actually need. The answer? Just a few, as long as they are close confidants. The fifth link navigates to a recent article about 'super seniors,' those are older people who stay happy and healthy due to a host of interrelated factors - including staying social, active, and busy. Finally, the last link takes readers to a blog post on how to alleviate loneliness, including suggestions like "nurture others" and "work hard to get your sleep."
Society for the Teaching of Psychology
·http://teachpsych.org

The Society for the Teaching of Psychology is a great find for anyone teaching this essential social science in high school, community college, or four year higher educational institutions — or for anyone with a passion for the topic. From the homepage, readers may survey the presidential welcome, or explore sections such as STP News and the GSTA (Graduate Student Teaching Association) Blog as ways to stay connected on the cutting edge practices currently used in psychology education. The Resources tab covers topics that range from diversity to teaching competencies. The Teaching Resources section is especially helpful, as it links to presentations, PDFs, and documents about a range of topics, all with the idea of informing educators. Date of publications vary from 1990 to present day, and cover topics like "Educating Students about Plagiarism" and "Psychology of Peace and Mass Violence — Instructional Resources."