Brennan Center: One in Three Election Officials Report Feeling Unsafe Because of Their Job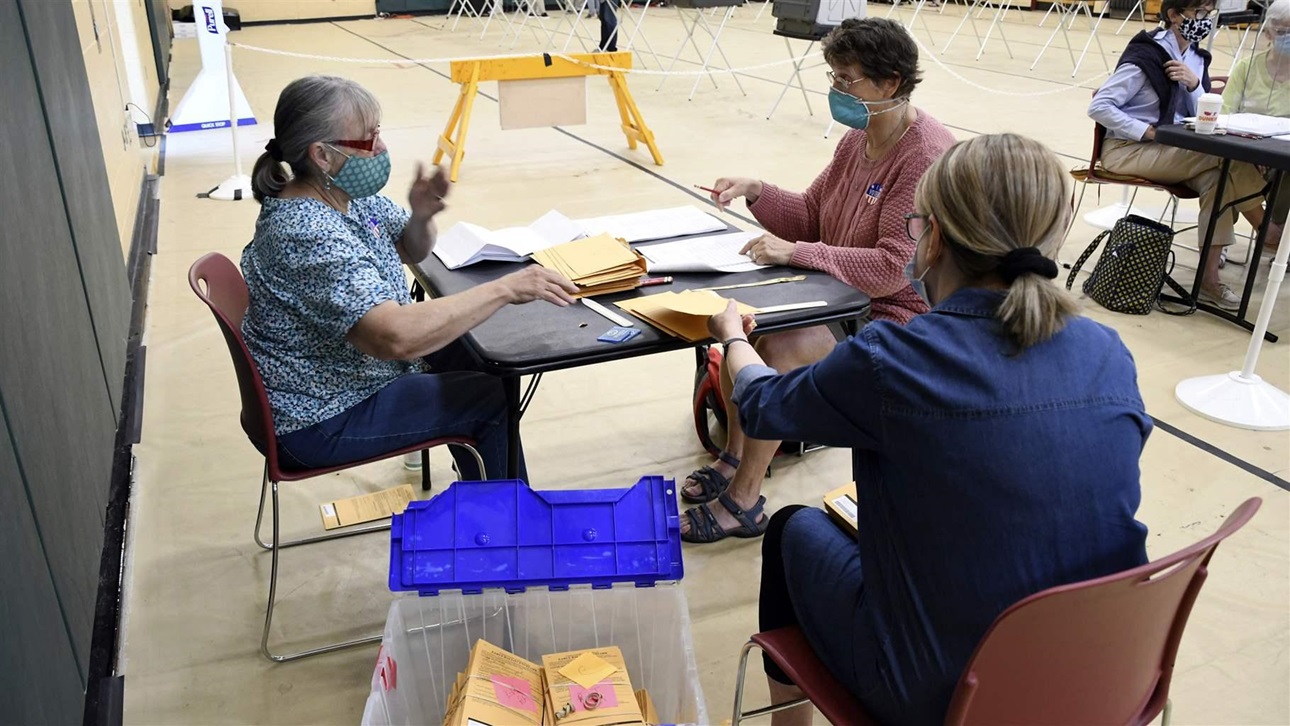 Poll workers check in mailed ballots in Williamstown, Massachusetts; Gillian Jones/The Berkshire Eagle via The Associated Press
The Brennan Center for Justice at NYU Law and the Bipartisan Policy Center today published a report on the state of the election official profession and the toll of the unprecedented attacks on these officials' authority, credibility, and personal safety that surged in the run-up to the 2020 election and have not stopped. The report features a survey finding that one in three election officials report feeling unsafe because of their job, and one in six reported having been threatened due to their job. The authors provide solutions for the various problems facing election officials, with calls to action for local, state, and federal governments as well as social media companies and other institutions.
"Threats of violence, smear campaigns, laws and lawsuits undermining election officials at every turn – this is what the professionals who uphold our elections and democracy are facing every day," said Lawrence Norden, director of the Election Reform Program at the Brennan Center for Justice and co-author of Election Officials Under Attack: How to Protect Administrators and Safeguard Democracy. "The attacks will keep coming – and succeeding – unless there is a multipronged intervention across government and society to stop the purveyors of the Big Lie from making it impossible for election officials to do their jobs: conducting free and fair elections without partisanship."
Election Officials Under Attack: How to Protect Administrators and Safeguard Democracy identifies four factors making election officials' work more difficult and dangerous: threats of violence and other safety concerns; increased disinformation being spread about elections, especially online and often by public officials; rising pressure to prioritize party interests over a democratic process; and unsustainable workloads. For each problem, the authors present multiple, urgent solutions.
"The continued threats against election officials and attempts to undermine their independence months after the presidential election are antithetical to a free and fair democracy," said Matthew Weil, director of the Election Project at the Bipartisan Policy Center. "There are reasonable, implementable solutions that will safeguard our elections going forward and the recommendations in this report are developed with the direct input and participation of election officials from across the country."
The authors, election officials, and other experts will gather today online at noon ET for the Bipartisan Policy Center's "Virtual Summit: Continuing Threats to Free and Fair Elections." Please click here for more information or to RSVP. And click here to view a video that will be featured at the event, of election officials discussing their experiences firsthand.
Pages: 1 · 2