TechNOlogy ...To E or Not To E, That Is the Question
by Julia Sneden
Somewhere along the way, I have lost my sterling reputation for being a savvy member of the electronic age. Back in the early 1980's, my classroom was blessed with a parent's gift of a Commodore 64, the very first computer I had ever seen. In fact, I was the only teacher I knew who had ever even touched a computer.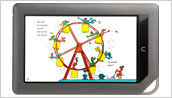 For the next several years, I was fortunate enough to move through my school's first steps into the computer age, and we segued through various permutations of hardware (Commodore; Texas Instruments; Apple; Apple 2E; Mac; Super Mac; etc.) and software (programs like Logo with its "Turtle" graphics, and IBM's Writing to Read). By the time I retired in 1998, I felt like an expert, thanks to our tech support team, who were at my beck and call.
Oh, those good old days. It was all so easy, when I had that support. Nowadays the computer world has leapt ahead while I have not. I am often at sea with my Windows 7. I tell myself that that's because my mental circuits have been fried from too many adjustments as I've moved from one computer to another.
Somewhere in the long list, I lost my computer mojo. I am no longer interested in new applications and possibilities. I just want the fool thing to work, and when it balks, my world turns dark and angry. I want the machine, and it is just a machine, to submit itself to my whims, no questions asked, no changes imposed.
The foregoing is just introductory to the subject tormenting me today, which is   the e-book, in all its current permutations. Just try entering "e-book" into Google, if you want a lesson in technological confusion. There's the Nook in several permutations like "Nook Simple" or "Nook Color." There's the Kindle, also in a couple of versions; the Ipad; Sony Reader; Kobo Wireless, etc. One scarcely knows where to begin. I have a hunch that as soon as you decide and make a purchase, technology will jerk itself into yet another, superior version that you were too stupid to know was coming.
If you're a happy comparison shopper, you're in heaven. If, like me, you are on information overload and don't have a clue as to what will work for you, you throw up your hands and move on.
I guess it's time to admit that I am a dinosaur. As a delighted user of my computer, I spend plenty of time staring at an illuminated screen without adding more hours to it. My old eyes can only take so much electronic exposure before they become uncomfortable. One solution to computer-eye overload is to stare out the window at something far-distant, which seems to recalibrate my vision and soothe my soul so that I can go back to the computer screen for a bit longer. That kind of eye fatigue rarely happens with a printed volume.
Pages: 1 · 2