Infinite Jest and Met Museum Shopping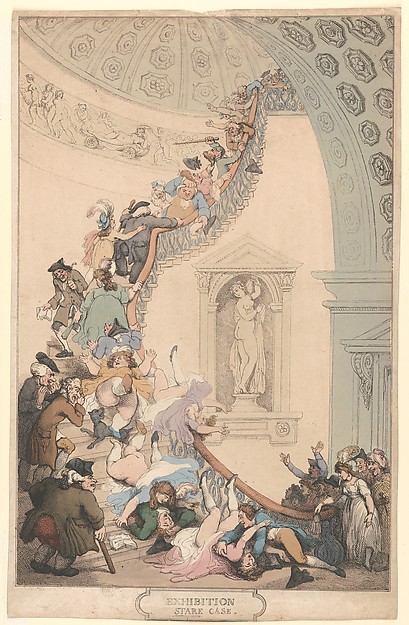 Credits:
Exhibition "Stare" Case, Thomas Rowlandson (British, London 1757–1827 London. 1811 (?), Etching, hand colored 18 3/4 x 13 1/16 in. (47.6 x 33.2 cm) The Elisha Whittelsey Collection, The Elisha Whittelsey Fund, 1959
The exhibition, Infinite Jest, explores caricature and satire in its many forms from the Italian Renaissance to the present, drawn primarily from the rich collection of this material in the Museum's Department of Drawings and Prints. The show includes drawings and prints by Leonardo da Vinci, Eugène Delacroix, Francisco de Goya, Henri de Toulouse-Lautrec, and Enrique Chagoya alongside works by artists more often associated with humor, such as James Gillray, Thomas Rowlandson, Honoré Daumier, Al Hirschfeld, and David Levine. Many of these engaging caricatures and satires have never been exhibited and are little known except to specialists.
In its purest form, caricature — from the Italian carico and caricare, "to load" and "to exaggerate" — distorts human physical characteristics and can be combined with various kinds of satire to convey personal, social, or political meaning. Although caricature has probably existed since artists began to draw (ancient examples are known), the form took shape in Europe when Leonardo da Vinci's drawings of grotesque heads were copied by followers and distributed as prints.
The exhibition's title derives from Hamlet, which is quoted in a Civil War print that uses the famous line: "I knew him, Horatio; a fellow of infinite jest" to mock Lincoln.
Director Thomas P. Campbell discusses Infinite Jest with the exhibition's curators, Nadine Orenstein and Constance McPhee:
The exhibit is accompanied by a catalog,

Infinite Jest: Caricature and Satire from Leonardo to Levine (Metropolitan Museum of Art) by Constance C. McPhee, Nadine M. Orenstein.
And for shopping, we heartily recommend the children's gifts. We've bought them for grandchildren over the years with great success; they're entertaining, instructive and connected with the museum's special attractions. You can find gifts here that unlike any others in the stores.  And for others, the book selections are unique.