Ellsworth Kelly's Botanical Art: Corn On the Roof, Hyacinth, Seaweed and Wild Grape Leaves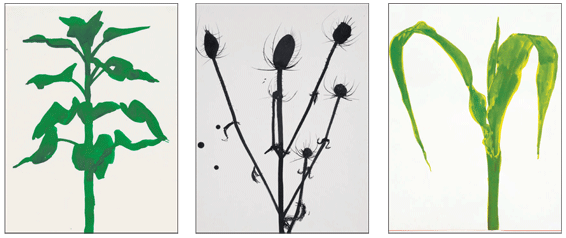 ©Ellsworth Kelly, Watercolors: (from left) Sunflower (1957), Teasel (1949), Corn (1959)
Traditionally associated with bright, color-saturated abstract paintings, American artist Ellsworth Kelly spent 60 years working in a parallel universe, making figurative drawings.  He sketched plants, flowers and leaves in graphite and ink, and more than 75 of these lesser-known, mostly monochromatic works are now on view at The Metropolitan Museum of Art until September 3. 
Curators are billing the show as the first major museum retrospective exclusively devoted to Kelly's plant drawings.  (Centre Pompidou in Paris showcased his botanicals alongside those of Henri Matisse in 2002, and there was a roomful of them exhibited at The Met in 1970 in New York Painting and Sculpture: 1940-1970.) 
Kelly sketched his first botanical, a pencil drawing of ailanthus, in Boston in 1948.  He was studying at the School of the Museum of Fine Arts, where he spent a year and a half drawing nudes and honing his skill.  He credits his teacher, Ture Bengtz, with teaching him how to see, and therefore, how to draw.
He subsequently went to Paris, where he continued the pursuit.  He relishes the story of hitting up the flower market in the winter of 1948-49 and bringing blossoms back to dreary hotel rooms to remind him of spring.  One flower that he bought, the hyacinth, is a particular favorite — inspired by Matisse's drawings, he made six sketches of the hyacinth, one of which is on display at The Met.
The plant drawings could not be more different than Kelly's abstract panels.  They are, for the most part, faint, delicate depictions of organic forms; all but a dozen are devoid of color.  But they are memory markers, reminders of a particular time and a particular place — the studio at Coenties Slip in Lower Manhattan where Kelly grew corn on the roof and sketched seaweed, and the road in eastern Long Island near a summer home where he spent days sketching wild grape leaves.
As he explains to curator Marla Prather in an audio introduction to the show:  "I have a theory that when an artist draws, ... he puts his mind to sleep in most ways, except what you're doing. And it's hitting the brain, and connecting a little part of your brain. So that when you look at that drawing ... I believe you go back there.  It's like drawings are memories."
The botanicals, "portraits" in his words, are simple, elegant distillations of all manner of vegetation — sweet peas, sunflowers, ginkgo, water lilies, calla lilies, beanstalks, corn stalks, banana leaves, coral leaves, wild hibiscus, grass.  The emphasis is on contour drawing.  In these minimalist masterpieces, without shading, the line is the thing.
As he told Ms. Prather in a May interview, "In my drawing, I prefer the line to be the means of expression and color can distract from the line …I like the immediacy of the various mark-making when drawing with pencil and ink — marks that don't exist in my abstract painting and sculpture."
And in a further elaboration, he says:  "I want to achieve: ... a good drawing in the composition and the relation of line over line. Lines within lines. I think that all my later paintings... — and sculptures too — come from drawing. And drawing is the basis and the start of my art."
Kelly is 89 years old. He attended the show's glittery opening in June, pulling an oxygen tank behind him.  But the flora in this grandiose yet quiet exhibit would seem to provide oxygenation enough.