"Frances' unique voice has influenced artists, curators and other multidisciplinary thinkers locally in Los Angeles and across the world," said Munsell. "Throughout her career she has developed alternative modes of art education such as mentorships and, now, free-schooling. These methods bring up questions of access to higher education, and will provide important insights for Boston, a city centered on academic enterprise and intellectual exchange."
The daughter of a telephone operator and an electrical engineer who worked in the printing business, Stark has consistently shown interest in communication, merging her love of language with an urge to make things. The Inchoate Incarnate: Bespoke Costume for the Artist (2009, Valeria and Gregorio Napoleone Collection, London), a telephone dress worn by Stark in her 2010 performance I've Had It! And I've Also Had It!, is a direct nod to her mother and an embodiment of her insatiable urge to communicate.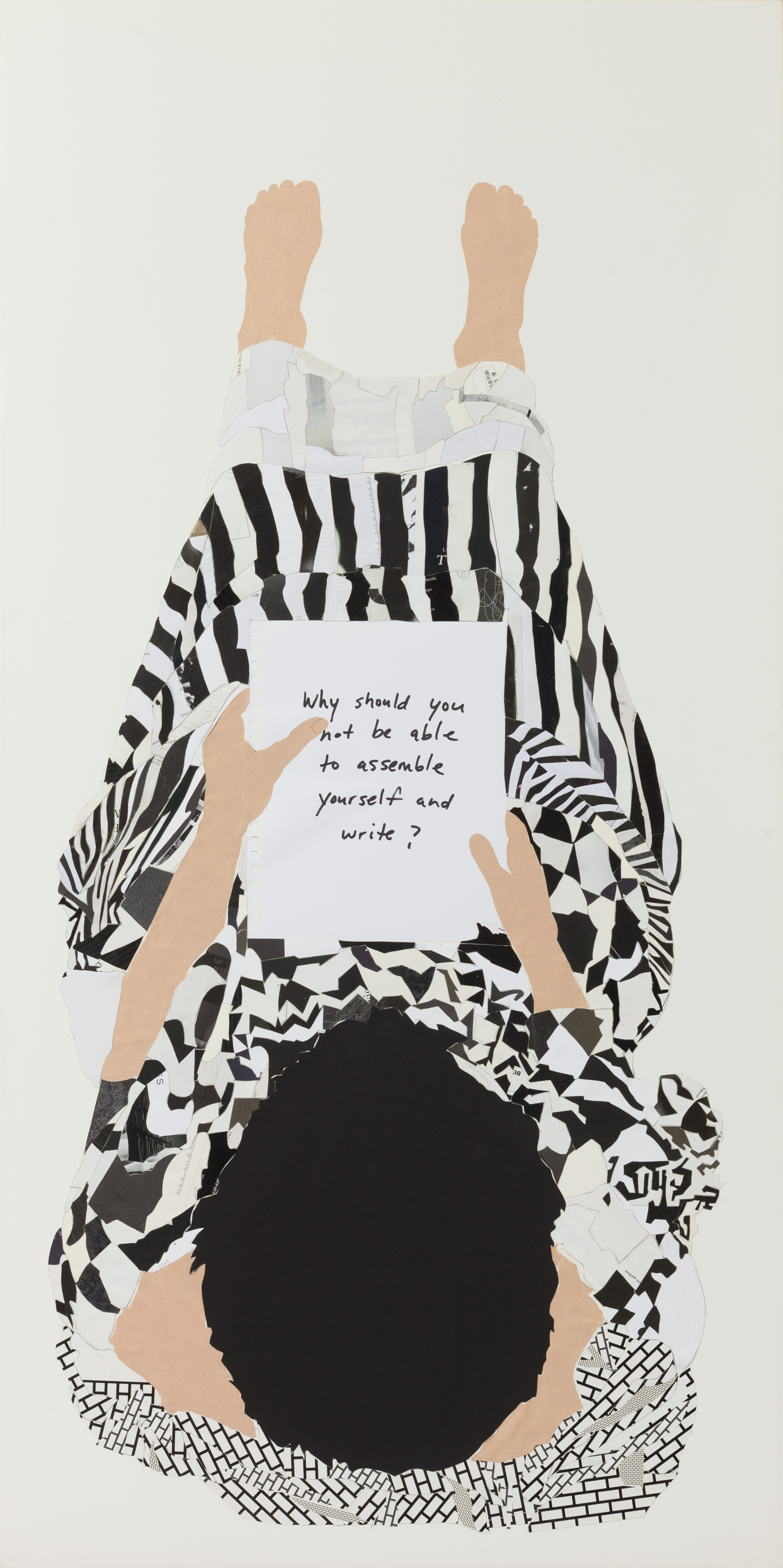 Why should you not be able to assemble yourself and write? Rice paper, paper, and ink on gessoed canvas panel. 55 x 34 in. (139.7 x 86.4 cm). Hammer Museum, Los Angeles. Photo by Elon Schoenholz
"Seeing so much of Frances' work together allows viewers a rare opportunity to draw out ideas that thread through her work over time, and transports us into her brilliant mind," said Subotnick. "The more close reading she encourages in her work, the more viewers mirror her passion for learning, comprehending and interpreting art and life through a personal lens."
In addition to being a prolific writer, Stark is also an avid reader — many of her artworks incorporate text drawn from literature. Six life-size "Chorus Girl" collages from the series Torment of Follies (2007–08, various lenders) are arranged throughout the exhibition, featuring showgirls whose dresses are made from spiral patterns with dizzying effects. Shown in various positions, they grasp pages displaying text from Witold Gombrowicz's satirical novel Ferdydurke.
Alongside her analog methods of tracing and collage, Stark both embraces and manipulates technological advancements in modes of communication. The video installation My Best Thing (2011, Hammer Museum) is derived from the artist's experiences with online sex chats — a new platform for Stark's writing. Featuring animated characters set against a green screen backdrop, the 100-minute video presents intimate Skype exchanges and discussions about art, literature, history, music and politics with two online lovers whom Stark met through Chatroulette. The breakthrough work, showing Stark exploring both her artistic and literal promiscuity, debuted at the 54th Venice Biennale.
Over the past few years, social media has become an integral part of Stark's storytelling. The slide show What Goes on @therealstarkiller (2014, courtesy of the artist and Galerie Buchholz, Berlin/Cologne) presents a selection of posts from her Instagram account, featuring images of her daily life — her artwork, her son, what she's reading, what she sees when driving in Los Angeles.
The exhibition is accompanied by a fully illustrated catalogue, UH-OH Frances Stark 1991–2015, which offers the first comprehensive overview of Stark's work.
Pages: 1 · 2