To keep your children and grandchildren busy away from their devices choose one of Castle in the Air's Pellerin vintage paper models, games, toys and scenes published over a 100 years ago. We also picked up an Easy Indigo Textile Kit from Yellow Owl Workshop at the Castle store.
Castle in the Air Pellerin model
We usually go to the New York Public Library Shop site for small gifts including the Bibliophilia of 100 Literary Postcards to send your friends and relatives, which may cut back on buying more expensive cards and saving time on vacation: "This collection of 100 postcards showcases bold graphic interpretations of 50 provocative literary quotes. From Virginia Wolf to Oscar Wilde, from Brontë to Poe to Austen, each piece will spark your imagination and kindle your creative spirit."
Another treat at the NYPL is the children's book, Library Lion Paperback, a 48-page bargain for $7.99, and which may carry the author's signature: "Miss Merriweather, the head librarian, is very particular about rules in the library. No running allowed. And you must be quiet. But when a lion comes to the library one day, no one is sure what to do... And he never roars in the library, at least not anymore. But when something terrible happens, the lion quickly comes to the rescue in the only way he knows how."  
We're also adding these cufflinks we couldn't resist from the NYPL Shop: These attractive cufflinks are made from watch movements from the early to mid-20th century, mounted in sterling. Even at rest, the gears, levers and jewels provide a view of synchronized precision.Watch Movement Cufflinks are mounted in sterling and presented in a gift box with authenticity card. Mechanical watch movements have fascinated people for centuries. 
There are also a pair of Patience and Fortitude unisex socks from the Library we found:  The marble lions flanking the entrance to The New York Public Library's Stephen A. Schwarzman Building are familiar and beloved icons for New Yorkers and visitors to the city. They were modeled by sculptor Edward Clark Potter and carved from pink Tennessee marble by the Piccirilli brothers in 1911, the same year the Carrere and Hastings Beaux-Arts building opened to the public. The Lions' best-known nicknames, Patience and Fortitude, are credited to Mayor Fiorello LaGuardia.'' They're $18.
If wool and cashmere socks are your style, try a pair by lisa b. for men or women.
Kaufman Mercantile has the pricey but 'forever' item in the Akiko Teak and Steel Petanque set, (similar to the Italian game of bocce) in teak wood carrying box. Dual-panel lids with stainless steel hinges and recessed handle. Comes with six chrome plated steel balls with two wooden jacks. Made in Denmark.
Whether you take your coffee in a dainty demitasse or to go in a portable carafe, this pour-over coffee stand adjusts to accommodate your vessel of choice. The prototype began in the maker's own home kitchen. David, owner of a coffee roastery and bike delivery service in Fort Collins, Colorado, sips his brew slowly in a mug, while his wife takes hers in an oversized travel tumbler. The pour-over method creates the best cup of coffee, as shown by scientists at M.I.T. This cone is made by Hario, a Japanese company specializing in heat-resistant glass products, and coffee and tea accessories, since 1921."
The item that we found at REI is Coghlan Six- Function whistle equipped with a loud whistle, Fahrenheit/Celsius thermometer, magnifying lens, LED light, signal mirror and compass with glow-in-the-dark dial and comes with convenient lanyard and clip so you can attach it anywhere, all for $12. Three SR1120 x 1.5V batteries for LED light are included. 
We were taken with Heather Lins 2016 Stitch the Stars calendar set of cards. One, anyone could embroider this task and two, the thread is glow-in-the-dark and one of our adult daughters still loves anything glow-in-the-dark. 
For beginning birders: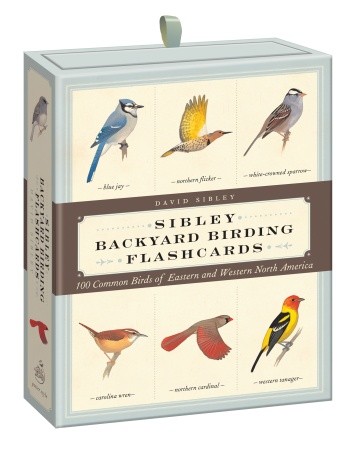 1) Sibley's Birding Basics

2) Sibley's Backyard Birding Flashcards  - 

Each set includes 100 cards with illustrations on one side, and on the other side of the card the bird's name, range map, and text about habits, identification features, and voice. Fifty of the species are common across the continent, and the remaining fifty are equally divided between common Eastern and Western species.

3) Rite in the Rain all weather outdoor journal, all levels: The Rite in the Rain story began nearly a century ago in the forests of the Great Northwest. Entrepreneur, Jerry Darling, recognized the logging industry's need for a durable material that could be written on and survive in poor weather conditions. Jerry developed a special coating that created a unique moisture shield on the hand-dipped sheets of paper that he and his wife, Mary, processed at their home.  Over the many years we've perfected and patented our environmentally responsible coating process. Still located in Tacoma, our continued mission is to provide innovative products for professionals and enthusiasts who brave the outdoors.

4) Fingerless mitts for those chilly early morning field trips. We've found a site for free patterns of 6 pairs of mitts: http://blissfullydomestic.com/life-bliss/six-best-free-patterns-fingerless-gloves/143669/

6. For a luxury gift, some serious birders are seen with KOWA spotting scopes on a light, small tripod. Eagle Optics in Wisconsin is one authorized dealer for KOWA

One site we've gone to again and again over the past couple of years is Elizabeth Cotton for its women's pajamas, particularly for the Liberty of London patterns, a favorite of ours. We've purchased numerous long sleeved versions and capri style. They're beautifully made (in the US!) and carry flannel versions as well as cashmere robes, clutches, nightshirts and men's pajamas. 
The Palo Alto, CA police department has a reminder:
Holiday shoppers: see this @abc7newsBayArea story on our new auto burglary prevention video: https://t.co/rqC0kEAuhe pic.twitter.com/9D4NHyKsZ2

— Palo Alto Police (@PaloAltoPolice) December 5, 2015
Pages: 1 · 2