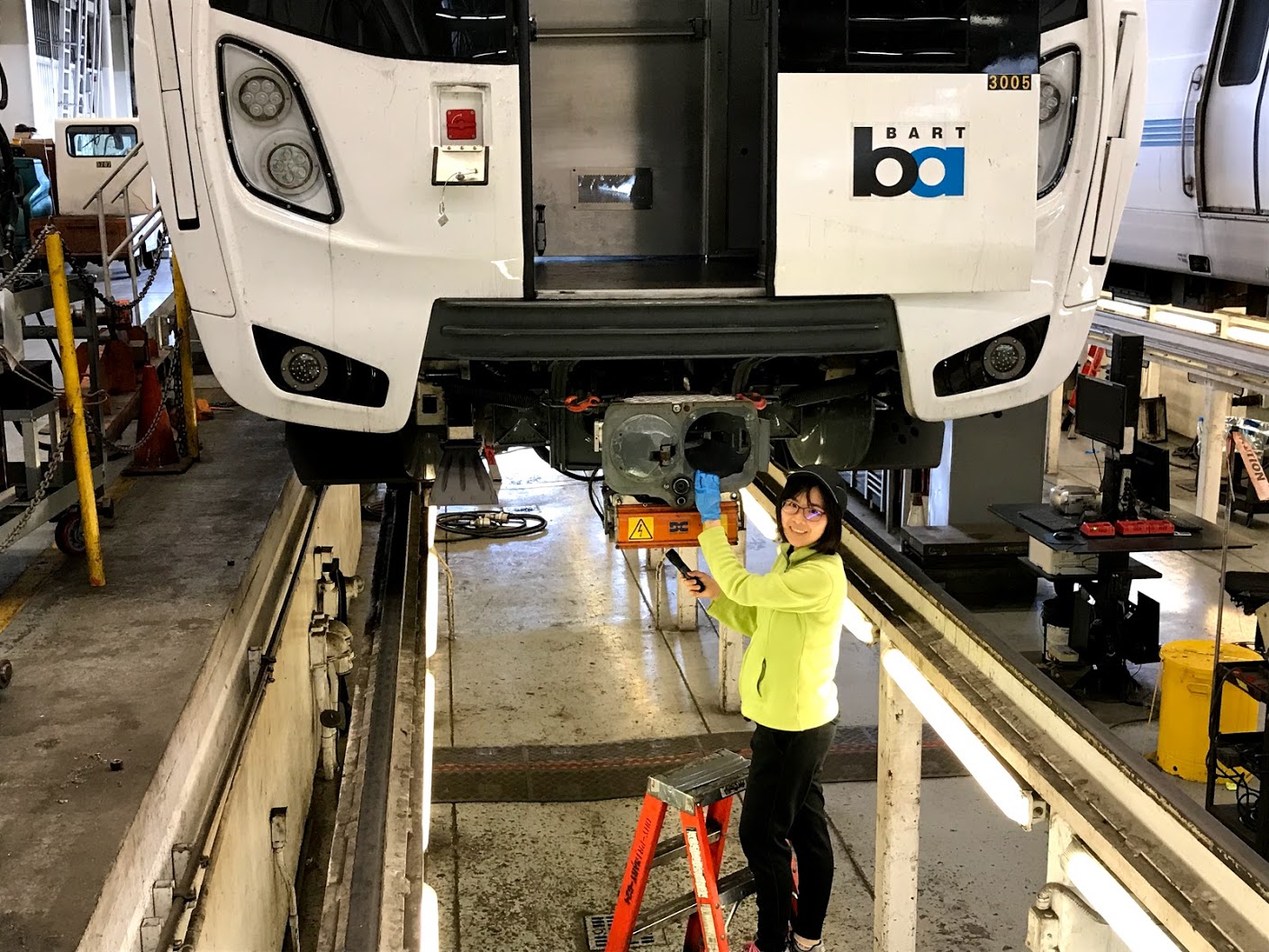 Vehicle Systems Engineer Rosa Sung in the pit under a Fleet of the Future train at the Hayward Maintenance Shop

Rosa Sung studied mechanical engineering at San Jose State University, did an internship at BART's Hayward Shop then was hired there as a Vehicle Systems Engineer, where she has worked for more than five years.

"I always liked fixing broken stuff," said Sung. She enjoys the challenge of troubleshooting train issues and doesn't mind being, often, the only woman on the job. "I feel I am respected and treated the same" even though she is a young woman. "I am always focused on safety first. If I say, 'this train can't go back in service yet' until something is fixed, people listen to me.' "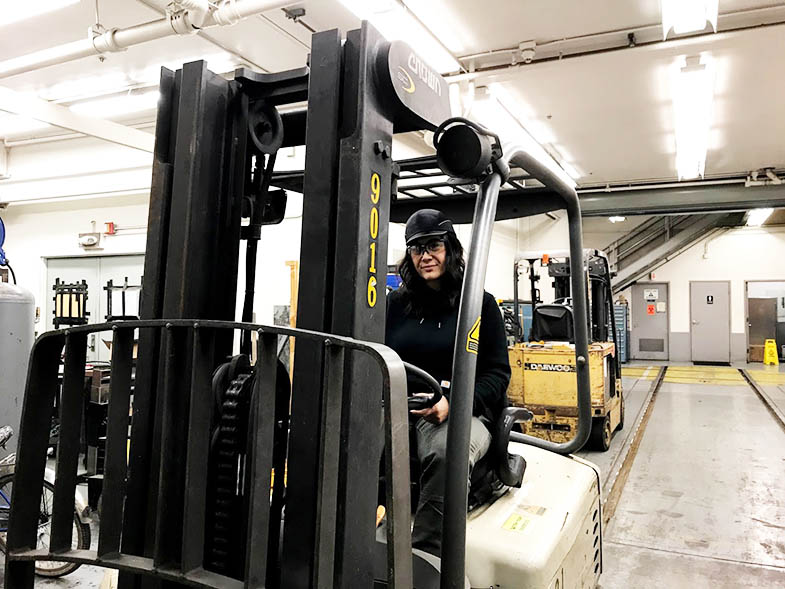 Expeditor Janice Pelasauma on the forklift inside the Hayward Maintenance Shop

Another recently hired woman of the Hayward Shop is Janice Pelasauma, who as an expeditor assists mechanics in getting the parts they need to work on trains — which can involve driving a forklift, moving heavy equipment and generally knowing your way around the shop and the thousands of parts in inventory. It's her second career after retiring from doing the same type of work at United Airlines for 23 years.
"My dad is a contractor and I grew up very hands-on whenever there were projects to be done at home," she said. "It's important as a woman that I learn my job well and be able to handle things on my own. I've felt very welcomed and supported here."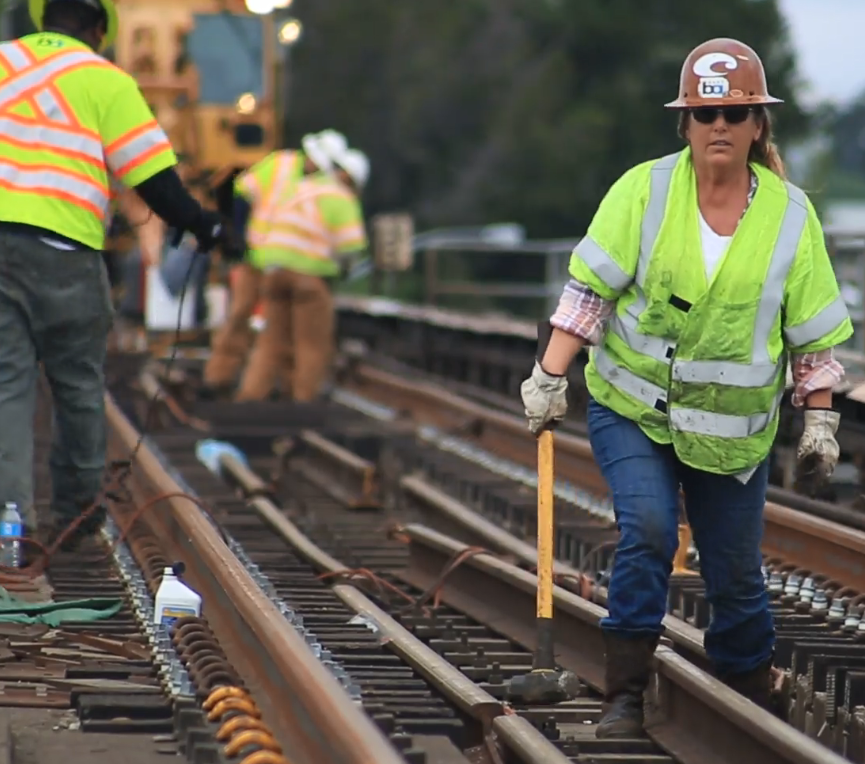 Track welder Shelley Culloty works on a track replacement project near San Leandro
Women are underrepresented in the skilled trades in general; at BART, however, you can find women in almost all job categories working alongside men, including nontraditional areas such as welding. Shelley Culloty is one, a track welder who has worked on many of the Measure RR track replacement jobs.

"My dad was a welder, and I just thought it was a cool job," said Culloty, who was a welder for Union Pacific before joining BART a decade ago.
"I think as women we have to work a little harder to prove ourselves," she said, "because everything you do is under the microscope until the guys see you can do the job. In my opinion, women could do any job at BART if they want to. We can hold our own. I'm very proud of the women of BART."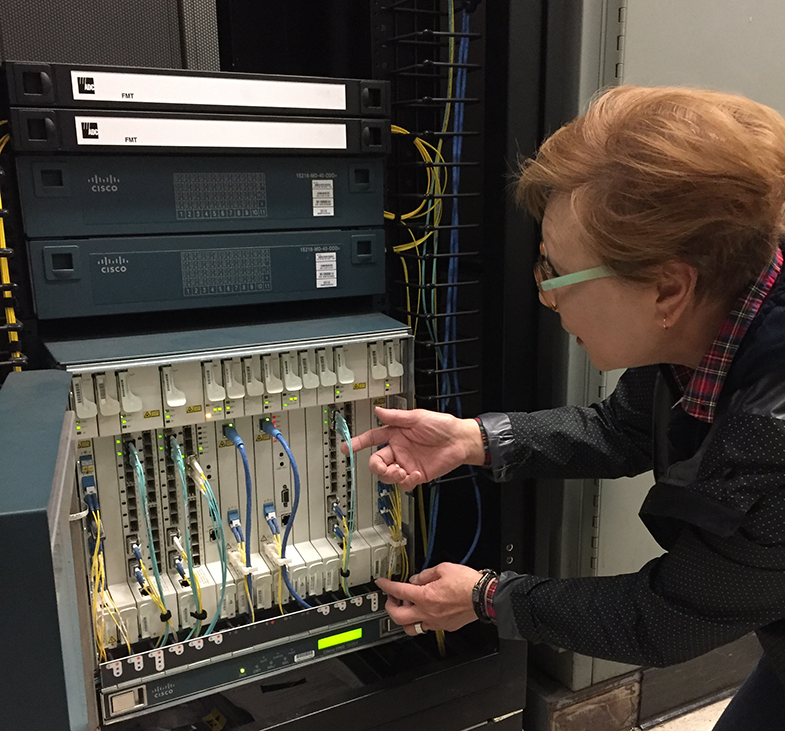 Senior Computer Systems Engineer Julia Quittman inspects part of the Unified Optical Network
 
Senior Computer Systems Engineer Quittman grew up in Costa Rica with five older brothers, so she learned at an early age how to build things, work on cars, and "not to be afraid to get my hands dirty.' Quittman started her career at BART at the turn of the millennium preparing computers for Y2K in 2000. Today, she spends a lot of her time in the field on projects such as fiber optical infrastructure.
"It's been a fun journey," she said. "I feel like a pretty lucky person to be able to work for BART, which is so important to the Bay Area."


WOMEN LEADERS MATTER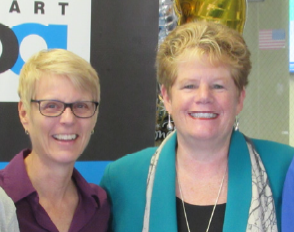 Horting, of the Society of Women Engineers, said there's no magic bullet to increasing gender diversity but that one factor in BART's favor is having women in top leadership positions, such as General Manager Grace Crunican and Assistant General Manager for Operations Tamar Allen (Crunican at right and Allen at left in photo at side).
"Having women in leadership makes a huge difference, especially in retention," Horting said.

"Women can see, 'This is a place where my hard work and technical expertise will be recognized and I'll have the opportunity to move up,' " Horting said. "It's about having that level playing field."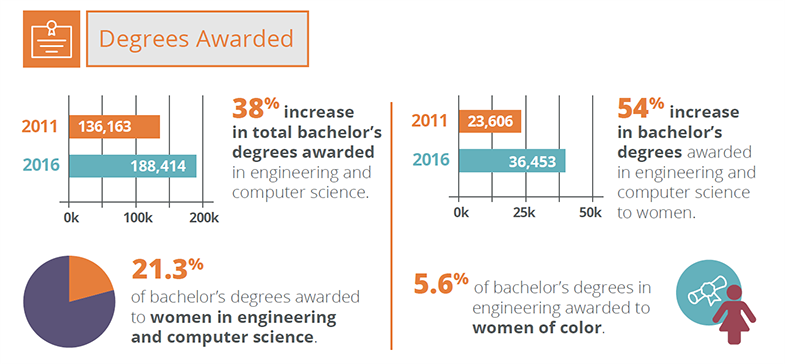 Bachelor's degrees awarded in engineering and computer science to women have increased at a greater rate than those awarded overall,
but the percentage of women still lags.  Graphic from the Society of Women Engineers; to view full version download the graphic here.
A February 2019 study from the Mineta Transportation Institute called "Attracting and Retaining Women in the Transportation Industry" concluded:  "Keeping set goals of creating diverse, flexible, welcoming work environments must be deliberate and intentional."
Jodi Godfrey, a Research Associate at the Center for Urban Transportation Research at the University of South Florida and a co-author of the study, said, "Women are very underrepresented in engineering, and in transportation in general." (For all jobs at BART overall, the breakdown is about 25% female and 75% male. There are many women train operators, station agents, police officers, cleaners and administrative personnel, among other jobs.
Godfrey, pictured below at right, said increasing the representation of women in transportation is important because "in order to find holistic solutions to problems, you need to have diverse perspectives represented." Also, she said, the transportation industry deprives itself of the talent and contributions of 50% of the population if it does not create a work climate that is welcoming to women.


"I try my best to encourage women to get up and speak and make their voices heard," Godfrey said. "If it's your work, be proud to represent it. You may not realize it, but you will be a role model for other women looking at the industry. You can't be invisible." 
Another part of solving the puzzle is advocacy by organizations like the Women's Transportation Seminar or WTS, an organization dedicated to advancing women in transportation.
Tam Tran, President of the WTS SF Bay Area Chapter and a transportation planner in the San Francisco Planning Department, said the organization is seeking women and men in transportation to serve as mentors and help sponsor events such as field trips and networking meetings. "The world is changing," Tran said. "To provide the best product or service, you need a diverse workforce to help you with that, one that reflects your customers and your community."
Van Nguyen, the senior engineer with a key role in the retrofit of the Transbay Tube, got her first look at BART in a junior high internship – one she earned through sheer persistence of calling and calling until a manager gave her the job. After graduating from Cal and spending some time in the private sector as a consultant, she came back to BART about five years ago and has worked on jobs where she is often the only woman on the site. "I feel like I am treated the same as anyone else," she said. "I have not had any problems being the only woman. "

MAKING A DIFFERENCE

Her advice for girls and young women considering careers in transportation? "It can be a very satisfying job but you have to have the passion for it," she said. "You are going to get tired, and dirty, and you can't wear your dress clothes. But you know you are making a difference for the community."
For a look at all open positions at BART visit www.bart.gov/jobs
Some key open positions are:
| | |
| --- | --- |
| Open Recruitment | Job Posting # |
| Principal Engineer, Construction | 8133 |
| Project Manager | 8105 |
| Principal Electrical Engineer | 7987 |
| Senior Electrical | 7988 |
| Engineer | 8098 |
| Senior Engineer | 7362 |
| Principal Engineers | 7997 |
Pages: 1 · 2