Better Balance, Better World: Showcasing Women of BART on International Women's Day
Editor's Note: Bay Area Rapid Transit (BART) is the rail system we use in the San Francisco Bay Area. These are some of the biographies of women who work for this vital transportation system.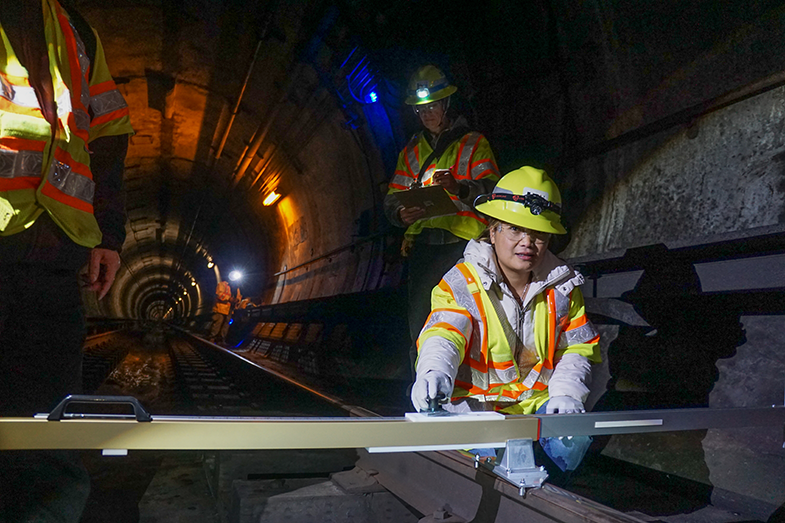 Senior Engineer Van Nguyen uses a gauge to measure fault creep in the BART Caldecott Tunnel

By Melissa Jordan
BART Senior Web Producer
Julia Quittman's grandmother told her she should choose any career that made her happy: Now she's a Senior Computer Systems Engineer keeping BART's systems running.
Maansii Chirag Sheth's parents supported her decision to leave India as a young woman for the United States to pursue higher education and an electrical engineering career. Now she's a Project Manager for cathodic protection, battling corrosion wherever metal meets water.
Van Nguyen loved math and science since childhood and considered medical school, but decided to get an engineering degree in four years and start working sooner. Now she's a Senior Engineer working on the Transbay Tube earthquake retrofit.
They are three of the women at BART in nontraditional roles whose work we are highlighting for International Women's Day March 8. For more than a century, International Women's Day has been observed each year to celebrate the achievements of women and to call for greater gender equity around the world, across a variety of organizations and industries.
The theme for 2019's International Women's Day is Better the Balance, Better the World – a message that BART has taken to heart by encouraging better balance in the traditionally male-dominated field of public transportation, particularly in technical areas like engineering.  
In BART's infrastructure engineering group, there are around 17% women, compared with about 11% of women engineers in the transportation industry overall. Of those BART engineers, 46% are women of color. Women are represented in key roles such as project and program managers and in all engineering disciplines. A few common threads run through their experiences: family support, mentors and role models both male and female, and grounding in STEM education (science, technology, engineering and math).

"Research shows that organizations with good gender diversity outperform those without it," said Karen Horting, Executive Director and CEO for the Society of Women Engineers. "It's not simply that it's the right thing to do; it's also a business imperative."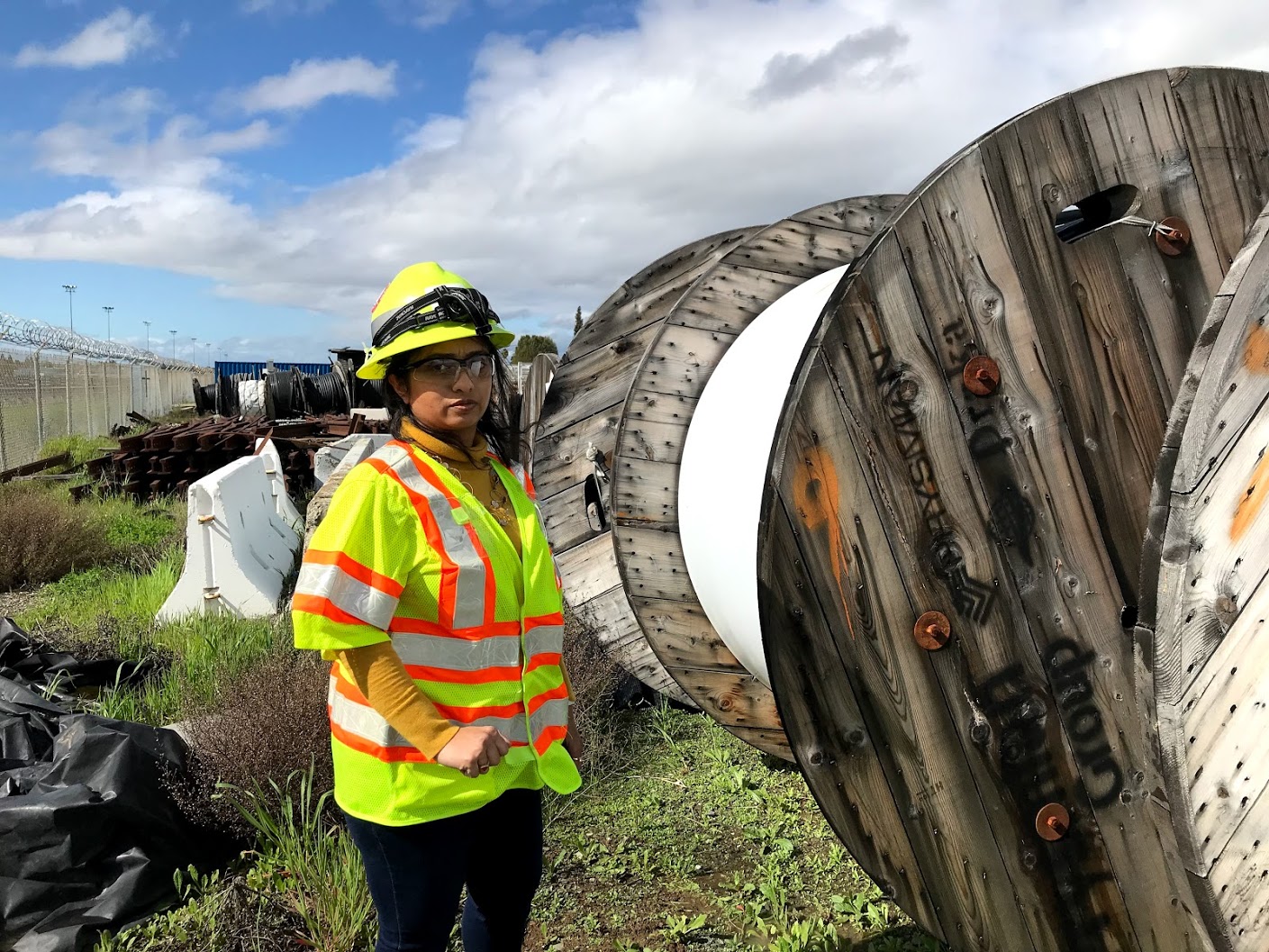 Maansii Chirag Sheth checks on spools of cable to be used for Transbay Tube work
 
Maansii Chirag Sheth spends time working to maintain the Transbay Tube exterior and other spots where equipment must be protected against corrosion.
"I have challenging, intriguing projects to work on every day. I wanted to make a mark in society and work on something meaningful that would last," said Sheth, who has worked at BART for nearly three years. "There is a very diverse culture here at BART and even though I am the only woman on my team, it has never been a barrier. Most of the leadership team are women and they are extremely supportive."
Sheth said mentors along the way, both men and women, showed her she could be whatever she wanted to be at BART. "There are many opportunities for advancement here," she said.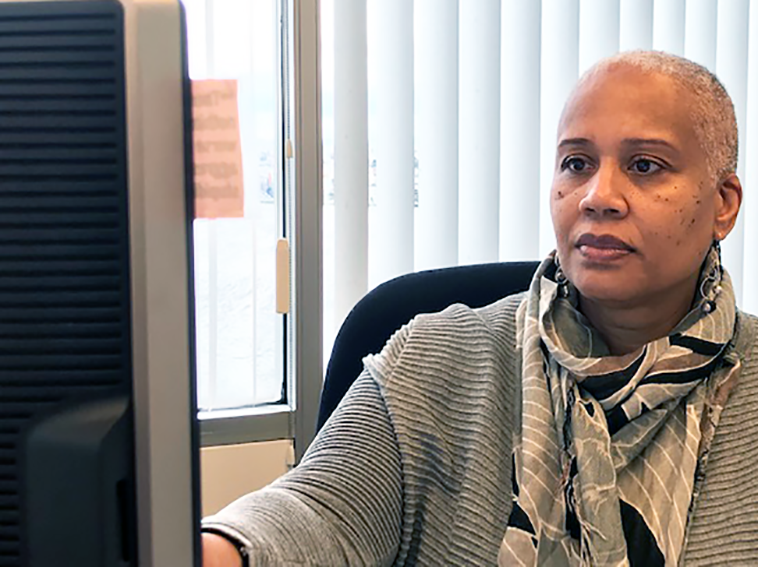 Manager of Engineering Programs Heather Fergus reviews plans for one of her train control engineering projects

Heather Fergus is a Manager of Engineering Programs who supports the Systems Engineering Group focusing on Train Control Engineering.  With a 20+ year Cisco Systems network engineering background supporting the finance and banking arena in Charlotte, N.C., she's been in male-dominated industries most of her life. Fergus likes the problem-solving aspect of working at BART.  "I have learned so much about the Transportation industry since joining BART.  I had to change my thinking from a Cisco Switch to a Switch Machine."

"It's a fantastic team," she said of her group at BART.  "We are driving to complete a lot of large-scale projects to help keep the legacy fleet running, which we know is a big concern for riders as the Fleet of the Future deployment quickly moves ahead."

Ni Lee, who has been at BART more than 10 years and works in the integration engineering group, said the women in nontraditional roles in transit "bring something extra to the table."
"We often come at problem-solving from a different perspective," she said. "Those of us who persisted, who had the determination to do these jobs that are more typically done by men, are not easily intimidated. We're part of a culture change at BART making gender equality the new normal."
Senior Civil Engineer Martina Z. Frignani grew up in Brazil and initially considered architecture for a career then found that she loved engineering. She moved to the Bay Area in 2016 to work for General Electric and was a regular BART rider; when GE shut down her area of operations, she figured, why not be an engineer for BART?  "I like that you can work on a variety of different projects here, and you don't have to do the same thing every day," Frignani said. "You can also see a project through from the design stage, to the engineering, to the implementation."
One of her projects, part of the Measure RR rebuilding effort, involves safety barriers that will allow maintenance workers to perform certain tasks safely while trains are running, rather than having to backlog that work to be done in the short overnight window.
"That means the work gets done faster to keep the trains running on schedule, and I know the riders appreciate that," she said.
Manager of Engineering Programs Mitra Moheb discusses a Richmond Yard Track Rehabilitation plan in a meeting with her team 
Mitra Moheb, a Manager of Engineering Programs over various project areas within Measure RR, grew up with the role model of an uncle who was a structural engineer. A relatively new hire at BART, Moheb had broad experience working for the FTA, Caltrain, CalTrans, Marin County and AC Transit.
"One of the things that drew me to BART was seeing the commitment to gender equality and the number of strong women in leadership roles here," Moheb said. Asked about the perception that women tend to have more "soft skills," she said, "You still have to back it up with logic and really knowing your subject matter, being a good manager or engineer."
While the largest number of women engineers at BART is in the Maintenance & Engineering group, there are others spread about in different parts of the organization, including Rolling Stock and Shops, the group that manages trains and their maintenance.
Pages: 1 · 2