Ferida Wolff
Ferida Wolff is author of 21 children's books and three essay books, her latest being  Rachel's Roses, illustrated by Margeaux Lucas. New York: Holiday House, Available August  20, 2019. 112 pages.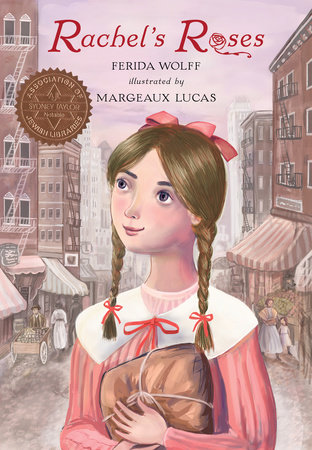 Before this latest, she wrote The Story Blanket (Peachtree Publishers) and Is a Worry Worrying You? (Tanglewood Books)
Her work appears in anthologies, newspapers, magazines, in seniorwomen.com and in her nature blog, http://feridasbackyard.blogspot.com.  A  book,  Chicken Soup for the Soul Married Life, contains two of her essays. 
Visit her at www.feridawolff.com.
Ferida Wolff writes: Our periwinkle has blossomed again, as it does each year, a groundcover that takes its mission seriously. Last year we planted four different kinds of tomatoes and feasted on red, yellow, and mottled varieties. We also set up a small greenhouse that had a way of breaking loose from its boundaries despite the spikes we used to hold it down. It flipped over uprooting our peas and beans but the tomato plants were least affected. We couldn't figure out if an animal pushed it over or some of the neighborhood kids were having fun but it isn't going back up this season.
more »
---
In the midst of Winter it is always easy to pine for Spring but then we often ache for Summer and its swimming weather only to welcome Autumn for the heat-relief it brings. Then Winter calls to skiers, sledders, and everyone for holiday fun. The year's variety, while it can be challenging, is emotionally bracing. It adds variety to our days and a sense of movement to our lives; almost like a well-written novel, it keeps us intrigued about what will happen next.
more »
---
It is the hydrangea bush, though, that is speaking to me now. I know some hydrangeas need shelter but mine have had an unsheltered life and still bloom. It reminds me that we all have things in life that are challenging and yet there is the hidden drive to blossom when we can, to let our inner selves support us until the right time comes to let the world see our beauty; a New Jersey Museum commemorates the 100th anniversary of the death of Martha, the very last passenger pigeon.
more »
---
We tend to make fewer fires than most who have fireplaces which means that the leftover wood in the cord is nice and dry for the next season/s. We discovered how wet wood can be really smoky so we appreciate letting the wood age. But what about the environmental cost of having a fireplace? Occasionally a hawk will come closer, just above our backyard trees. Most of the time the birds are savvy and disappear when the hawk is around, though not always. The woodpeckers found us again this year.   Cozy in Our Indoor Backyard   This past week has been cold and often rainy so I decided to enjoy our backyard inside. We stacked firewood from a two-year-old cord (now nicely weathered) in the fireplace in our den then added branches that had…
more »
---