These accessories contrasted with the ultra-feminine and historically inspired bags, hats, and shoes of the "New Look." Post-war prosperity encouraged women to return to traditional gender roles and nineteenth-century ideals of fashion and etiquette. However, the lady-like fashions of the couturiers in Paris were challenged by a sportier femininity embodied in the "American Look," as well as by the growing influence of youth culture on mainstream style. During the following decades, young subcultural styles found expression in accessories such as the bright opaque tights and flat Mary Janes of the Mods, the sleek metal-link purses and futuristic sunglasses of the Space Age style, and the home-crafted, ethnically inspired hippie look. Music was a major influence on fashion, expressed by metallic disco platform sandals; asymmetrical, post-modern New Wave sunglasses; the gender- bending styles of the New Romantics; and the heavy work boots made fashionable by grunge.
As women gained social freedoms during the late twentieth century, accessories helped mark their move into the workforce and proclaimed their financial independence. Fashions from designer labels such as Gucci and Manolo Blahnik were prominent symbols of success that women bought for themselves. By the 1980s, a new attitude toward flaunting one's wealth was articulated by over-the-top accessories such as Versace's bold handbags that screamed affluence and status — almost to the point of vulgarity. As fashion moved toward the new millennium, shoes and handbags dominated as the most coveted accessories — a concept reinforced by popular culture. They continue to be the most lucrative products sold by fashion houses around the world.
Over the past two centuries, accessories have maintained the power to communicate vital information about women's lives and their roles in society. Today, a pair of exclusive sunglasses has superseded the luxurious parasol of the nineteenth century, yet both convey aspirational status as they shade their wearers. Likewise, a designer cell phone case may have replaced a bejeweled makeup compact of the twenties, yet both speak to ideas of modernity and progress in a continually evolving world.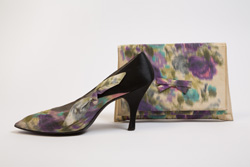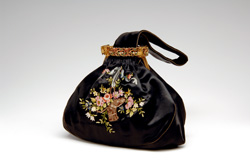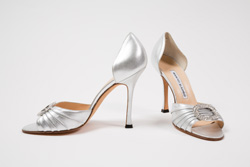 This exhibition was made possible thanks to the generosity of the Couture Council. 

Image: Roger Vivier for Christian Dior, silk evening pumps and clutch, 1955-1959, France, Gift of Arthur Schwartz. 

79.169.6
---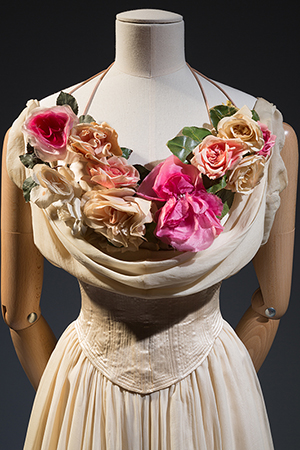 Ravishing: The Rose in Fashion
Special Exhibitions Gallery
Spring 2021, but subject to change
Ravishing: The Rose in Fashion presents the first socio-cultural examination of the rose in fashion. This flower can be dated back over 3 million years, and its broad geographic sweep is entwined with stories of trade, immigration, politics, religion, gender, food, beauty, and identity. It has been worshipped and reviled, and it is inextricably linked to perceptions of love. Not surprisingly, this delicate and fragrant flower — as well its sharp thorns — have provided endless inspiration for artists, writers, and designers. The rose has greatly influenced the form and decoration of apparel, jewelry, and fashion imagery.
Ravishing will explore the significance of the rose in fashion and dressed appearance from circa 1750 to the present. More than seventy-five objects will be selected for their historic and aesthetic significance in addition to their broader symbolic, socio-economic, and geo-political importance. The exhibition is curated by Amy de la Haye, Rootstein Hopkins Chair of Dress History and Curatorship and Joint Director of the Centre for Fashion Curation at London College of Fashion, and Colleen Hill, curator of costume and accessories at The Museum at FIT.
The exhibition is accompanied by the Yale University Press publication The Rose in Fashion: Ravishing which includes an introduction by MFIT director and chief curator Dr. Valerie Steele, and a chapter by Colleen Hill. This blog post by Amy de la Haye gives readers a taste of the book and offers a free extract of Chapter IV – "The Rose: The Unfading Flower of Jewelry" by Geoffrey Munn.
Image: 

Charles James, debutante dress, 1937, USA, Gift of Mrs. John Hammond, 77.89.3.