This will be the fourth and most comprehensive exhibition of Sendak's work at the Morgan. The first took place in 1981, with drawings for Sendak's deeply personal picture book Outside Over There and from his recent work on The Magic Flute. Both had been inspired by a visit Sendak made to the Morgan in 1977 to view drawings by Blake. This was followed by exhibitions of his illustrations for the Grimm tale Dear Mili in 1986 and drawings for the book Where the Wild Things Are in 2009, on the occasion of the release of a major motion picture adaptation. Sendak made use of the Morgan's collections on at least two other occasions, including in 1987, when he leafed through Mozart manuscripts during the filming of the PBS documentary American Masters.
"Few people know that Maurice Sendak had a long and productive relationship with the Morgan. It is exciting to focus on his work as a theater designer, which is an often overlooked but Maurice Sendak (1928-2012), Diorama of Moishe scrim and flower proscenium (Where the Wild Things Are), 1979-1983, watercolor, pen and ink, and graphite pencil on laminated paperboard. © The Maurice Sendak Foundation. The Morgan Library & Museum, Bequest of Maurice Sendak, 2013.103:69, 70, 71. Photography by Graham Haber, 2018. important aspect of his career as an artist," said Director of the museum, Colin B. Bailey.  "We are deeply grateful to The Maurice Sendak Foundation for their support in the planning of this exhibition and for lending several key works, including examples of Sendak's charming Fantasy Sketches."
Maurice Sendak (1928-2012) below, Storyboard (The Love for Three Oranges), 1981-1982, watercolor, ink, and graphite pencil on board. © The Maurice Sendak Foundation. The Morgan Library & Museum, Bequest of Maurice Sendak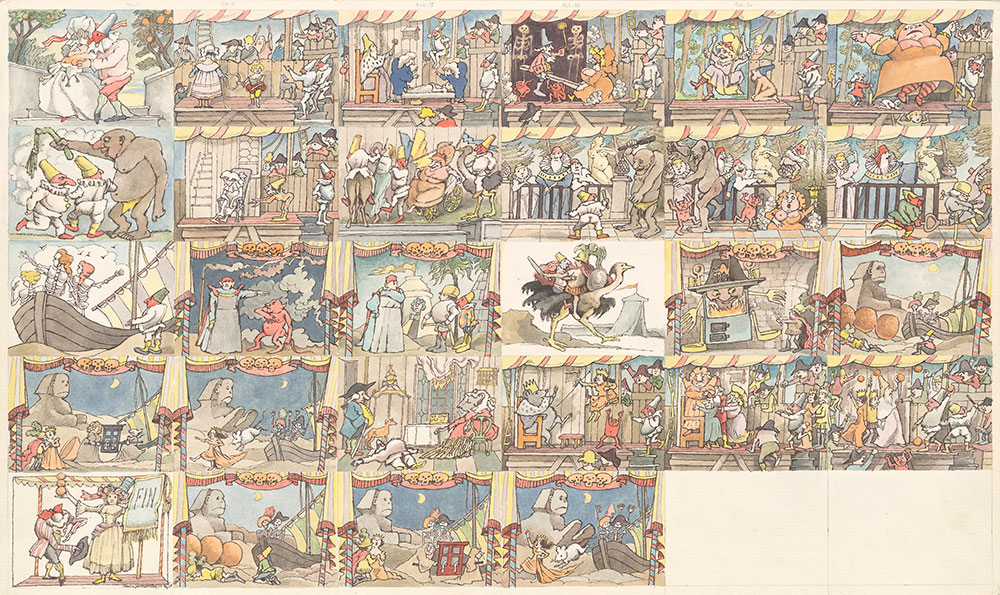 "This exhibition will be a wonderful surprise to those who are familiar with Sendak primarily through his beloved books," said Rachel Federman, Assistant Curator in the Modern and Contemporary Drawings Department and the curator of the exhibition.  "His designs for opera and ballet have all the beauty, humor, and complexity of his picture books and illustrations, but they also put on full display his passion for art, art history, and music."
Publication
Drawing the Curtain: Maurice Sendak's Designs for Opera and Ballet will be the first major museum catalogue of Sendak's work. It reproduces all works in the exhibition as well as additional works by Sendak and others from whom he took inspiration. The essays discuss the importance of music and movement to Sendak, the artworks that inspired his stage designs, and the historical and biographical contexts that formed them, providing critical insights into one of the twentieth century's most important children's book authors and illustrators. Author: Rachel Federman, with contributions by Liam Doona, Christopher Mattaliano, and Avi Steinberg Publisher: The Morgan Library & Museum and DelMonico Books — Prestel 208 pages.
Editor's Note: Maurice Sendak inscribed some books to our family at a Connecticut weekend signing; I had Saturday Newsdesk duty at Time and couldn't attend. When it was mentioned by my husband that we had ordered another of his books that hadn't yet arrived Sendak offered to sign it at his house. We didn't take him up on that but it was a generous offer. 
Pages: 1 · 2