The Morgan Library's Maurice Sendak Set and Costume Designs Exhibit: Props, Costumes, Preliminary Sketches, Storyboard, Finished Watercolors and Painted Dioramas
Maurice Sendak, Design for Ship (Nutcracker), 1982-4, gouache and graphite pencil on paper. © The Maurice Sendak Foundation. The Morgan Library & Museum, Bequest of Maurice Sendak; Photography by Janny Chiu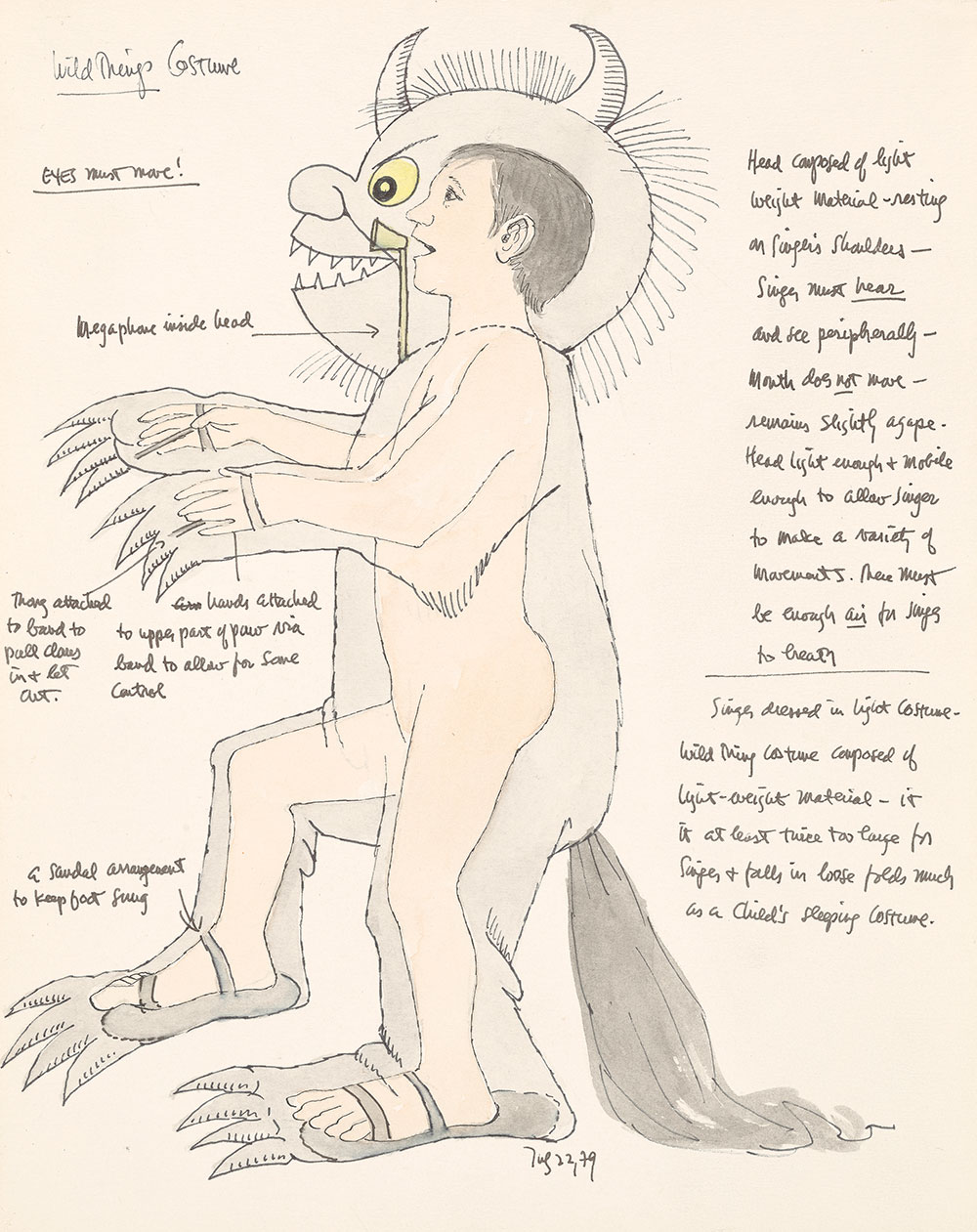 Like his children's book illustrations, Sendak's designs for the stage embody his singular hand, his fantastical mode of storytelling, and his keen — sometimes bawdy — sense of humor. Drawing the Curtain: Maurice Sendak's Designs for Opera and Ballet presents a wide selection of works from five of his most important productions: Mozart's Magic Flute, Janáček's Cunning Little Vixen, Prokofiev's Love for Three Oranges, Tchaikovsky's Nutcracker and an opera based on Where the Wild Things Are. These inventive designs demonstrate his exceptional skill as a visual storyteller.
Above,  Sendak (1928-2012), Study for Wild Things costume, with notes (Where the Wild Things Are), 1979, watercolor, pen and ink, and graphite pencil on paper. © The Maurice Sendak Foundation. The Morgan Library & Museum, Bequest of Maurice Sendak
A selection of eighteenth and nineteenth-century works from the Morgan's collection by artists who influenced Sendak are displayed alongside his designs. Throughout his career, Sendak drew inspiration from his visits  to the Morgan, particularly his encounters with the compositions of Mozart, and the drawings of William Blake and Giambattista and Domenico Tiepolo. The Morgan's diverse holdings of music manuscripts, autograph letters, printed books, and Old Master drawings mirrored Sendak's own wide-ranging passion for music, art, and literature.
Pages: 1 · 2