Portraiture at the Morgan: While Wearing a Cape, Asleep, In A Fur-trimmed Coat, Holding a Skull and Tulip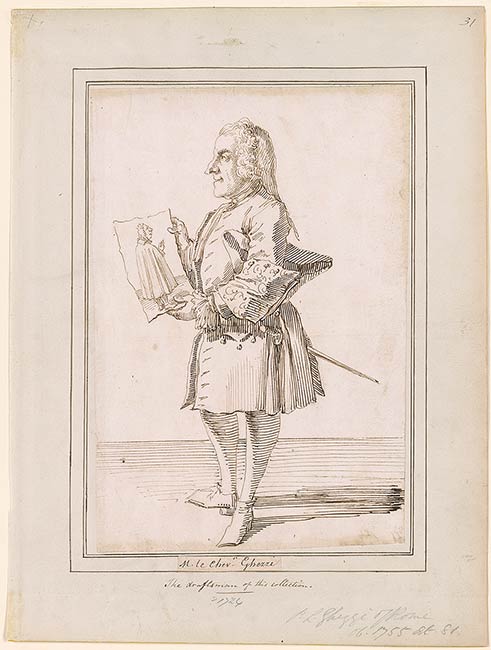 Pier Leone Ghezzi (1674-1755), Self-Portrait, ca. 1730, Pen and brown ink over traces of graphite on paper. Gift of János Scholz, 1985, The Morgan Library & Museum
Drawing is often seen as the most immediate of the fine arts, capturing a subject's essence in quick, suggestive strokes of chalk, pencil, or ink. This can be particularly evident in portrait drawing where the dynamism of the medium allows for the recording of a likeness in the here and now, while simultaneously offering clues into the relationship between artist and sitter.
In a new exhibition titled  Life Lines: Portrait Drawings from Dürer to Picasso the Morgan Library & Museum takes visitors on a fascinating exploration of the genre. Spanning five centuries and including more than fifty works — from Dürer's moving sketch of his brother Endres to Picasso's highly expressive portrait of the actress Marie Derval — the show features treasures from the Morgan's collection as well as a number of notable drawings from private holdings. The exhibition is on view through September 8.
Pablo Picasso, Portrait of Marie Derval, 1901, Pen and brush and black ink over graphite, on wove paper, 19 3/4 x 12 5/8 inches (500 x 321 mm) Thaw Collection, The Pierpont Morgan Library, New York. Photography by Steven H. Crossot, 2014 © 2015 Estate of Pablo Picasso / Artists Rights Society
"Life Lines is aptly named as no medium quite captures a person or the connection between artist and sitter like drawing," said Peggy Fogelman, acting director of the Morgan. "Whether a dashed-off sketch of family life by Rembrandt or a preparatory study for a famous marble bust by Bernini, each work in this revealing exhibition is a window into a personal world." The drawings in the exhibition are organized thematically into four sections: Self-Portraits; Family and Friends; Formal Portraits; and a final grouping, entitled Portraits?, that explores the boundaries of this type of work. The pieces range from early studies for paintings and sculptures to highly-finished drawings that stand alone as works in their own right. What all of them share, however, is the image of a likeness of someone worth remembering, bearing testimony to the deeply human sentiment to leave a mark.
THE EXHIBITION
I. Self-Portraits are hardly a new phenomenon. Many artists have recorded their own likeness over the past five hundred years, and examples in this section range from Palma il Giovane (1544-1628) to Henri Matisse (1869- 1954). Some artists like to faithfully record their image looking into a mirror. Others embed their likeness in a decorative or narrative context, often showing themselves as artists. Italian Pier Leone Ghezzi (1674-1755), for example, portrays himself in fanciful costume, while holding a caricature of his likeness wearing a cape. This humorous work is a self-portrait within a self-portrait, demonstrating the whimsy of an artist best known for his ironic sketches of both Rome's citizenry as well as notable visitors to the ancient city. Ghezzi's two depictions of himself seem to stand facing one another, one pointing his finger at the other, as if in conversation.
II. Family and Friends:  Many of the drawings presented of family and friends are not given the trappings of formal portraiture. They record the people closest to the artists: their children, spouse, siblings, and friends. Some of these drawings, such as Rembrandt's (1606-1669) sketch of his wife Saskia asleep, are particularly intimate. Albrecht Dürer's (1471-1528) drawing of his younger brother Endres can be identified thanks to a portrait of him at the Albertina in Vienna. While that portrait, dated and inscribed, shows Endres on his thirtieth birthday, the drawing in Life Lines appears to be slightly later. More stylized than the earlier version, it shows Endres clad in a fur-trimmed coat and wearing his beret boldly aslant.
Rembrandt Harmensz. van Rijn (1606-1669), Two Studies of Saskia Asleep, ca. 1635-37, Pen and brown ink and wash on paper. Purchased by Pierpont Morgan, 1909, The Morgan Library & Museum.
Pages: 1 · 2