The Cult of Beauty: The Aesthetic Movement 1860-1900 at the V&A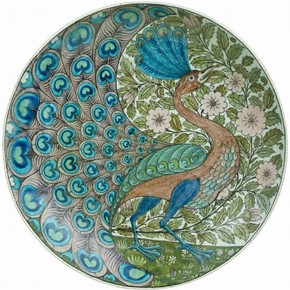 The V&A in London is presenting the most comprehensive exhibition staged on the Aesthetic Movement in Britain. Prizing the importance of art and the pleasure of beautiful things above all else, it was the first artistic movement to inspire an entire lifestyle.
The Cult of Beauty: The Aesthetic Movement 1860 - 1900 gathers for the first time many masterpieces in painting together with sculpture, design, furniture and architecture as well as fashion and literature of the era. Aestheticism created an unprecedented public fascination in the lives of artists and the exhibition will explore the dazzling array of personalities in the group including William Morris, James McNeill Whistler, Frederic Leighton, Dante Gabriel Rossetti, Edward Burne-Jones and Oscar Wilde.
Aestheticism was a British movement born as a reaction to the art and ideas of the Victorian establishment. The exhibition traces its development from the romantic bohemianism of a small avant-garde circle in the 1860s to a cultural phenomenon, concluding with the final Decadent phase at the end of the 19th century. The style was characterised by a widespread use of motifs such as the lily, the sunflower and the peacock feather, drawing on sources as diverse as Ancient Greek art and modern day Japan. It was at the V&A that scholars first identified and studied the movement.
Sir Mark Jones, Director of the V&A, said: "Art as important for its own sake, beauty to be valued for itself alone — the ideas proposed by the Aesthetic movement are current again today. This exhibition, drawn from a wide range of public and private collections, will be the richest and most complete picture of this extraordinary movement yet."
The exhibition includes over 250 objects and is set out in four broadly chronological sections spanning the decades from 1860-1900: The Search for a New Beauty, Art for Art's Sake, Beautiful People and Aesthetic Houses, and Late Flowering Beauty.
The clear artistic ideal that emerged from the confusion of styles in the mid-19th century was the 'cult of beauty' that brought together the Pre-Raphaelite bohemians like Rossetti, maverick figures such as Whistler and the painters of grand, classical subjects like Leighton and G. F. Watts. These painters chose unconventional models like Elizabeth Siddal to create an entirely new type of beauty where mood, colour and harmony were more important than the subject.
Pages: 1 · 2