Reuniting the Masters: European Drawings from West Coast Collections, Bringing Together Works of Art Separated Over Centuries and Continents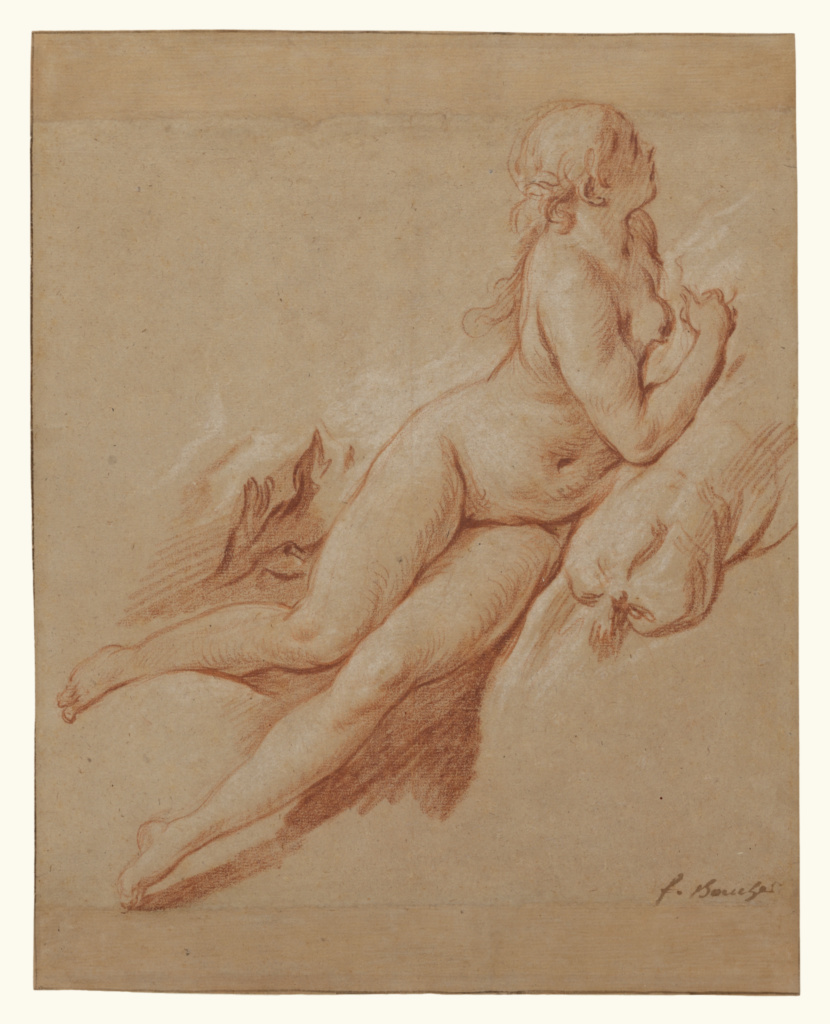 Right: François Boucher, Study of a Reclining Nude, 1732-35. Red and white chalk on beige laid paper,  The J. Paul Getty Museum
By coincidence or by design, drawings by the same artist, for the same project, and even from the same sketchbook, have made their way separately into galleries and museums on the West Coast. Bringing these long-estranged drawings together again at the Crocker Art Museum  illuminates the work and process of specific artists in the rich history of European draftsmanship and brings forward the history of drawings collectors and scholars in the West.
"Through the generosity of our fellow West Coast institutions, we are delighted to unite these drawings, some separated for centuries, in our galleries," said Crocker  Art Museum curator William Breazeale. "They illuminate not only artists' working process but also a chapter in American patronage and scholarship that should be better known. West Coasters from E.B. Crocker to Vincent Price and Cary Grant have fallen under the spell of master drawings, and distinguished curators here have furthered their study."
Some works, such as François Boucher's Study of a Reclining Nude at the J. Paul Getty Museum in Los Angeles and his Birth of Venus at the Crocker Art Museum, relate to the same project, though one made its way to California a century later than the other. Pieter Quast's A Man in Oriental Dress at the Iris and B. Gerald Cantor Arts Center for Visual Arts at Stanford University and A Skater at the Achenbach Foundation for Graphic Arts in San Francisco, come from the same sketchbook, where they originally appeared just pages apart. Others, such as Adolph Menzel's Artist's Model in Eighteenth-century Costume at the Cantor Center and  Study for a Tree at the Fine Arts Museums of San Francisco illustrate contrasting aspects of the same artist's work.
Reuniting the Masters is presented in four sections representing the major European schools, showcasing the development of draftsmanship across the continent in a series of comparative pairs. Many of the most appealing artists from the 16th through 19th centuries are highlighted, including Italy's Fra Bartolommeo and Guercino, the Low Countries' Adriaen Frans Boudewijns and Anthonie van Waterloo, Germany's Friedrich Heinrich Füger and Adrian Zingg, and France's Jean-Baptiste Oudry and Charles-Nicolas Cochin the Younger. Among the objects are newly acquired and newly attributed drawings, representing the continuing work of patrons and scholars in the West.
Right: Adolph Menzel's  Artist's Model, Seen in Back View, Putting on an Eighteenth-Century Uniform. Black chalk, heightened with yellow, orange, rose, and white chalk. Iris and B.Gerald Cantor Center for Visual Arts, Stanford University
Consisting of 52 drawings, Reuniting the Masters will be accompanied by an 150-page, full-color catalogue authored by Breazeale; Cara Denison, curator emerita at the Morgan Library and Museum in New York City; and Victoria Sancho Lobis, Prince Trust curator of prints and drawings at the Art Institute of Chicago. Reuniting the Masters: European Drawings from West Coast Collections will be on display at the Crocker  until Feb. 5, 2017.
Below: Friedrich Heinrich Fuger, Coriolanus Implored by his Family to Spare Rome, Pen and brown ink, brush and brown wash over black chalk. Iris and B. Gerald Cantor Center for Visual Arts at Stanford University