Jo Freeman Reviews No Escape: The True Story of China's Genocide Against the Uyghurs
Review of
No Escape: The True Story of China's Genocide Against the Uyghurs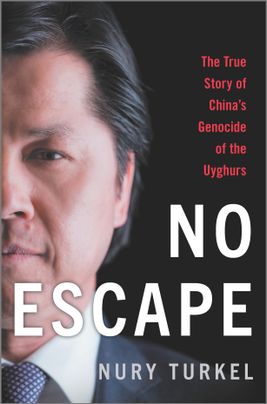 by Nury Turkel
Toronto, CA:  Hanover Square Press, 2022, 348 pages. $28.99 cloth
The portrait Nury Turkel paints of the Uyghurs under the Han Chinese makes George Orwell's dystopian novel,  Nineteen Eighty Four,  look like summer vacation in a resort hotel.  The Han Chinese version of Manifest Destiny makes our own look like a walk in the park.
Turkel was born in a detention center in Xanjiang, as China calls its northwest region. The Uyghurs call it East Turkistan.  They converted to Islam beginning in the Tenth Century. Turkel makes it clear that the Han Chinese dislike diversity whether it be ethnic, religious or ideological.  Loyalty to the Chinese Communist Party is demanded of everyone but only gets you so far if you are "something else."  Indeed, all Muslims are viewed as religious extremists and potential terrorists.
The book begins with the authors' personal story of how he "escaped" to the US as a college student, eventually becoming an American lawyer, activist and citizen.  He had a lot of help along the way.  The bulk of the book recounts other people's stories about what it's like to have China's boot on your back.  The book ends with a long discussion of genocide.
In 1970 Turkel's pregnant mother was sent to be re-educated "into the joys of Mao's workers' paradise" because she was "intoxicated with separatist ideology" and his father was sent to a farm labor camp.  All because his grandfather, in whose house they lived, still entertained friends from the five years of East Turkistan independence after World War II.
This was part of China's effort to erase the Uyghur culture altogether.  The most serious crackdown began in 2016,  led by President Xi Jinping who took power in 2012.  Somewhere between 65 and 80 percent of the mosques all over the country were knocked down or stripped of their minarets and domes. Some buildings disappeared; others were repurposed. Cemeteries and holy sites were razed. Religious symbols were replaced with images of Mao and Xi Jinping.  
Reciting Koranic prayers or performing other religious rites became a crime.  By 2018 the Xinjiang capital was "a vast open-air prison camp for Uyghurs" with police checkpoints every few blocks.
The longest chapter is "The War On Uyghur Women".  Many women shared their personal stories with Turkel  after they got out of the country.  They told him of nightly raids for Korans and prayer rugs, "unlawful" children, or homes with more than two small knives.  To keep the population down "women were forced to submit to gynecological exams, enforced contraception and abortions." Those put into prison had their heads shaved and their long, black hair sold abroad.
Pages: 1 · 2