Jo Freeman Writes: Anti-Lynching Bill Still Can't Pass Congress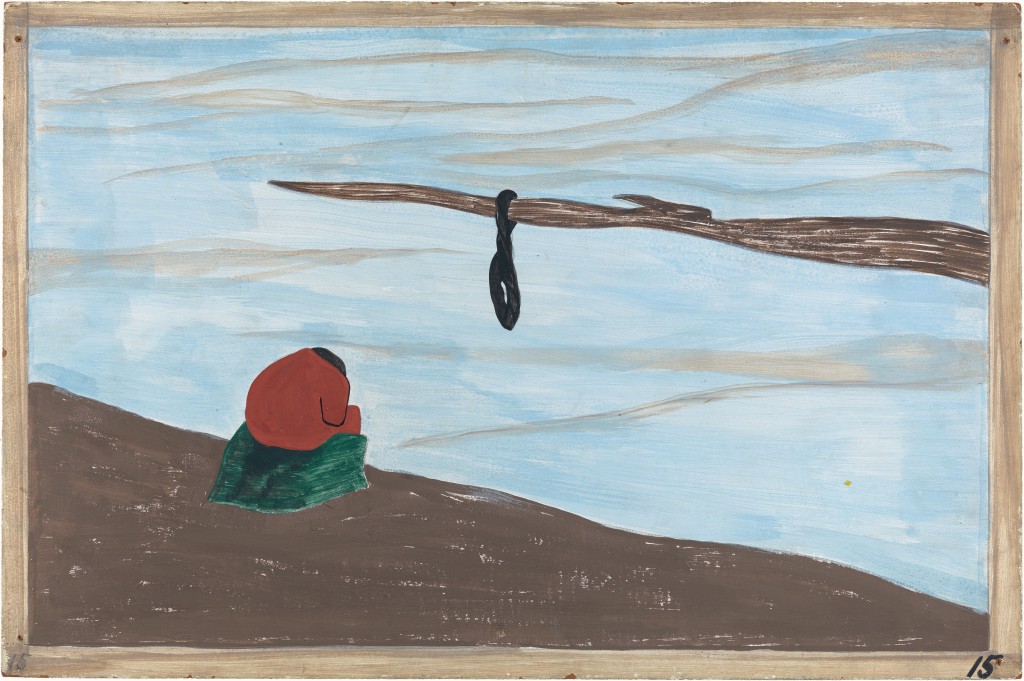 One Way Ticket,  Jacob Lawrence's Migration Series, Museum of Modern Art
by Jo Freeman 
As thousands march daily to demonstrate their support for Black Lives Matter, an anti-lynching bill still can't get out of Congress. It is currently being held up by Sen. Rand Paul (R KY) who claims that it is too broad in that it would include minor injuries.
The first anti-lynching bill to get out of committee was introduced in April 1918. Known as the Dyer Anti-Lynching Bill, it passed the House in 1922 but was filibustered by Southern Senators. For the next forty years nearly 200 anti-lynching bills were introduced into almost every Congress and occasionally passed by the House. In the Senate, Southern Senators kept them from coming to a vote.
The current bill was introduced by Rep. Bobby Rush (D IL), a founder of the Illinois Black Panther Party in 1968. H. R. 35 passed the House by 410 to 4 in February, 2020. It had already passed the Senate but came before it again due to a small change in the House version. That's when Sen. Paul put his hold on the bill.
Lynching has a long and complicated history. Essentially an extra-judicial execution, it was a product of the frontier when institutions for enforcing the law were weak. Only after the Civil War ended did it become primarily a vehicle aimed at persons of African descent. The number of white victims dropped to roughly ten percent.
In the years before African-Americans were disenfranchised they were often the victims of lynch mobs. Those who were seen as prosperous, or who acted impudently, were also frequent targets. Lynching shifted from a form of extra-judicial law enforcement to one of social control and political suppression. Numbers peaked during the Populist Movement of the late 1890s when white elites feared that blacks and poor whites might jointly vote for populist candidates for public office. 
Urban riots, aimed at decimating the Negro sections of town, were less frequent than lynching but more destructive. In 1898 whites in Wilmington, NC executed a coup d'etat. They attacked Negro neighborhoods and burned the only Negro newspaper in the state in order to depose the duly elected bi-racial Republican city government and replace it with the defeated white Democrats.
Right, UNC. Chapel Hill
Opposition to white violence took many forms, including migration and organization. In the late 1890s and early 1900s more and more of the most productive African Americans — the ones mostly likely to be lynched for doing well — left the South, at least the rural South. They foretold what became the Great Migration. A few national organizations formed but the only one to survive was the NAACP. It was founded in 1909/10 after black neighborhoods in Springfield, IL were burned by white rioters in one of the most destructive invasions.
For two decades, stopping white attacks on blacks was at the top of the NAACP's agenda. It petitioned Congress, organized marches and wrote letters. 
Southern lynching began to decline in the 1920s as white elites feared the loss of their labor force which was emigrating north. It was slowly replaced by itinerant terrorism as small groups of whites singled out blacks for physical assault, often for sport and sometimes for politics. Unlike lynching, incidents not resulting in death were rarely reported to the police and seldom reported in the newspapers. Instead of data, we have a lot of anecdotes. 
© 2020 by Jo Freeman for SeniorWomen.com
This article is based on research by Jo for her forthcoming book Tell It Like It Is: Living History in the Southern Civil Rights Movement, 1965-66.