In case you missed it earlier in 2013: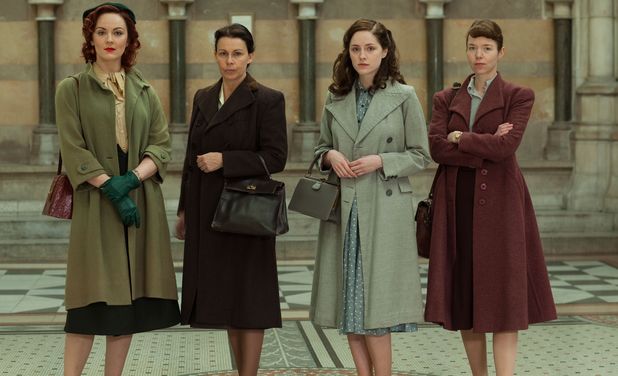 It's 1951 and Susan, played by two-time BAFTA award-winner Anna Maxwell Martin, Millie (Rachael Stirling, Women in Love), Lucy (Royal Academy of Dramatic Art graduate Sophie Rundle) and Jean (Julie Graham, William & Mary, Survivors) have returned to post-war domesticity, modestly setting aside the part they played in the Allied victory. Their brilliant work at top security HQ Bletchley Park helped crack the codes used by the German military, producing crucial intelligence that shortened the war.
Susan's conventionality masks a sharp, inquisitive mind. She may appear every inch the typical 1950s wife and mother, but when she hears about a string of unsolved murders in London, Susan's old Bletchley spirit is ignited. With her handwritten charts of numbers, dates and times, and lines of wool connecting the dots on her wall map, Susan has spotted a pattern of behavior in the killer that no one else sees. Unaware of her background, the police dismiss Susan's theories causing her to realize that the only way she can solve the murders is with the help of her friends.
Secretly, Susan reconvenes the formidable foursome — bohemian and streetwise Millie; Lucy, with her brilliant photographic memory and Jean, the methodical no-nonsense organiser. A race against the clock ensues as the women work to outwit the culprit. Can they rekindle their singular expertise and discover the killer's next move — before he strikes again?
 "Blood on Their Hands" (episodes 1 & 2 of Season 2) opens with two back-to-back episodes where viewers find former Bletchley Park girl Alice Merren in prison awaiting trial for murder. Jean stands behind her innocence and tries to reunite the circle in an attempt to help one of their own. Susan is reluctant to get involved after her experience with the twisted serial killer Malcolm Crowley and the danger it posed to her family. Lucy is now getting on well in a clerical job at Scotland Yard and keeping her head down, and Millie is working as a German translator.
Episodes 3 and 4, "Uncustomed Goods," find Millie branching out into what she believes to be an innocent sideline of dealing in unaccustomed goods. This endeavor leads to her being kidnapped and held in a seedy hotel by some gangsters. On discovering this, Alice goes to Jean and Lucy to help. The girls start to investigate in order to save their friend and, as they do so, uncover a much darker, hidden world of crime.
Distributed worldwide by Content Television, Season 2 of The Bletchley Circle is created and written by Guy Burt ("Kingdom," "The Borgias") produced by Trevor Hopkins ("Strike Back" "Kidnap and Ransom") and executive produced by Jake Lushington ("The Devil's Whore," "Mysterious Creatures"). Story 1 is directed by Jamie Payne ("The White Queen" "Doctor Who") and story 2 is directed by Sarah Harding ("Queer as Folk", "Pollyanna").
Pages: 1 · 2