A Baseball Story You Might Not Have Heard About an American Catcher and Spy for the OSS
Editor's Note: I began listening to baseball when I was five years old on the radio ... there was no television at that time. Being an only child, I went to New York Giants baseball games at the Polo Grounds in the borough of The Bronx with my father regularly. We continued to listen to games if we didn't have a seat in the stands. When I moved to San Francisco in the '60s friends said they knew why I was going there ... to follow my team. Now after many years back East, I am again in the Bay Area and watching Opening Day for the SF Giants (Madison Bumgarner is pitching — Buster Posey catching — and Madison just got picked off at first) in San Diego on television; we'll be attending some games at the newly named Oracle Park in San Francisco this season. 
Here's a story I hadn't heard about a famed baseball player and spy. — Tam Martinides Gray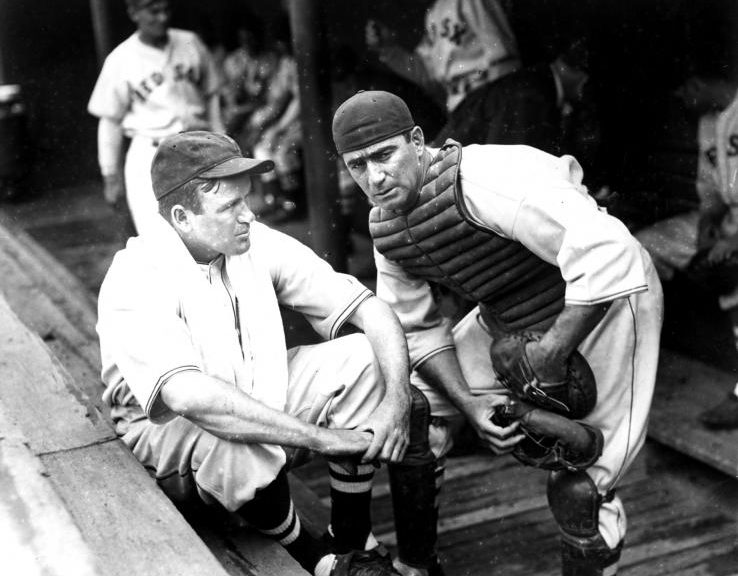 Morris "Moe" Berg (1902-1972) was an American catcher in Major League Baseball from 1926-1939. He later became a spy for the Office of Strategic Services during World War II. Berg in on the right. 
Berg was born in New York City on March 2, 1902.  After graduating from Princeton in 1923, he began his career in Major League Baseball as a catcher, playing for several teams, including the Brooklyn Dodgers and the Boston Red Sox. He was never more than an average player, often spending time on the bench, but his soaring intellect and gift for languages earned him the title of "brainiest guy in baseball." Berg was fluent in German, Japanese, French, Italian, Spanish, and Portuguese and had some knowledge of at least a dozen other languages. In three years during the offseason, he earned a law degree from Columbia University in 1928 and eventually took a position with a Wall Street law firm while still playing baseball.
After several disappointing seasons with the Red Sox, and two years of coaching, Berg quit baseball in August 1939 and began looking for a way to get involved with the war effort.
In 1943, Berg was recruited by the Office of Strategic Services to travel overseas and spy on the German atomic bomb program. Berg's gift for languages and quick wit made him the perfect candidate for the job, and he was selected for a special mission codenamed "Project Larson", as part of the ongoing Alsos Mission. The purpose of Project Larson was to interview top Italian physicists to see if they knew anything about a German bomb program.
In 1944, Berg traveled to Italy and met with physicists Edoardo Amaldi and Gian Carlo Wick, who admitted that they had not done any atomic research for the Germans and suspected that even if the Germans were working on an atomic bomb it would have taken them at least a decade to complete it. Berg continued to visit with other Italian scientists throughout the summer, though little was learned about a German nuclear program.
In December 1944, the OSS learned that renowned German physicist Werner Heisenberg was leaving Germany to give a lecture in Zurich. Berg was ordered to attend the conference and to make contact with Heisenberg. If there were any indications that the Germans were working on the bomb, he was ordered to shoot Heisenberg (inside the lecture hall if necessary). On December 18, Berg attended the lecture and quietly sat with a pistol inside his pocket before a small audience of professors and graduate students. He had also been given a cyanide tablet. Heisenberg did not reveal anything about a German nuclear program during the lecture, but Berg was able to meet with Heisenberg's Swiss host and OSS source Paul Scherrer and secure an invitation to dine with Heisenberg later that week. Berg listened carefully to the conversation that evening, but there was no indication that the Germans were working on an atomic bomb. 
Berg returned to the United States on April 25, 1945, and resigned from the Strategic Services Unit, the successor to the OSS, in August.
After the War, Berg declined several offers to coach for Major League Baseball. In 1952, Berg was hired by the CIA to use his old contacts from World War II to gather information about Soviet atomic science, but his efforts produced little intelligence. Berg died in Belleville, New Jersey, on May 29, 1972.
Morris "Moe" Berg's Timeline
1902 March 2nd: 

Born in Harlem, New York.
1923

 Received B.A., magna cum laude in Modern Languages from Princeton University.
1923 Jun 27th

 Signed first Major League Baseball contract with the Brooklyn Robins.
1930 Feb 26th

 Received LL.B. from Columbia University.
1943 Aug 2nd to 1945 Apr 25th

 Joined the Office of Strategic Services as a Paramilitary Operations Officer for the Manhattan Project's Alsos Mission.
1972 May 29th

 Died in Belleville, New Jersey.