Children's Books for Reading, Collecting, Enjoying: Reviewers Select Their Favorites
It's the time of year that reviewers make selections for holiday gifts. For CultureWatch, we've narrowed the field to children's books.  But often, adults chose these books as gifts for themselves nowadays. Because of their age, it's sometimes difficult to find newly released editions, and so the hunt begins online.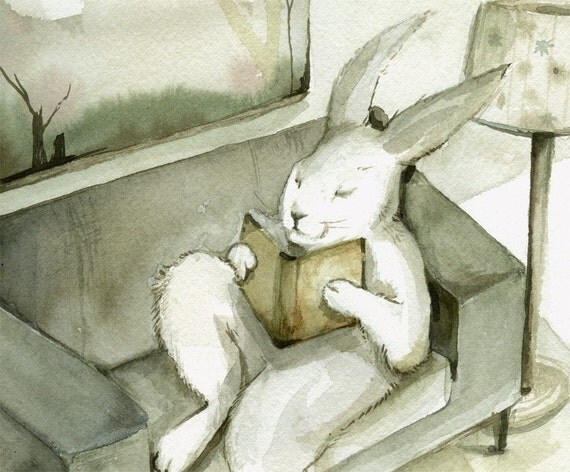 Before we move on to specific reviewer lists, we wanted to acknowledge Amber Alexander's work. The  archival print on the right of an original watercolor, A Good Read, * embodies the whimsy, appeal and originality we seek from the childrens' books we gift or keep for ourselves. In order to see Amber's work, log onto Etsy and put her name into the search capability.
We discovered that there was a re-release of Beyond the Pawpaw Trees: The Story of Anna Lavinia by Palmer Brown, a book two of our daughters had loved when young but were regretful that our copies had not traveled when we moved from the east coast. The New York Review Books Children's Collection has republished this book and anticipates the release of The Silver Nutmeg in April of 2012. Purple House Press is another publishing house that is 'bringing back the finest in children's books.'
A New York Times article recently reminded their readers that: "Print books may be under siege from the rise of e-books, but they have a tenacious hold on a particular group: children and toddlers. Their parents are insisting this next generation of readers spend their early years with old-fashioned books."
Kate Seredy's The Good Master, The White Stag, The Singing Tree
St. Exupery's The Little Prince.
Andrew Lang's fairy books series and The Book of Romance, preferably old Longmans Green English editions with marvelous illustrations by Henry Ford.
Jan Brett is another dependably gorgeous illustrator, especially The Mitten and Fritz and the Beautiful Horses.
E.B. White, Stuart Little; Charlotte's Web; Trumpet of the Swan: Ages 8 - Adult
Shel Silverstein, especially The Giving Tree
M. Jean Craig, Boxes
Laurence Housman: What O'Clock Tales
*©2011 Amber Alexander on Etsy