An Exhibit That Begins and Ends With Lovers; Chagall: Love, War, and Exile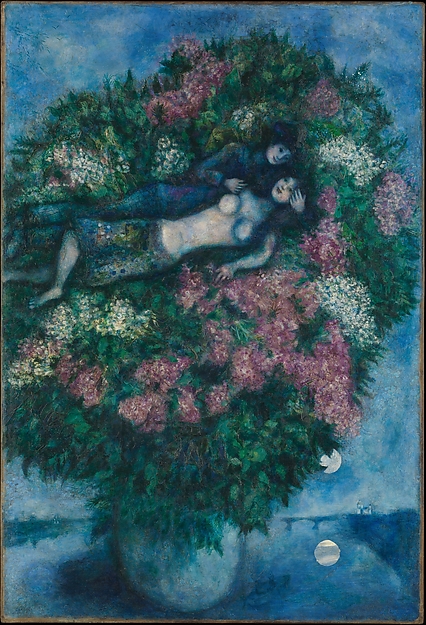 Marc Chagall (1887-1985), 20th  century modernist giant and renowned Jewish artist, is the subject of a new, dramatic show that opened recently at the Jewish Museum, located in the stately Warburg mansion on Fifth Avenue in Manhattan.
Perhaps best known for his dreamlike images of floating figures celebrating life, love and Jewish identity, Chagall had a lesser-known darker side, which the museum explores in this rare exhibition of paintings and works on paper from the 1930s and 1940s.
Lovers Among the Lilacs, 1930.  Oil on canvas. The Metropolitan Museum of Art. Bequest of Richard S. Zeisler
Born in the village of Vitebsk in Belarus (then part of Tsarist Russia), Chagall fled the tyranny of the Bolsheviks in 1923, when he moved to avant-garde Paris with his wife and muse, Bella, and their daughter Ida.  His art flourished there, and we see the evidence upon entering the exhibit, with two brightly colored paintings glorifying floral bouquets purchased by Bella at the Parisian markets.  (See The Lovers, 1937, and Lovers Among the Lilacs, 1930.)
But while Chagall was cognizant of the many artistic movements in play during this period and swirling about him in Paris — cubism, surrealism, suprematism and abstraction — he didn't adopt any one style. He created his own unique style, cherry-picking from the various movements and adding Russian iconography, folk imagery and Fauvist color to the mix.  As the show's Senior Curator Susan Tumarkin Goodman elaborates in the catalogue:  "He maintained this independence consistently throughout his career. 'I remained, and I remained myself,' he once remarked, reviewing his life. 'Why take anything from anyone else?'"
The curators consider the works produced before, during and after the Second World War (1930-1948) as Chagall's "neglected period," a "lacuna" that they hope to fill by mounting this show, which lasts through February 2, 2014. It is their fifth exhibition devoted to the artist;  the first was staged in 1965 and focused on Chagall's Biblical illustrations.
The paintings from the war years are suffused with human suffering, violence and tumult, plus indescribable feelings of sadness, longing and loss.  Chagall mourned that he was forced to relocate (again) and live in exile in New York for the duration of the war, watching the horror of the Holocaust unfold from a distance.
 Undoubtedly, the most remarkable element of the works on display is the dramatic, recurring motif of Jesus on the cross — the image of the Crucifixion — which Chagall resurrected to symbolize the martyrdom of the Jewish people at the hands of the Nazis. 
Pages: 1 · 2