Ferida Wolff
Ferida Wolff is author of 21 children's books and three essay books, her latest being  Rachel's Roses, illustrated by Margeaux Lucas. New York: Holiday House, Available August  20, 2019. 112 pages.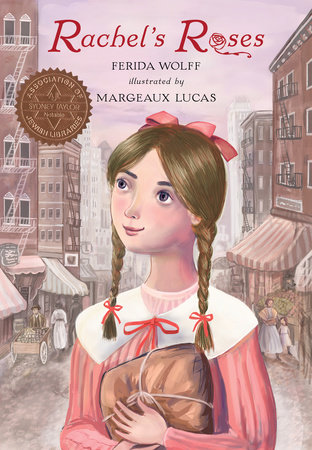 Before this latest, she wrote The Story Blanket (Peachtree Publishers) and Is a Worry Worrying You? (Tanglewood Books)
Her work appears in anthologies, newspapers, magazines, in seniorwomen.com and in her nature blog, http://feridasbackyard.blogspot.com.  A  book,  Chicken Soup for the Soul Married Life, contains two of her essays. 
Visit her at http://feridawolff.net/.
Ferida Wolff writes: What used to be in the background of our busy lives has come to be more prominent in our awareness as we become more locally aware. Focusing on nature is a way to step out of our daily worries and be lifted by its beauty or be delightfully surprised by an unusual encounter. I think of it as a gift that opens me up to a wider perspective. It made me also think of people who have passed away, especially now when so many have died from the corona virus. They may be virtually gone but they, too, have left roots in our society. Some of those roots can still be seen, biologically visible in relatives. But it is the impact they have made through their work and interactions in society that are the hidden roots, the connections that affect all of us.
more »
---
Ferida Wolff writes: During this pandemic we are often, understandably, lost in negative, worrisome thoughts. But there are positive things to focus on: neighbors greeting neighbors with smiles and friendly though distant conversations, gratitude for the dedication of our health practitioners, conscious appreciation of the people in our lives.
more »
---
Ferida Wolff writes: [A] duality of beauty and pain is a reminder to me of what is going on nowadays. Underneath the beauty of our country lie the spines that effect so many of us. The pain caused by conquering, slavery, exclusion, and racism that has resurfaced in recent times all over America has been in us from the beginning but we haven't been addressing the causes – until now. I hope that we are finally becoming able to appreciate our incredible diversity, to value the beauty that all people bring and to take out the spines that discrimination has implanted in our country's body. Only then will we be able to truly appreciate our amazing American garden.
more »
---
Ferida Wolff writes: Each year the hibiscus plants in our yard seem to be finished. Other flowers come and go and still, no hint of the hibiscus coming back. And then... The leaves start to pop up from the seemingly non-fertile earth. And once they do, the plants are on their way to growing the most amazing blossoms. And even when times seem bleak, let's try to remember that like the hibiscus we can, we will, blossom again. Meanwhile, I am into jigsaw puzzles. It is called "Safe Travels" and it reminds me of what traveling is all about. It isn't an easy puzzle but its 1,000 pieces provide a meditative process that helps me focus on the now and not obsess on the "what's next?"
more »
---