Quaking Aspens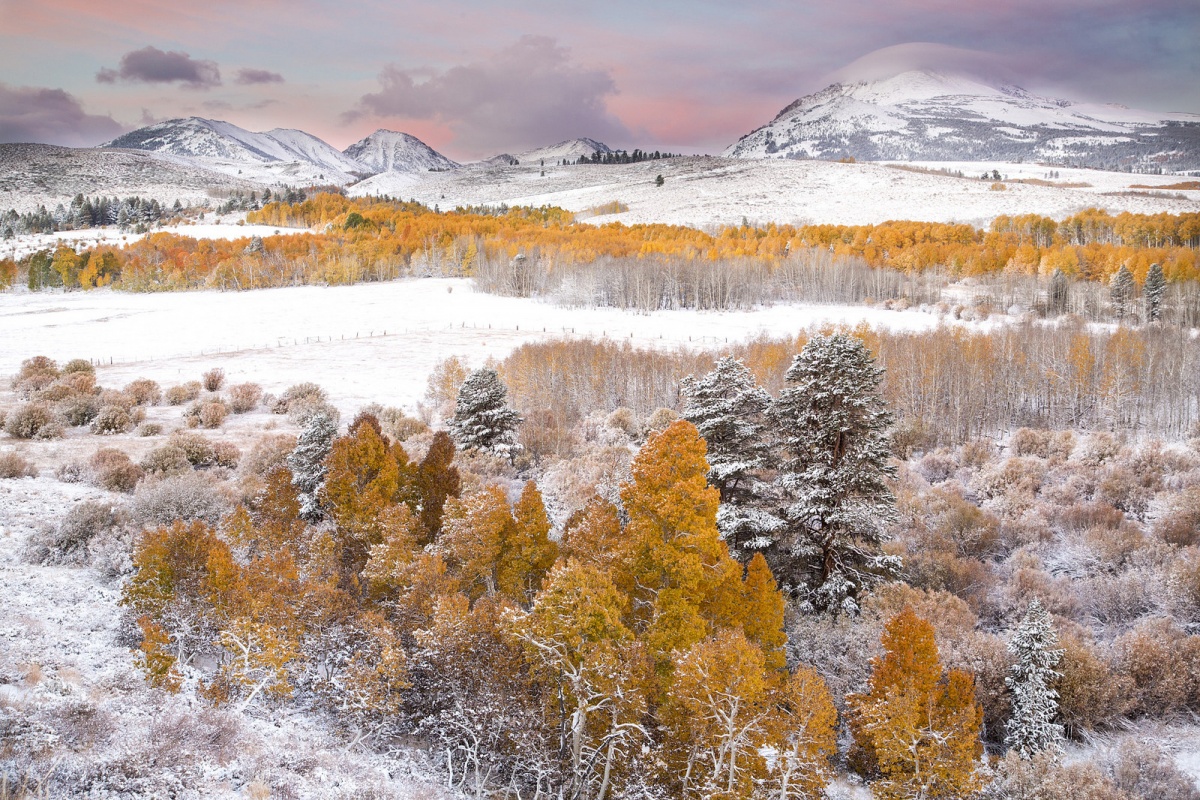 Fall foliage and snow-capped peaks make for a stunning shot of Conway Summit in California. Take a drive along the Conway Summit and experience spectacular mountains, valleys, lakes, streams and volcanic mountain chains. Photo by Bob Wick, Bureau of Land Management
 Known for its tendency to quake and tremble at even the slightest breeze, the Quaking Aspen is a remarkable tree that grows in large, dense colonies throughout North America. Aspens can be easily identified by their smooth white bark marked with black scars, and their ever changing leaves throughout the seasons. Just under this whitebark, however, lies a photosynthetic layer that allows the Aspen to synthesize sugars and continue growing even in harsh winters. Two national parks where you can experience Quaking Aspen groves are Bryce Canyon in Utah and Arizona's Grand Canyon along the North Rim. If you're in California, Conway Summit Area of Critical Environmental Concern offers some of the most accessible viewing areas of Quaking Aspens in their fall glory.
Douglas Firs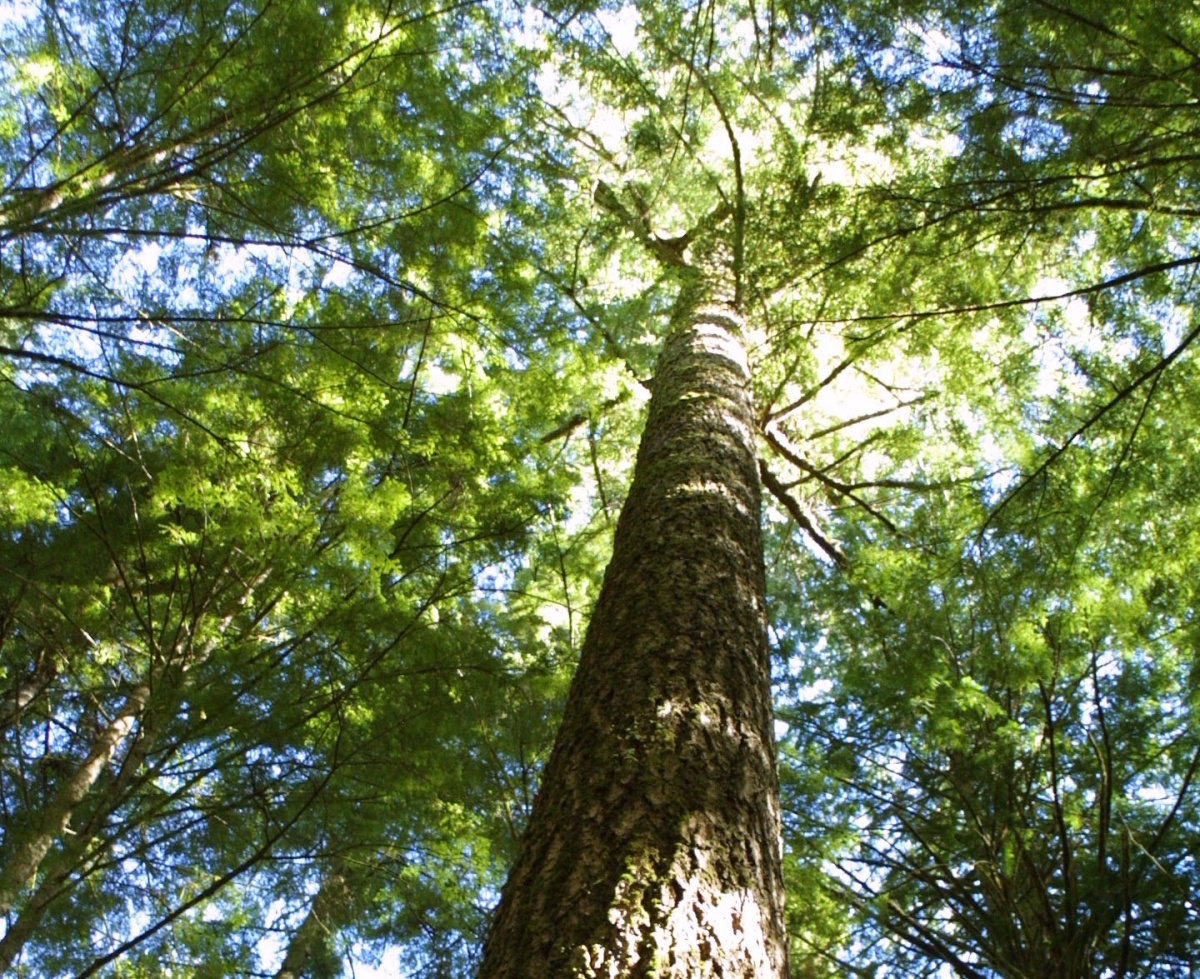 Located 60 miles from Coos Bay in Oregon's Coast Range mountains is some of the most pristine forests in the nation, including the world's tallest Douglas fir. Photo by Bureau of Land Management
 Oregon is home to the Doerner Fir, the world's tallest Douglas fir. Discovered in the 1989 and measured two years later, the fir tree stands 329 feet tall and 11.5 feet in diameter. The half-mile hike along the Doerner Fir Trail takes visitor through one of the Pacific Coast's finest old growth forests and up to the mammoth fir tree, which is over 450 years old. This tree is protected from logging by designation from the Bureau of Land Management. 
Sugar Maples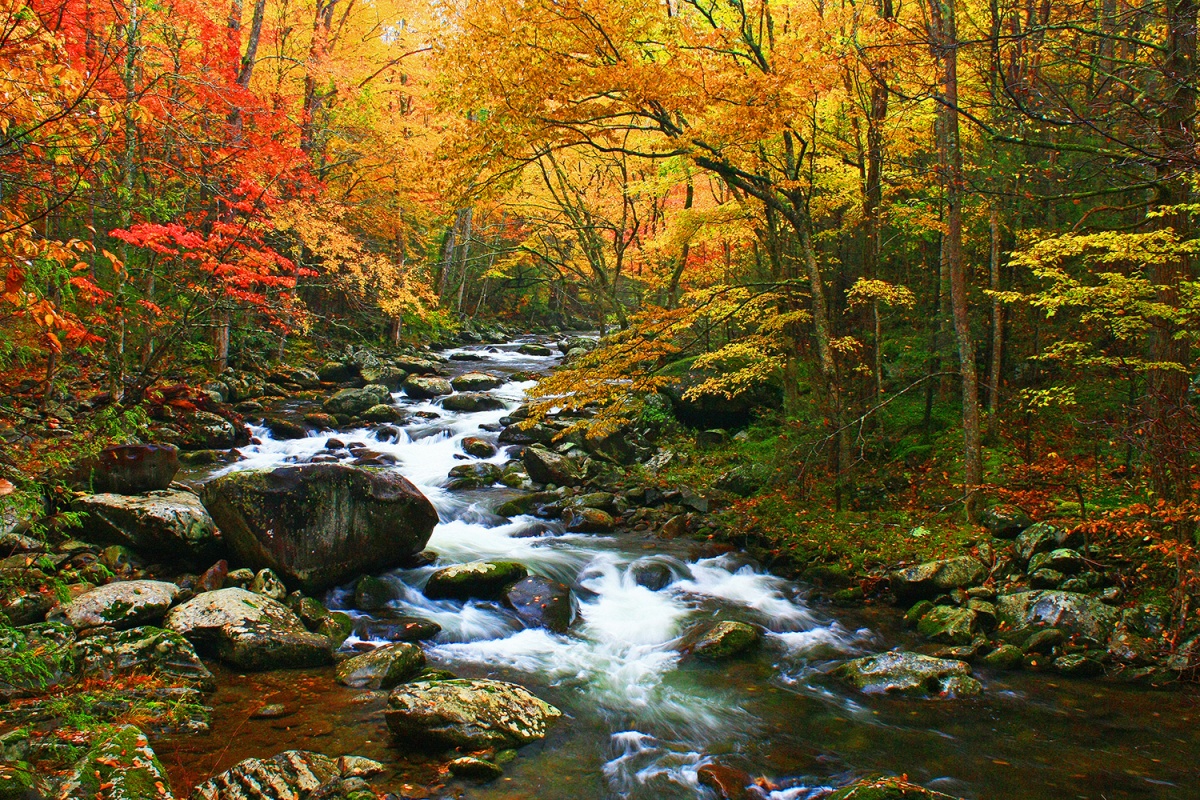 Why are fall colors so remarkable in Great Smoky Mountains National Park? One reason: the amazing diversity of trees. The park's most spectacular display happens at mid and lower elevations, which includes colorful trees such as sugar maple, scarlet oak, sweetgum, red maple, and the hickories. Photo by Charles Wickham (www.sharetheexperience.org)
 We'd be remiss not to include one of America's most loved trees — the sugar maple. These shade-tolerant trees often grow very slowly in the shadows of light-loving trees, but when exposed to light they can grow rapidly and live to be over 200 years old. Sugar maples are most known for their vibrant fall colors of yellow, burnt orange, and red. In the fall, leaf peepers come from all over to see the gorgeous colors of these and other tree varieties along the east coast, including Shenandoah and Great Smoky Mountains National Parks.
Ponderosa Pines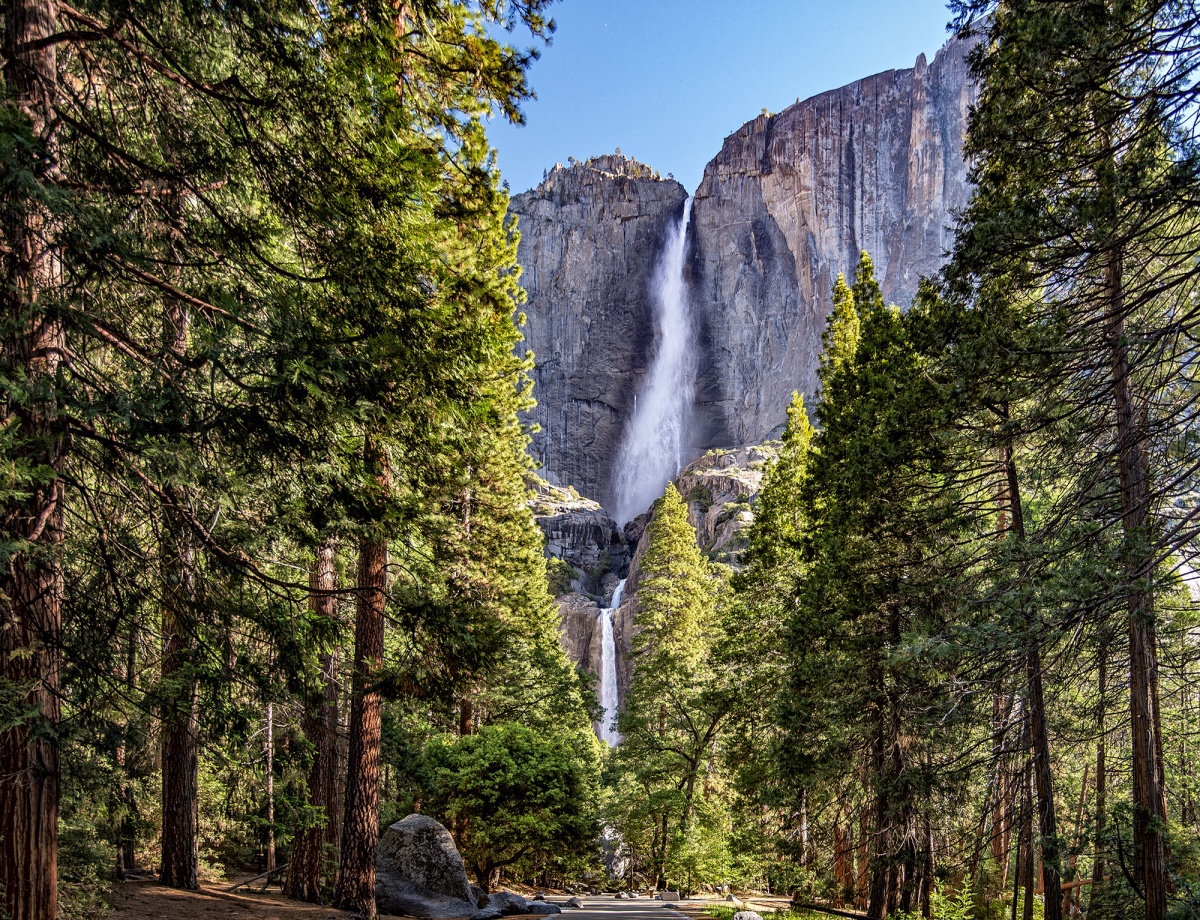 Ponderosa pines (along with incense cedars and oak trees) line the path to Yosemite Falls. It's a must see when visiting Yosemite National Park. Photo by Phillip Abrams (www.sharetheexperience.org)
 Withstanding of high winds and generally fire resistant, the ponderosa pine is the most widely distributed species of its genus in North America. The prolific ponderosa reproduces through seeds in cones and takes about two years to fully mature. Ponderosa pines can be found all across the country -- from Yosemite National Park in California and Hells Canyon Wilderness in Oregon to Wind Cave National Park in South Dakota and Colorado's Great Sand Dunes National Park and Preserve.
Palm Trees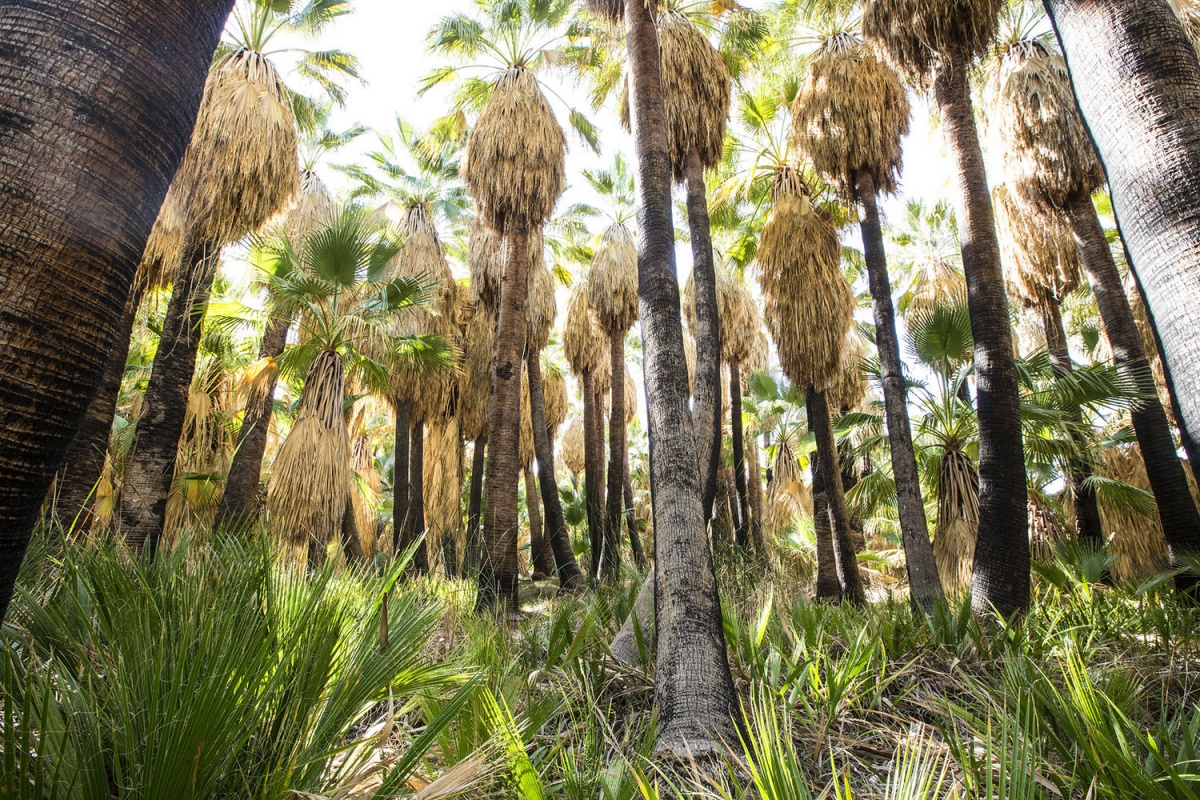 Dos Palmas Preserve is an oasis with its fan palms offering a sanctuary in the midst of the dry Colorado Desert. Photo by Bob Wick, Bureau of Land Management
 The desert fan palm is native to the low hot deserts of southern California where it can live for 80-90 years. Towering up to 75 feet tall, the California fan palm offers sanctuary in the midst of the desert to a variety of plants and animals. The discarded palm fronds around the base shelter lizards and snakes from the intense heat of the desert in summer, while the skirt around the trunk provides vital shelter to the western yellow bat and a variety of insects. In the crown of the palm you may find nesting kestrels owls. The Dos Palmas Preserve in California contains thousands of these trees, each one swaying in the breeze.
Joshua Trees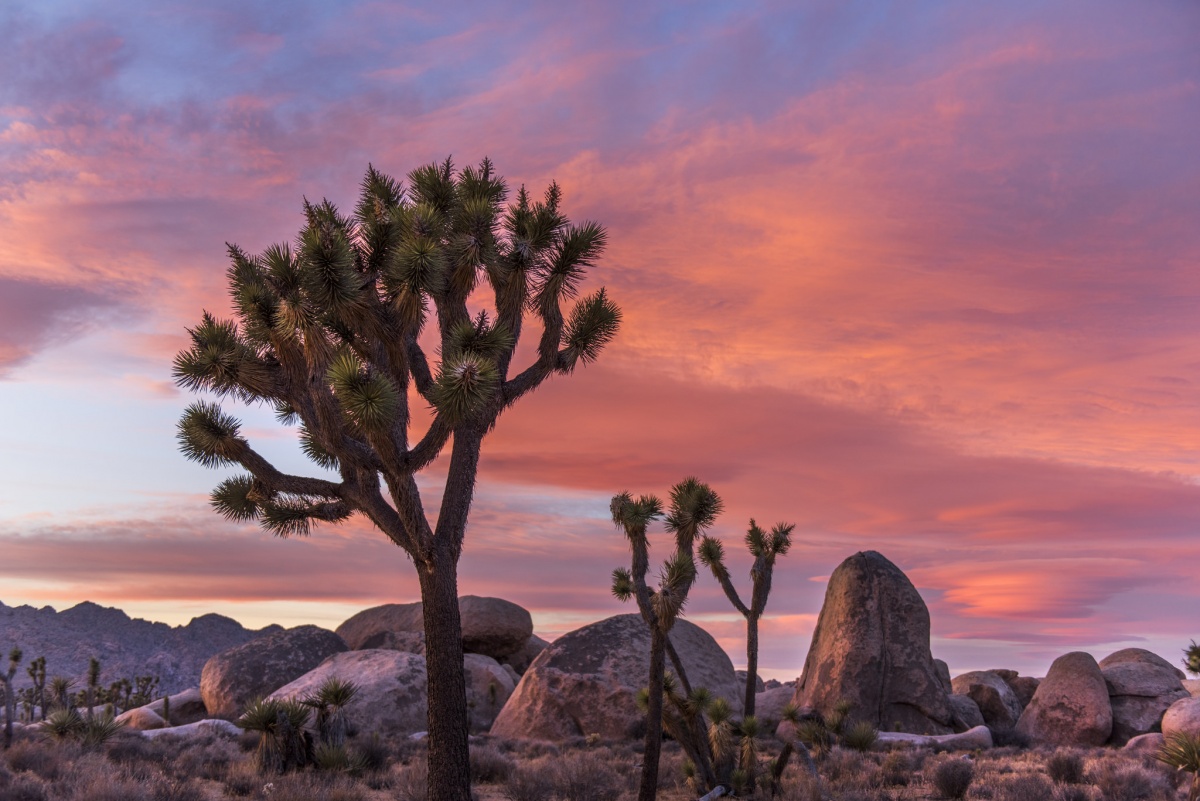 A vibrant desert sunset at Joshua Tree National Park. This California gem protects the twisted, spiky Joshua tree, which take on many forms — appearing like bushes or tall and spindly like trees. Photo by Brad Sutton, National Park Service
 Even though it's not actually a tree, the Joshua tree gets an honorable mention on our list of amazing trees. A member of the Agave family, this Dr. Seuss-esque plant thrives in the distinct desert ecosystem where Colorado and the Mojave Desert meet. Joshua trees depend the perfect conditions: well-timed rains, and a crisp winter freeze. One of the best places to see these unbelievable plants is Joshua Tree National Park in Southern California, where the largest Joshua tree is an astounding 40 feet tall. If you visit in the spring, keep an eye out for clusters of white-green flowers growing at the tips of their branches.
Start planning your trip today to see some of these amazing trees in real life.
Pages: 1 · 2