A Walk in the Woods, A Tree Planted: Arbor Day, Remarkable Trees Found on Public Lands
From the US Interior Department's Office of the Secretary:  The tradition of Arbor Day began in Nebraska in 1872. Raising awareness of the importance of trees, people continue to use the day to plant saplings and improve the health of forests. Trees help clean the air, provide habitat for wildlife, help conserve soil and water, and are the source of an entire industry that support jobs and the economy.
Forest management isn't as easy as watching the trees grow. Land management agencies like the Bureau of Land Management, the National Park Service, the US Fish and Wildlife Service, and the US Forest Service oversee hundreds of millions of acres of forests across the country. An adaptive and evolving approach is necessary to keep the nation's forests healthy and productive. 
We hope on your next walk in the woods, you'll do your part to preserve these important landscapes and maybe learn more about the trees you see. As an Arbor Day tribute, here are some of the most interesting and remarkable trees found on public lands.
Redwoods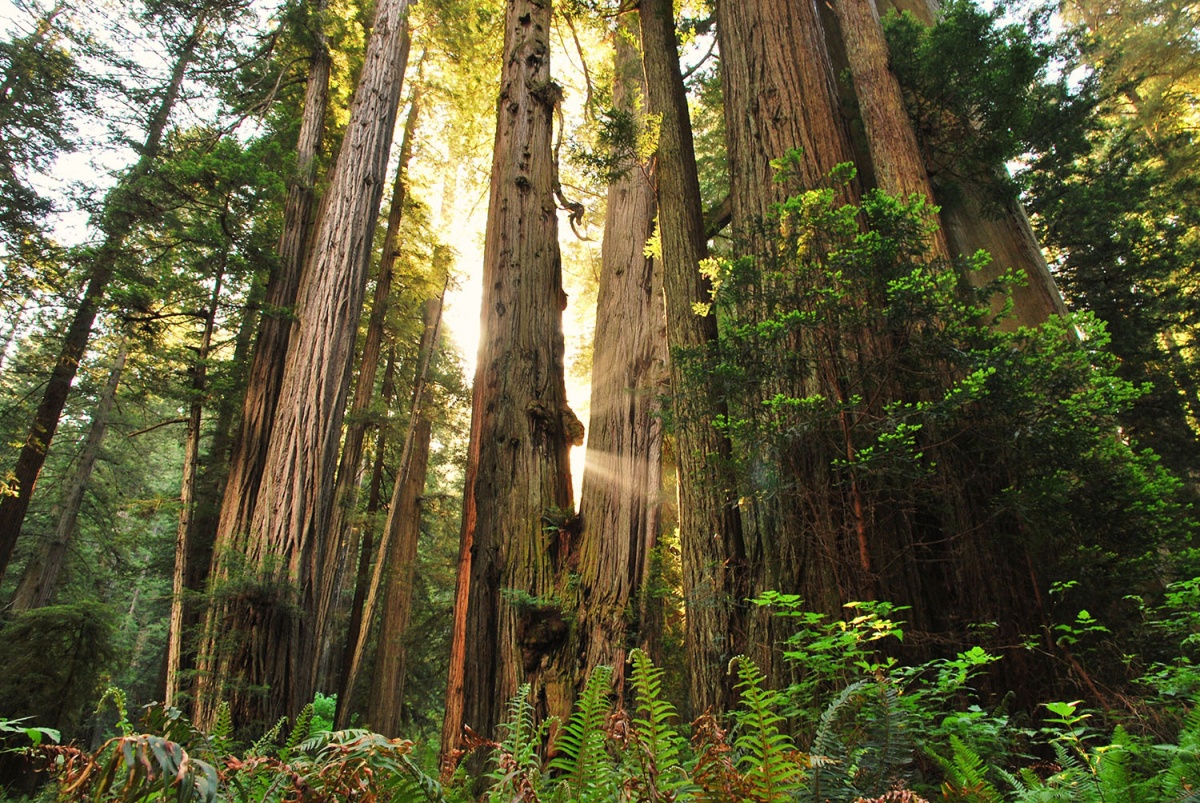 A magical photo of sunlight creeping through the towering trees at Redwood National and State Parks. The protected valleys and alluvial flats found along streams and creeks provide ideal growing conditions for the coast redwood. Photo by Jessica Watz (www.sharetheexperience.org).
 The redwood has earned the spot in the record books as the tallest in the world. These towering trees sprout from a seed no bigger than the size of a tomato seed, and they can grow to a height of 367 feet. That's about the size of 35-story skyscraper. This powerful tree's ability to regenerate allows it to prosper despite insects and fire, and ultimately to survive as a species. Visitors to California's Redwood National and State Parks and Headwaters Forest Reserve often come to just see these world-famous trees, but nothing prepares them for a hike in the ethereal forests of massive redwoods shrouded in fog with light streaming through the trees.
Bristlecone Pines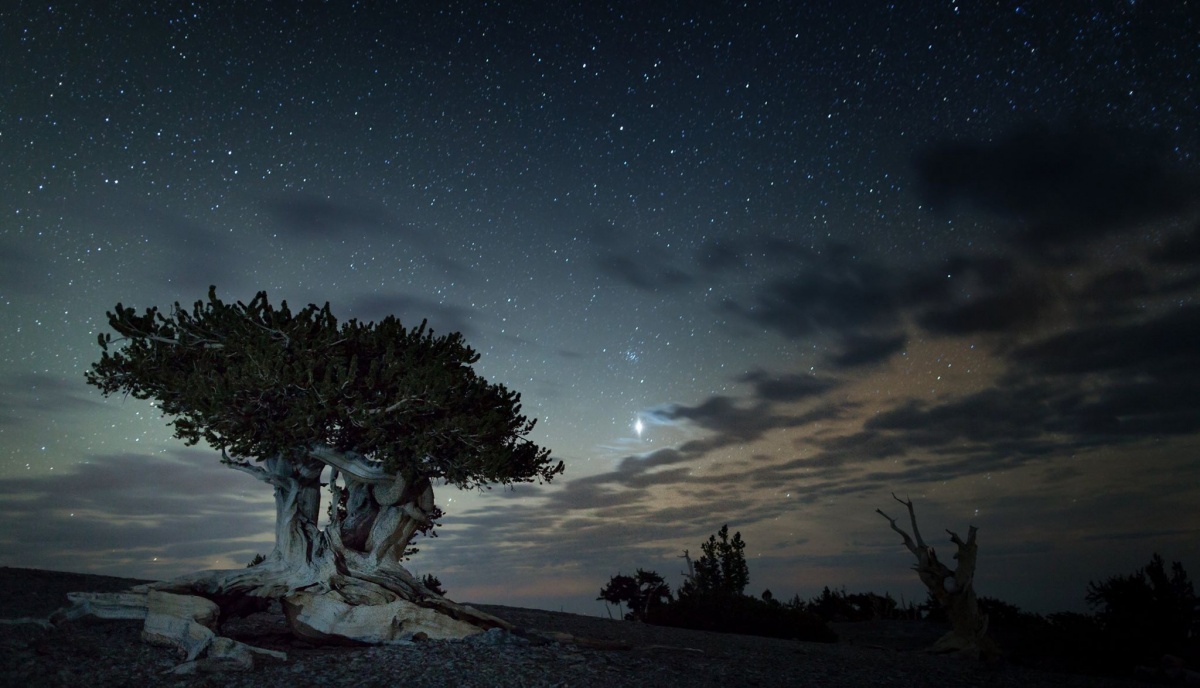 In the shadow of Wheeler Peak at Great Basin National Park in Nevada, ancient bristlecone pine trees grow on rocky glacial moraines — creating a surreal and beautiful landscape. Photo by National Park Service
 Getting its name from the claw-like bristle scales of its cones, the bristlecone pine is known for being the world's longest-living tree. The secret to its longevity: the harsh environment where it lives. These trees often grow in cold temperatures with high winds, and in some years, they don't even add a ring of growth. This slow growth makes their wood very dense and resistant to insects, fungi, and rot. Great Basin National Park in Nevada is the place to go if you want to walk among these ancient trees.
Mangroves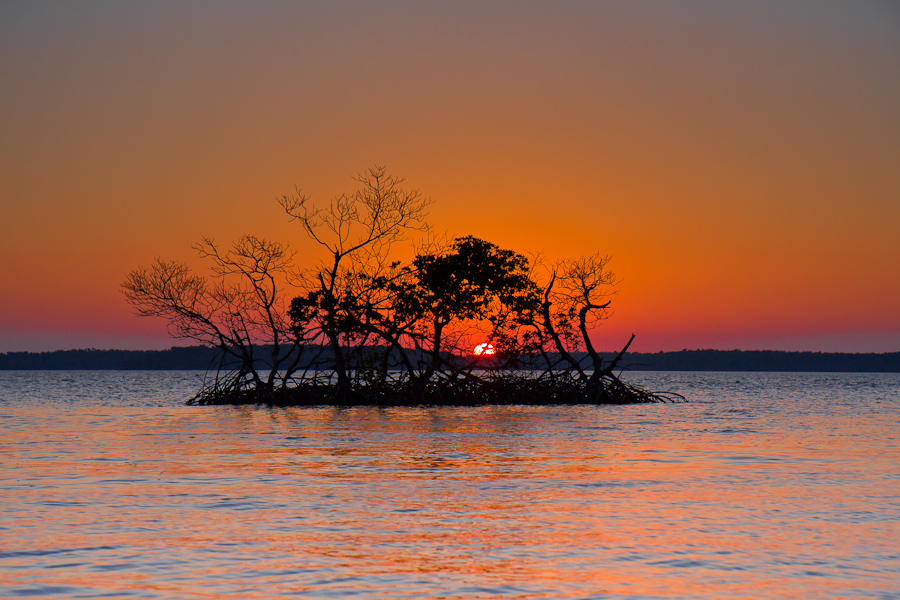 Everglades National Park is known for its unique mangrove forests. During the dry months, wading birds congregate here to feed and nest, and in the summer, the mangrove forests provide the first line of defense against the howling winds and storms. Photo by James Pion (www.sharetheexperience.org).
 With their twisting tangle of roots and emerald leaves reaching over the water, mangroves appear to be something out of a thrilling jungle adventure movie. The word mangrove is used to describe several trees (they aren't closely related to one another) — all with impenetrable root systems and the ability to flourish in salty environments. Both mysterious and beautiful, mangrove trees are valuable assets to south Florida's Everglades, Biscayne National Parks, and Jupiter Inlet Lighthouse Outstanding Natural Area. Their root systems help keep the water clean, slow down water flow and potential erosion, and provide shelter to many marine organisms. They also serve as a valuable nursery for marine species. It's an amazing sight worth seeing!
Cherry Trees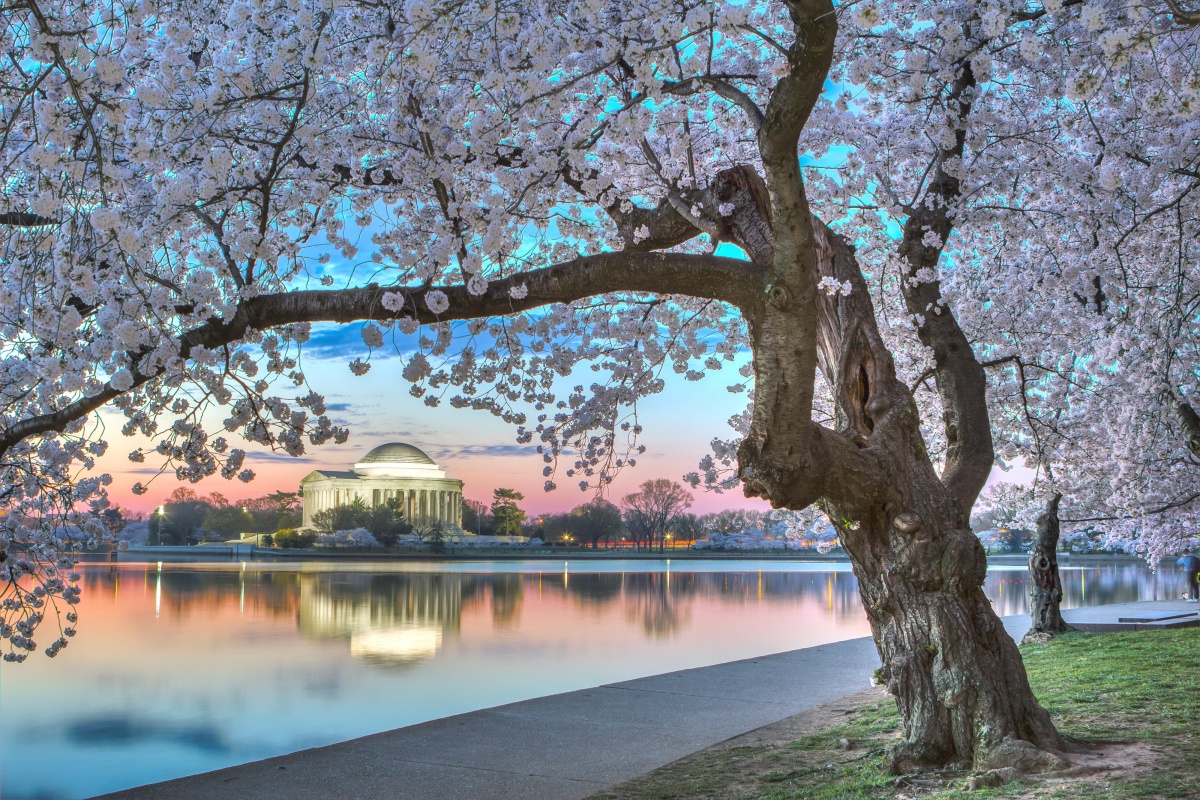 DC's iconic cherry blossoms at peak bloom. Photo from the Tidal Basin with the Jefferson Memorial in the background by Andrew Rhodes (www.sharetheexperience.org)
 Spring in our nation's capital means one thing: the blooming of the cherry blossom trees. A gift of friendship from Japan in 1912, millions of people come from across the country to experience the beauty and life of the 3,800 cherry trees on the National Mall and Memorial Parks in Washington, DC. These trees bring an explosion of color to the Tidal Basin and can only be observed during a short period in March and April.
Giant Sequoias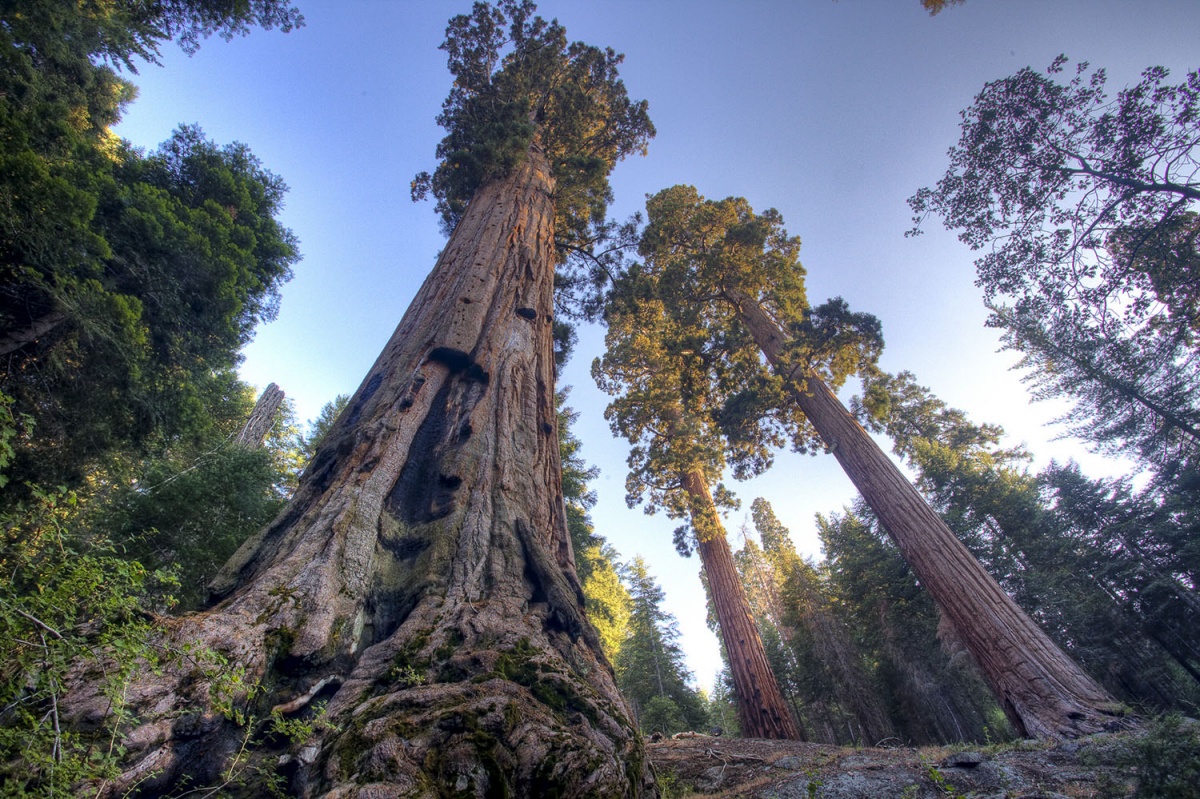 Pictured here are the Giant Sequoia groves on Case Mountain, which is approximately 7 1/2 miles southeast of the town of Three Rivers, California. Photo by Bob Wick, Bureau of Land Management
 Comparable in size to a 26-story building and a diameter that exceeds the width of many city streets, the giant sequoia tree is the largest in the world. One of the most famous sequoias is the General Sherman Tree. Not only do sequoias loom over their mixed conifer forest neighbors, but they also outlive them — reaching over 3,000 years. A major factor in the Sequoia's longevity is the chemical tannin that provides the sequoia with resistance against fire, rotting, and boring insects. Another crucial factor is fire, which helps with sequoia reproduction. Take a trip to California's Sequoia and Kings Canyon National Parks to marvel at the Sequoias in real life. Another option is to explore nearby Case Mountain, which is managed by the Bureau of Land Management and was established to protect these majestic trees.
Bald Cypress Trees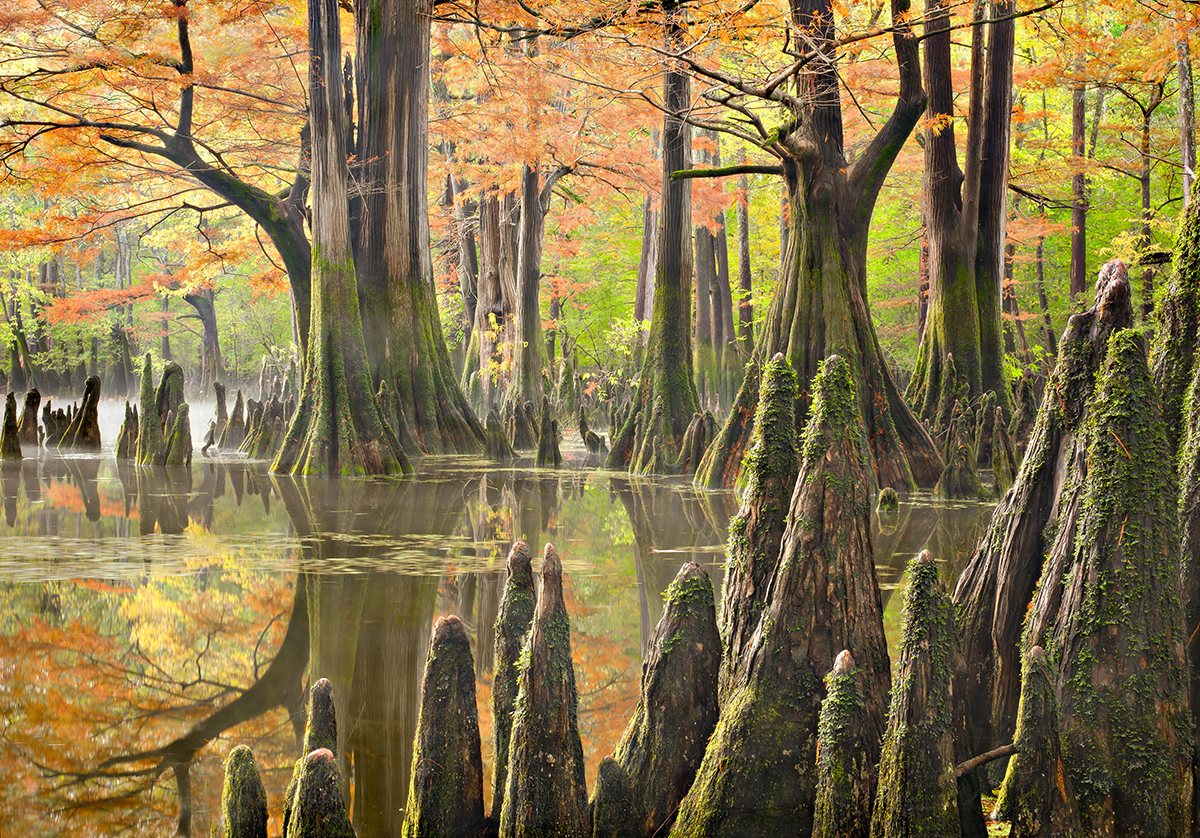 Dale Bumpers White River National Wildlife Refuge is one of the largest remaining bottomland hardwood forests in the Mississippi River Valley. The refuge is home to the Champion Cypress Tree — the largest tree in Arkansas. Photo by Rita Szabo (www.sharetheexperience.org)
 Many people find swamps and bayous to be foreboding or spooky, but for bald cypress trees, there's no place they'd rather be. Native to coastal lowlands of the southeastern United States and the Mississippi Valley, bald cypress thrive in mud and shallow water. Their trunks fan out near the base to add stability, and their roots project a peculiar growth called cypress knees for added support. Bald cypress wood is highly sought after by carvers and furniture makers, and the trees are occasionally planted for ornamental reasons. We recommend checking out the Cypress Swamps at Big Thicket National Preserve in Texas or Florida's Big Cypress National Preserve. If you want to see an impressive display of fall colors, a trip to Dale Bumpers White River National Wildlife Refuge in Arkansas is a must.
Whitebark Pines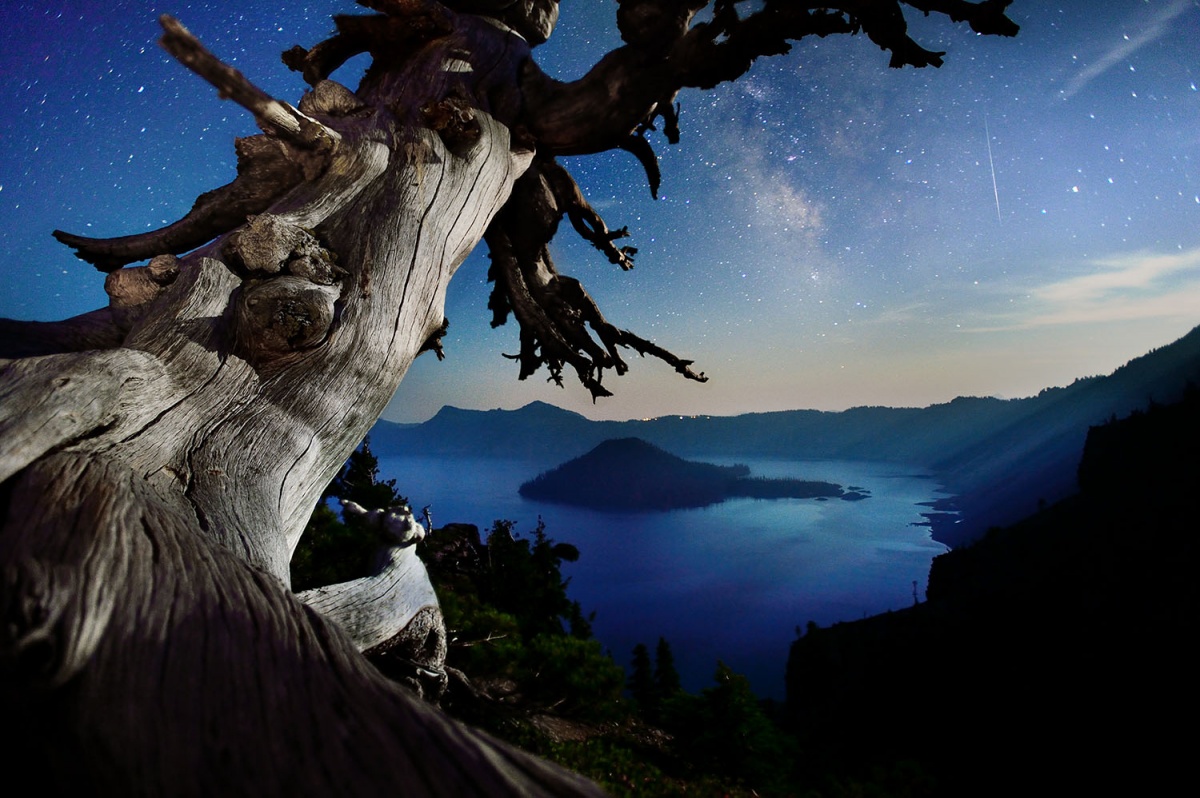 A starry night at Crater Lake National Park in Oregon. The park's signature whitebark pine trees -- pictured here -- are found along the rim of this collapsed volcano and can grow to be centuries old. Photo by Jeff Berkes (www.sharetheexperience.org)
Whitebark pines are often gnarled and twisted, sometimes appearing more as thick shrubs than trees. That's because these high-elevation conifers often grow in inhospitable subalpine areas in the northern Rocky Mountains and the Pacific Northwest. In recent years, the whitebark pine population has declined mainly because of white pine blister rust and mountain pine beetles. These trees often live more than 1,000 years and play an important role in the ecosystem by retaining snow, reducing erosion and serving as a nurse plant for other subalpine species. If you're visiting Yellowstone National Park in Wyoming, Glacier National Park in Montana or Crater Lake National Park in Oregon, be sure to look for these unique trees.
Pages: 1 · 2