Insurers were prohibited from refusing coverage to people with pre-existing conditions or charging people higher premiums because of their medical history. And although individual market premiums still tended to be higher than group plans, rates and coverage improved in the first four years after the federal health law took effect.
But last year's revisions to the law may have changed all that.
As a result, many states can be expected to take action this year to protect this group of consumers from unreasonably high insurance premiums, said Timothy Jost, a retired law professor at Washington and Lee University in Virginia and an ACA expert. They will either be propping up the ACA and the traditional health insurance market, or further undermining the federal health law by promoting cheaper, lower quality policies, he said.
The result, he said, will be even greater disparities than already exist between states in the number of people who can afford quality health care coverage.
In fact, the Trump administration's tactics are likely to bolster the overall proportion of Americans enrolled in Medicaid and federally subsidized exchange policies, said Joel Ario, a health care analyst with the law firm Manatt, Phelps and Phillips who worked in the Obama administration. That's because the policies will remain affordable and people will enroll in them even without the coercion of the individual mandate, he said.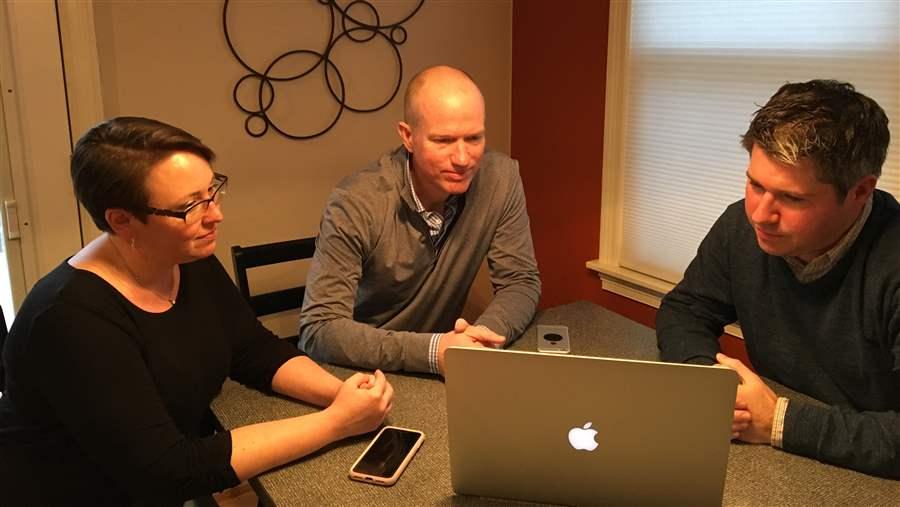 Sara Stovall, Karl Quist and Ian Dixon at Stovall's kitchen table in Charlottesville, Virginia. On behalf of 700 other residents, they're gathering data to convince state regulators that the health insurance premiums in their community are unjustified. Christine Vestal, The Pew Charitable Trusts
Left out will be people not covered by employer-sponsored insurance and with incomes too high to qualify for Medicaid or federal exchange subsidies. Nationwide, about 22 million people purchase insurance in the individual market, according to Kaiser. About 43 percent of them have incomes too high to qualify for federal tax subsidies on the exchange.
Charlottesville resident Sara Stovall is among them. She, and fellow residents Ian Dixon and Karl Quist, have hired an attorney to represent them and a group of more than 700 other locals who in November were hit with exorbitant premiums. They're arguing in a case before the Virginia Insurance Bureau that the rates filed by Optima Health — a Virginia-based insurance carrier and the sole remaining provider of health coverage in their area — violated federal law.
But even if they win the case and the state orders Optima to issue refunds, they and the others in their group won't personally benefit. The money would go to a regional insurance pool and ultimately would be deducted from future premiums for all policies.
Stovall, Dixon and Quist, all of whom had incomes just above the federal limit, could not afford their 2018 insurance premiums, roughly $3,000 a month for a family of four. Stovall, whose husband's freelance photography business is growing, said their premiums would have been more than their mortgage payment.
Dixon, a self-employed software developer, said he and his family moved from Washington, DC, to Charlottesville two-and-a-half years ago, when he quit his day job. "I heard there was a good startup community here," he said. "But if individual insurance rates had spiked that year like they did this year, we never would have come here."