Women at Work: 'Pre-Apprenticeships' Boost Female Construction Workers; More Women Might Soon Be Able To Take Advantage of Similar Programs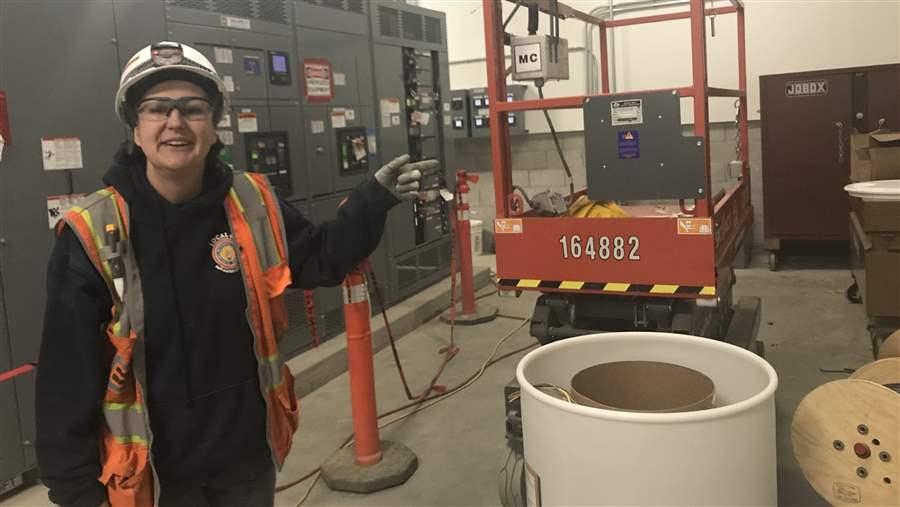 Sara Glascock, an electrician's apprentice, stands at her job site at the San Francisco International Airport. For women, breaking into construction can be tough. "Pre-apprenticeships" can give them an extra edge. Credit: The Pew Charitable Trusts
She likes to say that she slept through the last 13 years of her life, and indeed, much of it is a blur: Abusive relationship. His-and-her arrests for domestic violence. Meth habit. A period of quasi-homelessness. A 37-day stint in jail for petty theft.
Now, at 38, Sandra Alvarez says she is awake — and duly awoken, she is aiming for a massive do-over: She's newly sober. She's off cash assistance. She's got a job temping and a place to call her own. And most importantly, she's got career aspirations: She wants to work in construction.
"The first time I went on a construction site, I felt some kind of power," said Alvarez, sturdy and tattooed with a swath of dark, wavy hair. "It's weird, but I felt like I belonged."
But the construction field is a hard one to crack, particularly if you're female. Women comprise less than 3 percent of the trade workforce, roughly the same portion as 30 years ago. The barriers are many. Sexism is a given — like the foreman who told Alvarez he didn't need her help on his job site, but sure could use her help in the bedroom.
So Alvarez is hanging her hopes on a state-funded "pre-apprenticeship" program in California, where she is learning the basics of the industry, from blueprints and construction math to job safety. Above all, she'll learn which trade would suit her best. Carpenter or electrician? Ironworker or pipefitter? (She's pretty sure carpentry is her thing.)
The goal: With some training under her belt — and with some industry contacts — she'll land a highly coveted apprenticeship that will lead to a good-paying union job.
More women might soon be able to take advantage of similar programs.
These days, states are faced with an aging infrastructure and an aging workforce. And just when the country is considering mammoth investments to repair its deteriorating roads, bridges and highways, there's a shortage of skilled trades workers — which will only get worse as baby boomers enter retirement. California's new Road Repair and Accountability Act aims to tackle both problems at once.
Mostly, it's an ambitious, $50 billion, 10-year building program that will use a gas tax increase to fund road repairs, bridge maintenance and public transit.
But the law also includes an unusual provision: a $25 million investment to get more women like Alvarez into pre-apprenticeships.
The idea is to give disadvantaged Californians, including poor women, the tools they need to get accepted into trade apprenticeship schools — and in so doing, reduce the number of people receiving public assistance while moving more people into the workforce. The law's funding will be used beginning next year by the California Workforce Development Board, which is the statewide coordinator for the pre-apprenticeship training programs.
"This creates an avenue for middle-class jobs and benefits," said Democratic state Sen. Jim Beall, the primary sponsor of the legislation. "A lot of women shy away from construction because of the work environment. We're trying to change that good ol' boy, business as usual, construction culture."
Breaking into the industry means combating stereotypes that construction is men's work. And many women don't know how to start to prepare for a career in the trades, said Meg Vasey, a onetime electrician and the executive director of Tradeswomen Inc., an Oakland-based training and advocacy group that offers woman-centric pre-apprenticeships.
Traditionally, construction newbies enter the industry through a state-regulated apprenticeship. In a way, these programs function much like a medical residency for young doctors: Apprentices earn as they learn, over a three to five year period, laboring under the mentorship of seasoned professionals, with some supplementary classroom instruction. Apprentices can join a union from the start, getting a bump in salary as they complete each level of their training. And ultimately, when they graduate, they land high-paying jobs.