Dutch artists tended to specialize in specific areas (with Rembrandt being an unusual exception to this rule), and Van Aelst focused on two basic pronk (display) subjects: game still lifes and fruit and flower still lifes. The oil paintings were intended to convey the aura of patrician life and were often executed for wealthy patrons.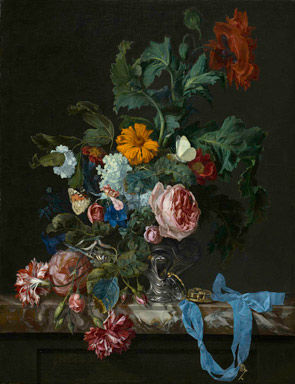 The exhibition features a range of the artist's best pronk paintings, lush with imported fruits; luxurious, elaborate silver-gilt objects; beautiful floral displays; and "hunting trophies" such as dead fowl, hares and other animals. Van Aelst's works often feature marble tabletops with stone relief designs on the support. Three of the game pieces in the exhibition depict the story of the goddess Diana and her nymphs bathing. The subject was particularly appropriate for hunting images because, according to the ancient story, the hunter Actaeon stumbled into Diana's sacred grove, and she cursed him for seeing her naked — she turned him into a stag and he was torn to pieces by his own dogs. Van Aelst's depiction of Diana's bath derived from a composition by the goldsmith Paulus van Vianen, and his version of the subject on a silver plaquette will be exhibited with the paintings.
The centerpiece of the exhibition will be two large-scale paintings, each measuring over six feet high and painted during Van Aelst's sojourn in Italy, featuring unusual subject matter geared toward pleasing his patrons. Pronk Still Life with Fruit and Game (1654) was painted for Cardinal Leopoldo de' Medici. It includes an abundance of opulent objects overflowing the canvas, including a nautilus cup on a stone table with a rich blue tablecloth, likely painted using expensive ultramarine pigment made from lapis lazuli (a stone prized in the Medici collections). The cup and pitcher in the painting allude to Medici collection objects: the hunting bag, rifle, crossbow and dead birds refer to Leopoldo's hunting hobby; and the violin and bow allude to the patron's love of music. The five senses are also evoked through the depictions of fruit for smell and taste; velvet and bird feathers for touch; a violin for sound; and luxury objects for sight. A centrally located, open pocket watch may have been intended to reference time or even the timelessness of the painting and shows off Van Aelst's meticulous attention to detail and ability to create a finely finished surface. The reattributed work, Pronk Still Life of Armor from around 1651, depicts rich fabrics and luxury metalwork objects mingled with arms and armor, all artfully scattered over a stone table and velvet upholstered chair. The painting has long been attributed to Rotterdam master Willem Kalf, but a new technical examination carried out for this exhibition and catalogue by a National Gallery of Art conservation scientist has confirmed that it is, in fact, a work by Van Aelst.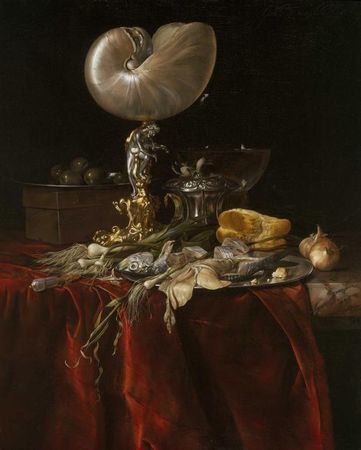 Although the armor is an atypical subject for the artist, the painting is full of trademark Van Aelst flourishes: an excess of fringed decoration, rich colors typical of the Paris compositions, highlights suggested with dabbled paint and even a previously overlooked partial monogram on a medal with the letters "VA." This work is the artist's most complex from the Paris period and was likely commissioned by René II de Froulay, Comte de Tessé, with the weapons an indicator of the Comte's military career.
About the Artist
Van Aelst was born in Delft in 1627 and apprenticed as a painter with an uncle who had associations with the court of the Princes of Orange in The Hague. At 16 he was admitted into the Guild of St. Luke but left shortly thereafter to travel south to France and Italy. This decadelong sojourn was unusual for an artist from the Netherlands and greatly impacted his career. Van Aelst spent some five years in Paris immersed in the artistic community of Saint-Germaindes-Près, where he was influenced by the Flemish-born painter and dealer Jean Michel Picart (c.1600-1682). Picart's knowledge of the Parisian art market provided Van Aelst with an impetus to refine his style, adapting a harder, finer finish and employing the use of high-quality, expensive pigments such as ultramarine.
Van Aelst  next  traveled to  Italy where  he was introduced to the Medici court in Florence where Cardinal Giovan Carlo Medici and his brother, Cardinal Leopoldo de' Medici became his patrons. He worked briefly in Rome as well, but his career there came to an abrupt halt when a fight with a Frenchman forced Van Aelst to flee the city to avoid prison. Van Aelst finally settled in Amsterdam in 1657 and also found a successful market for his work in his home country. Almost 30 years old, he returned as an experienced and valued artist and was able to pay off debt owed for rent and  wine expenses. In Amsterdam he  also  amassed enough wealth to purchase a home along the Keizergracht, one of the most exclusive streets in the city. He married, had two children and took on two pupils of his own  — one who is also renowned today: Rachel Ruysch. Van Aelst died in 1683.
Credits: This exhibition is organized by the Museum of Fine Arts, Houston, the National Gallery of Art, Washington, and the Sarah Campbell Blaffer Foundation. This exhibition is supported by an indemnity from the Federal Council on the Arts and the Humanities.
Paintings:
Flower Still Life with a Watch, 1663. Oil on canvas. Mauritshuis, The Hague
Still Life with Fish, Bread, and a Nautilus Cup, 1678. Oil on canvas, private collection, Germany
Pages: 1 · 2