Van Gogh and Nature, the Serious Artist, Not the Mythic 'Tortured Painter' of Film and Fiction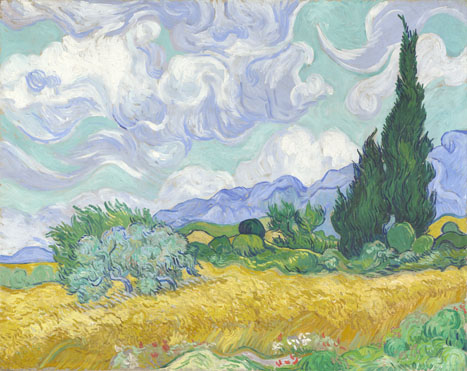 For Vincent van Gogh, nature was the defining subject of his art. Over the course of his short but intense working life, Van Gogh studied and depicted nature in all its forms — from the minutiae of insects and birds' nests to the most sweeping of panoramic landscapes — creating a body of work that revolutionized the representation of the natural world at the end of the nineteenth century. Shown exclusively at the Clark Art Institute through September 13, 2015, Van Gogh and Nature is the first exhibition devoted to the artist's abiding exploration of nature in all its forms.  
Vincent van Gogh, 1853 - 1890,  A Wheatfield, with Cypresses, 1889. National Gallery, London
Van Gogh's focus on nature was rooted in his love of the art of his time, both the landscapes created by Barbizon School artists and the highly-keyed, quickly brushed paintings of the Impressionists, but he brought a personal passion and subjective sensibility to his work that continues to enthrall art lovers to this day.
Much of the artist's adult life was devoted to drawing and painting the natural world, yet this fundamental aspect of his work has not previously been the focus of intense study. Presenting fifty works including iconic paintings such as A Wheatfield, with Cypresses (1889, National Gallery, London), The Olive Trees (1889, The Museum of Modern Art, New York), and The Sower (1888, Kröller-Müller Museum, Otterlo), the exhibition focuses on Van Gogh the serious artist, not on the mythic "tortured painter" of film and fiction. Van Gogh is presented as a thoughtful and meticulous student of nature who found solace and personal fulfillment in studying and enjoying the natural world.  
Noted Van Gogh scholars Chris Stolwijk and Sjraar van Heugten joined Clark curator-at-large Richard Kendall as co-curators of the exhibition. A former curator at Amsterdam's Van Gogh Museum, Stolwijk is the director of RKD/Netherlands Institute for Art History, while van Heugten, the former head of collections at the Van Gogh Museum, is now an independent curator.  
"Van Gogh has long been a subject of great interest to me and I am thrilled to be able to present a fresh view and greater understanding of him to the public," said Kendall. "Working with these exceptional scholars has been a tremendous experience as we have learned so much about Van Gogh that has been lost in all of the hyperbole about his life and career. This exhibition allows us to clear up many of these misperceptions and helps people to understand Van Gogh in a new light." 
Rain – Auvers, 1890, oil on canvas. National Museum of Wales, Cardiff; Gwendoline Davies Bequest, 1952