On view at the Met:
Fit for a king, this magnificent cello was made for George IV when he was Prince Regent and is emblazoned with the royal coat of arms of Great Britain and the Prince of Wales' feathers. Its ribs bear the motto "Liberty and Loyalty." This flamboyant decoration resonates with the exuberant tastes and lifestyle of King George IV, as epitomized by his fantastical Royal Pavilion in Brighton. A satirical engraving of 1820 likening George IV to Nero depicts the king perched amidst the spires of the Pavilion playing the cello as the nation descends into chaos. Unaffected by such jibes, George IV maintained an orchestra at court, hosted numerous concerts, and awarded royal warrants to various instrument makers, including William Forster II, who made this cello.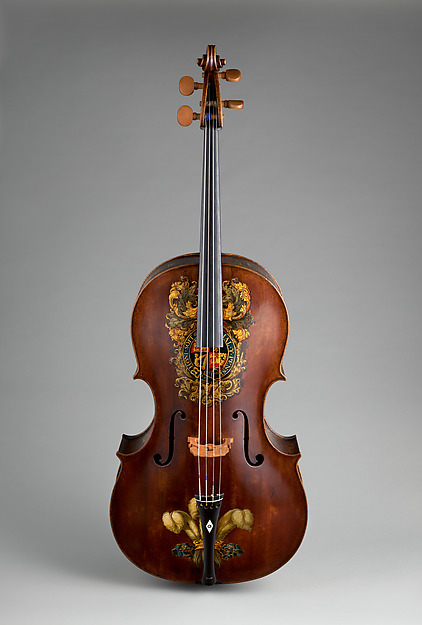 Forster II was the most celebrated member of a family dynasty of violin and cello makers and is often referred to as "Royal Forster" because of his clientele. George IV ordered at least two cellos, and his violin-playing younger brother Prince Ernest was also a customer. The instruments of Andrea Amati (Cremona) and Jacob Stainer (Austria) informed the work of Forster II, as can be observed in the body profile, arching, and delicate scroll of this cello. Although decorated examples are rare in the conservative world of violin and cello making, master luthiers made a handful of exceptional painted instruments for royalty. In tandem with The Met's painted Andrea Amati violin, the Forster cello illustrates this tradition in European courts. Its royal provenance also makes it a highlight in a continuum of instruments in The Met's collection that represent several generations of music making in the British court, including silver kettledrums made for George III .
Cello, William Forster (English), 1782, United Kingdom, spruce, maple, ebony. Chordophone-Lute-bowed-unfretted, Gift of Mona and Bradford Endicott, in honor of Ken Moore, 2016
It is deeply fitting that this cello has been donated to The Met in honor of John Kenneth Moore, who served the Museum for forty-six years and retired as Frederick P. Rose Curator in Charge of Musical Instruments in 2016. As a superlative instrument, a work of visual art, and an expression of the cultural and social significance of music, the Royal George exemplifies the multifaceted world of music, people, and instruments that Ken so deftly brought to life in his interdisciplinary approach to musical instrument curatorship at The Met.
Bradley Strauchen-Scherer
Associate Curator; Department of Musical Instruments
Pages: 1 · 2