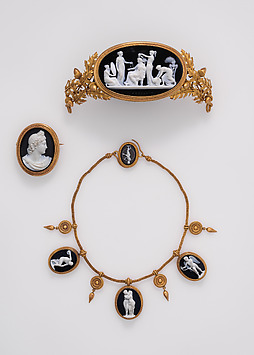 Parure: tiara, necklace, and brooch,  cameos carved by Luigi Saulini (Italian, 1819 –1883); mid-19th century,  onyx and gold, tortoiseshell. Metropolitan Museum of Art
The remaining galleries will be organized thematically by the kinds of performances jewelry orchestrates. The Divine Body will examine one of the earliest conceptions of jewelry — its link to immortality. Featured here will be a rare head-to-toe ensemble from ancient Egypt that accompanied the elite into the afterlife, as well as items from the Royal Cemetery of Ur, implicated in one of the most mysterious rituals of ancient Mesopotamia (present-day Iraq). Also highlighted will be the regalia of the rulers of Calima (present-day Colombia), who were lavishly covered in sheets of gold.
The Regal Body will examine the use of jewelry throughout history to assert rank and status. Among the examples on display will be sapphires and pearls from Byzantium, finely wrought gold from the elites of Hellenistic Greece, and ivory and bronze from the Royal Courts of Benin. 
The Transcendent Body will focus on how jewelry is used to traverse the temporal and spiritual realms. This section will celebrate jewelry's power to conjure spirits, appease gods, and invoke ancestors.  Sculpted images and exquisite jewelry from India will underscore the active role of gold ornaments in Hindu worship.  Adornments from Coastal New Guinea, splendidly fashioned from shell and feathers, will speak to jewelry's capacity to channel the spiritual well-being of the wearer. 
The Alluring Body will explore how jewelry engenders desire. Woodblock prints and period ornaments will convey the ways in which hair dressing indicated a courtesan's availability in Edo Japan. Photographs and spectacular jewels will highlight the eroticism of pearls in the Victorian era and beyond. Jewelry designed by Elsa Schiaparelli, Art Smith, Elsa Peretti, and Shaun Leane will document how contemporary artists push the limits of glamour, courting danger and even pain. 
One from a pair of royal earrings, ca. 1st century B.C., India, gold. Gift of John and Evelyn Kossak, The Kronos Collections, 1981
The Resplendent Body will call out the marriage of material and technique for the purpose of ostentation. Why wear jewelry, if not to be seen? Examples will include the opulent adornment of the Mughals; the aesthetic of accumulation in the gold and silver jewelry of the Akan and Fon peoples of West Africa; and the elegant designs of such legendary jewelry houses as Castellani, Lalique, and Tiffany & Co. Contemporary jewelry makers — including Peter Chang, Joyce J. Scott, and Daniel Brush — who question and re-imagine notions of luxury and adornment will also be celebrated.
Replete with new acquisitions, acknowledged masterpieces, and recent discoveries from the collection of The Metropolitan Museum of Art, Jewelry: The Body Transformed will test assumptions about what jewelry is and has been. It will also confirm that these precious objects are among the most potent vehicles of cultural memory.
Credits
The exhibition represents a dynamic, collaborative partnership of six curators—lead curator Melanie Holcomb, Curator, Department of Medieval Art and The Cloisters, consulting curator Beth Carver Wees, the Ruth Bigelow Wriston Curator of American Decorative Arts, The American Wing; Kim Benzel, Curator in Charge, Department of Ancient Near Eastern Art; Diana Craig Patch, the Lila Acheson Wallace Curator in Charge, Department of Egyptian Art; Soyoung Lee, the Landon and Lavinia Chief Curator, Harvard Art Museums; and Joanne Pillsbury, the Andrall E. Pearson Curator, Department of the Arts of Africa, Oceania, and the Americas — assisted by Hannah Korn, Collections Management Coordinator, Medieval Art and The Cloisters, with Moira Gallagher, Research Assistant, The American Wing.
Programs and Catalogue
An array of education programs have been organized to complement the exhibition.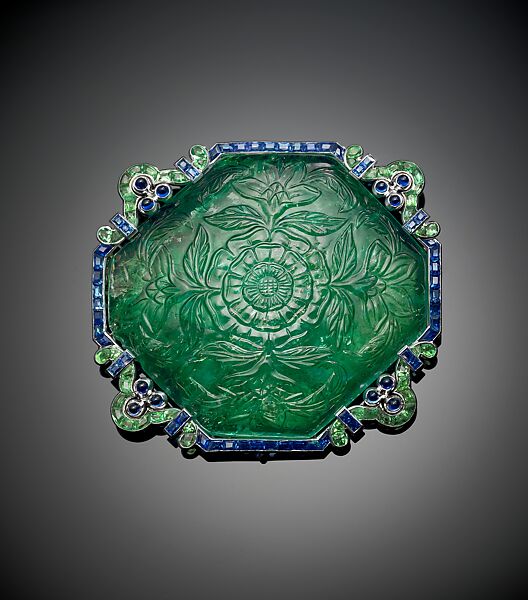 Cartier Brooch, Emerald, 17th century, setting ca. 1920, made in US, New York; (French, founded Paris, 1847)/ Platinum, set with emeralds and sapphires. Gift of Her Highness Sheikha Amna bint Mohammed Al-Thani, 2015, Metropolitan Museum of Art
Wendy Doniger and Robert Baines will talk about the sources from which jewelers draw inspiration in a Sunday at The Met (January 6, 2–3:30 p.m.).  Free with Museum admission.
In a panel called "The Ethics of Jewelry," jewelers and industry experts will consider the current interest in the use of mined, lab-produced, and sustainable materials. The program is part of a MetFridays evening that will also feature talks, conversation, and art-making activities. (January 25, 5–9 p.m.)  Free with Museum admission.
Met curators will discuss the context and function of personal adornment in the lecture series "Jewelry Seen and Unseen." (January 30, and February 6 and 13, 11 a.m.).  Tickets start at $30.
Met curator Beth Carver Wees and corporate archivists Annamarie Sandecki (Tiffany & Co.) and Levi Higgs (David Webb) will speak about "Jewelry Icons of New York" (February 3, 2 p.m.). Free with Museum admission,
Hands-on art-making programs for younger audiences include an afternoon for families with children ages 3–11 (January 13, 1–4 p.m.) and a teen studio (January 26, 1-5 p.m.). Both programs are free; for the teen program, advance registration is recommended.
Several exhibition tours ( January 16 and 25, and February 6 and 15, 10:30 a.m.) and "Conversations with…" programs (January 11, and February 8, 11:30 a.m.) have also been scheduled. Space is limited for these events, which are free with Museum admission.
The exhibition will be accompanied by a lavishly illustrated catalogue featuring essays by Met curators from across the Museum. Published by The Metropolitan Museum of Art and distributed by Yale University Press, the book will be available for purchase at The Met Store (hardcover, $50). The catalogue is made possible in part by The Peter Jay Sharp Foundation.
Met curators, conservators, and outside experts will contribute to a series of regular blog posts on the techniques and materials of the jewelry on display. The exhibition will be featured on The Met website, and on Facebook, Twitter, and Instagram.. 
Pages: 1 · 2