States Attack the Pay Gap Between Women and Men; Latinas Earn 54% of What White Men Earn.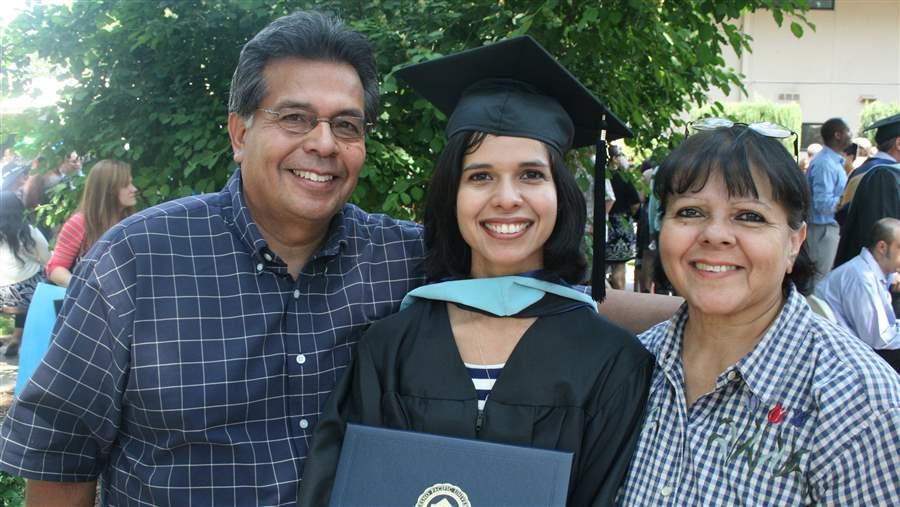 By Teresa Wiltz, Stateline*
Aileen Rizo says she loves what she does. A consultant for the Fresno County Office of Education in California, she teaches educators how to teach math. She's got the experience, 20 years, and the education, two master's degrees.
In 2014, Aileen Rizo, depicted here with her parents sued her employer for wage discrimination after she says she found out her male colleagues were paid much more
But over a casual lunch three years ago, her colleagues shared their salaries. Rizo, 41, the only full-time woman in her office, was startled to discover that some of her male co-workers — including a new hire with less experience and education — were being paid at least $10,000 more than she was. When she confronted her employer, she was told her salary was based on her prior wages. End of story. No negotiating. Rizo sued the county, and her case is pending in US District Court.
While too late to be of any aid to Rizo, the California Legislature this month sent Democratic Gov. Jerry Brown a "pay equity" bill designed to help women in situations like hers. The bill — which some call the strongest of its kind in the nation and Brown has indicated he will sign — attacks the gender wage gap in several ways, including ensuring women who perform similar work receive the same pay as men, even if their job titles are different.
And California isn't alone in acting. In the absence of legislation from the US Congress, the governors of Connecticut, Delaware, Illinois, North Dakota and Oregon have signed equal pay laws this year. New York legislators unanimously passed a bill that Democratic Gov. Andrew Cuomo has indicated he will sign. And Massachusetts has two bills pending.
Equal pay bills also were introduced in 21 other states, but didn't pass, according to the American Association of University Women (AAUW), which has lobbied for the legislation.
"If Congress can't legislate its way out of a paper bag, we'll go to the state legislatures and the city councils," said Lisa Maatz, vice president of government affairs for the AAUW. "State legislators are paying attention."
But some critics, such as Daniel Mitchell of the Cato Institute, a libertarian think tank in Washington, said that the new legislation would put a "catastrophic burden" on businesses.
"The notion that there's some widespread discrimination in the marketplace, there's just no real-world evidence for it," Mitchell said. "They're trying to give the government widespread authority to make very abstract judgments about the value of a job in the private sector."
The move to outlaw disparate pay arrives as new studies indicate that American women earn 79 percent of what men earn doing comparable work. Using white men's earnings as a baseline, the wage gap is even worse for African-American women, who earn 63 percent of what white men earn. Latinas earn 54 percent of what white men earn. Faring better than other minority women, Asian-American women earn 90 percent of what white men earn.
In California, women earn 84 cents for every dollar men earn, according to the National Women's Law Center (NWLC), an advocacy group based in Washington. It is 83 cents in Connecticut, 81 cents in Delaware, 71 cents in North Dakota and 82 cents in Oregon. Louisiana has the biggest gap, with women making 65 cents for every dollar that men make; the District of Columbia has the smallest, with women making 90 cents for every dollar that men do.
State legislation is important because it provides protections for workers and closes loopholes that employers have used to circumvent state and federal laws, said Fatima Goss Graves, a senior vice president at the NWLC.
Nationally, two bills — the Paycheck Fairness Act, which would penalize employers who retaliate against employees for discussing their salaries with their co-workers, and the Fair Pay Act, which would require equal pay for comparable work—are stalled in Congress. 
"States are doing what they can to give workers new tools to address the wage gap," Goss Graves said, adding that some states, such as California, are providing greater protections than the would-be federal laws.
"This can have a spillover effect," Goss Graves said. "The wage gap hasn't changed in a lot of years. Employers pay women less in the same job as men and the laws aren't strong enough to be a deterrent. This is an issue people want a solution to. They don't want to wait another 50 years for the wage gap to close."
While the laws overwhelmingly draw bipartisan support in the statehouses, the California bill faced some pushback for not being inclusive enough. The California chapter of the National Organization for Women opposed it because it didn't protect lesbian, gay, bisexual and transgender people or men of color, who also face wage discrimination.
Pages: 1 · 2