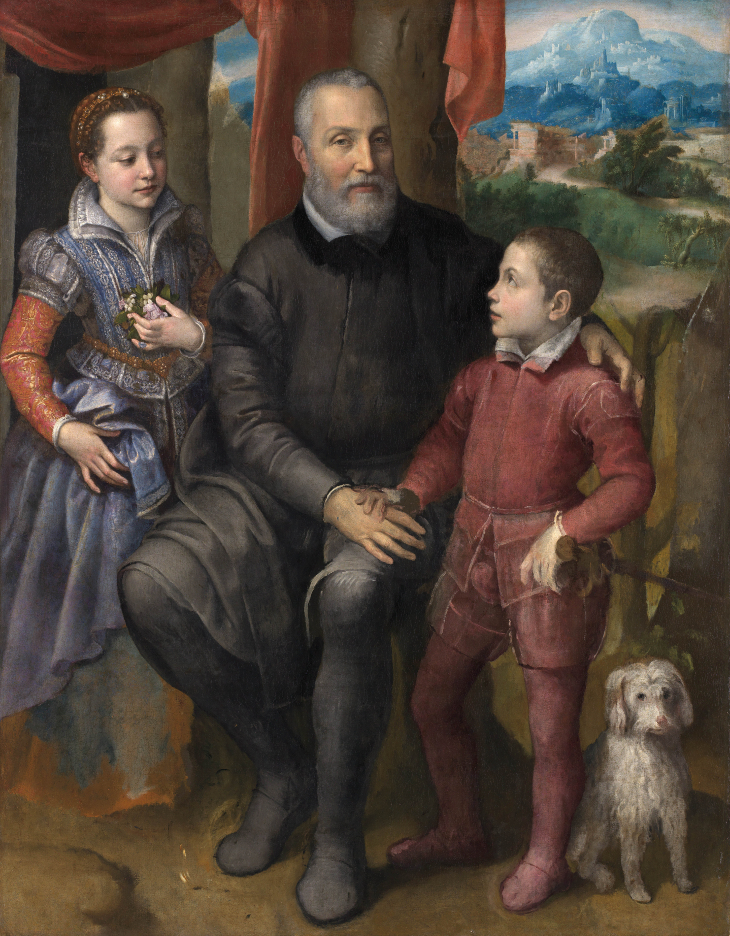 Family Portrait, Sofonisba Anguissola, Oil on canvas, c. 1558; Niva (Denmark), The Nivaagaard Collection
Between the ages of 11 and 13, Sofonisba Anguissola undertook her initial artistic training which followed the educational guidelines established for the aristocracy. She thus received classes in music, dance, literature, drawing and painting, taught for the latter two by the painters Bernardino Campi (1522-1591) and Bernardino Gatti (ca.1495-1576). Anguissola proved outstanding in drawing and above all as a portraitist, practising constantly with her own face and by depicting family members.
Her very thorough training is evident in her numerous self-portraits (more than any other woman had produced up to that date) which reflect feminine ideals of the time: discretion, modesty and prudence. Anguissola produced small, bust-length or half-length images that functioned to disseminate her image and her virtues.
Thanks to her father's diplomacy these self-portraits became "letters of introduction" and rare collector's items which forged Anguissola's early fame as a woman painter. The result was the creation of a legend that other women aimed to emulate, most importantly Lavinia Fontana who in her self-portrait of 1577 reused Anguissola's model in order to emphasise that same status of educated woman and artist.

Queen Anne of Austria, Sofonisba Anguissola, Oil on canvas, c. 1573; Madrid, Museo Nacional del Prado
Prior to her arrival in Spain, Sofonisba Anguissola had painted portraits of various celebrated individuals of the day which demonstrate her early fame and her gifts in a genre in which Venetian and Lombard influences are clearly evident. With the exception of the portrait of the young Massimiliano Stampa, whose image publicly declares his new status as Marquis of Soncino and which reveals the influence on Anguissola of Giovanni Battista Moroni (ca.1525-1578), in all her other portraits the sitters are seated.
Lavinia Fontana opted for this same typology twenty years later in order to portray artists, lawyers, doctors, humanists and clerics. Seated before a desk and shown engaged in intellectual activity (reinforced by the rhetorical gesture of their hands and their lively gazes), the subjects depicted by the two artists reflect a concept fundamental to this period: their auctoritas, meaning the moral and civic prestige attributable to them through their knowledge and dedication.
During the years that she spent at the Spanish court Sofonisba Anguissola occupied the role of teacher of drawing and painting to Isabel de Valois while also executing portraits of almost all the members of the royal family. None of the portraits that she produced in Spain are signed. Anguissola's official position at court was not that of painter and she was in fact "paid" for her works in the form of costly textiles and jewels. The portraits now attributed to her reveal the way in which she adapted her art to the conventions of the Spanish court portrait.
At this date the most important painter at court was Alonso Sánchez Coello (ca.1531-1588), "portraitist to the King", who established the conventions of the court portrait. In addition to the sitter's physical features these images had to express the family's dynastic status and its virtues: the Habsburg distance, serenity and severity.
Anguissola followed these criteria but tempered them through her own artistic background and concerns: an interest in a meticulous description of details; a psychological perception that tempers the distance and restraint characteristic of the Spanish Habsburgs; and an all-enveloping and filtered light which softens the figures' outlines.