Rae Sovereign, an affordable housing activist in East Nashville, said the city is facing an affordability crisis as developers tear down houses to build new rentals. But flippers have played a generally positive role, she said, fixing up battered and sometimes foreclosed homes. "I don't have a problem with people who want to fix up a house for a profit but still make it affordable," she said. Rae said a flipper bought her house for about $40,000, gutted it and rebuilt the interior, then sold it to her for $131,000 six years ago. Today she thinks it's worth about $235,000.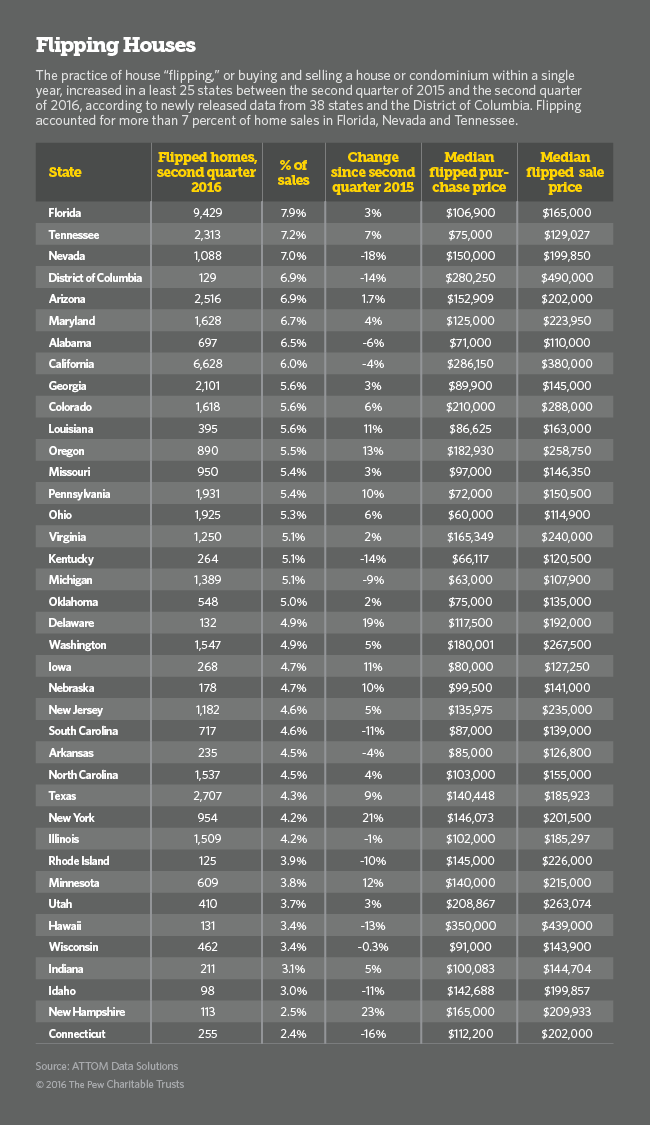 The resurgence of flipping is not helping to ease the affordability crisis everywhere.
A study earlier this year by New York City's Center for NYC Neighborhoods, a public-private partnership that promotes affordable housing, found that affordable housing was becoming harder to find in parts of Queens and Brooklyn where hundreds of homes were flipped last year.
On average, Brooklyn homes bought by flippers in recent years were affordable for families making $75,000 a year — near the typical income for the borough. But by the time they were sold, only families making $150,000 could afford the same house.
"Flipping reduces the quantity of affordable homeownership opportunities on the market by moving homes to significantly higher price points," the study concluded. Typical profits were more than $500,000 per sale in Bushwick, Brooklyn.   Typical flipping profits topped $110,000 in Silicon Valley, San Francisco, Los Angeles and San Diego, California, as well as New York, according to ATTOM's data. The largest flipping profits were in the District of Columbia, where the typical flip netted $209,750.
Prices rose so quickly in the District of Columbia that the district housing authority evicted some low-income tenants and sold their apartments to finance other renovations. Democratic Mayor Muriel Bowser promised last year to investigate whether the city's own flipping practices were hurting her efforts to preserve affordable housing.
Some states, including Idaho, Virginia and Washington, have laws that require house-flippers to register as contractors. In Washington, either the seller of a flipped house or a contractor hired to fix it up must be registered and have a $12,000 bond. "
This way the buyer has some recourse if there's a fire from bad wiring or sewage in the dishwasher because of the plumbing. Those things happened," said Shari Purves-Reiter of Washington state's Department of Labor & Industries. 
In Idaho, a contractor license is required to do rehab work on a house unless it's the homeowner's "primary or secondary residence." There are enforcement problems because of that wording, said Bill Hatch, a spokesman for the state Division of Building Safety. When flippers are questioned, "they invariably come up with something like 'Oh, this is my secondary home,'" Hatch said. The best inspectors can do is to cite repeat offenders, he said.
Pages: 1 · 2