National Institutes of Health (NIH) Launches Harm Reduction Research Network to Prevent Overdose Fatalities
Friday, December 16, 2022: Scientists will test community-based approaches to prevent drug overdoses, curb high death rates.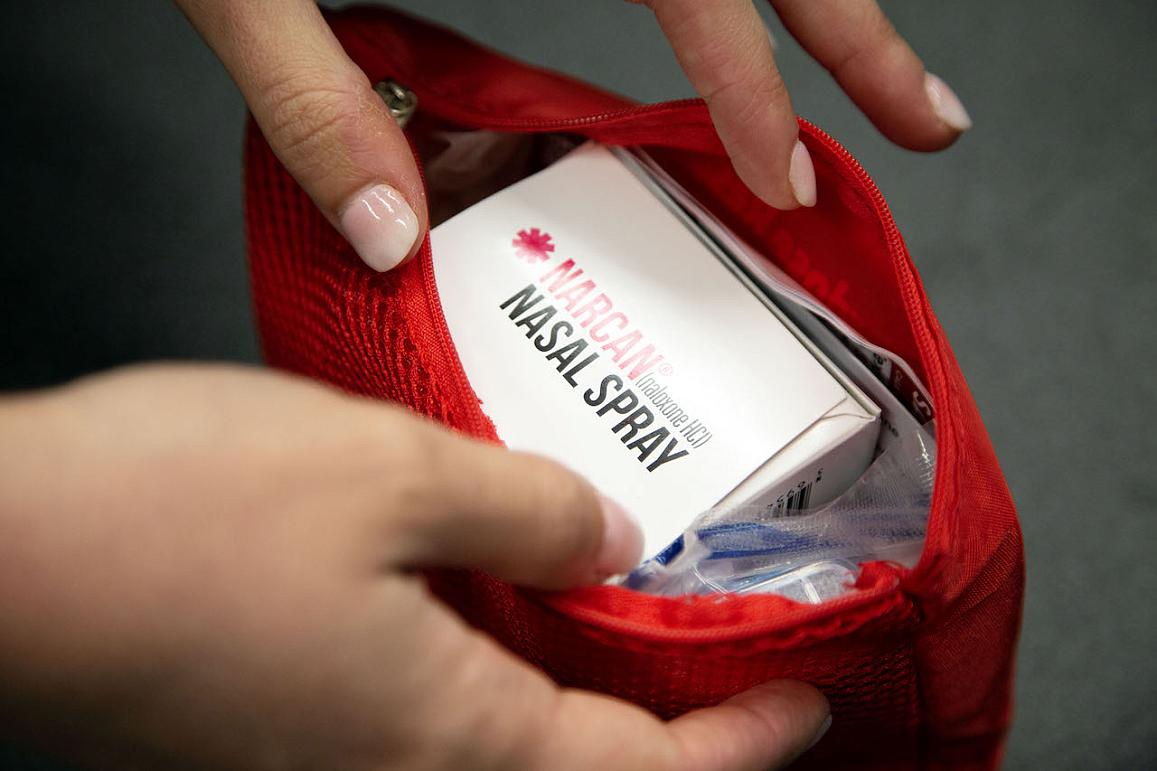 To address the overdose crisis in the United States, the National Institutes of Health has established a research network that will test harm reduction strategies in different community settings to inform efforts to help save lives. The harm reduction research network's efforts build on existing harm reduction research, and represent the largest pool of funding from NIH to date to study harm reduction strategies to address overdose deaths.
Right, person holding package of Narcan Nasal Spray
Harm reduction is an evidence-based, often life-saving approach that directly engages people who use drugs to prevent overdose, disease transmission and other harms. Researchers will test strategies to connect enrolled participants who use drugs with services and treatments and measure the effectiveness of these interventions in reducing overdose deaths and other outcomes.
"Getting people into treatment for substance use disorders is critical, but first, people need to survive to have that choice," said National Institute on Drug Abuse (NIDA) Director Nora D. Volkow, M.D. "Harm reduction services acknowledge this reality by aiming to meet people where they are to improve health, prevent overdoses, save lives and provide treatment options to individuals. Research to better understand how different harm reduction models may work in communities across the country is therefore crucial to address the overdose crisis strategically and effectively."
Funded by the NIH Helping to End Addiction Long-term Initiative, or NIH HEAL Initiative, through NIDA, the awards are expected to total approximately $36 million over five years, pending the availability of funds. Studies will enroll participants to investigate a range of harm reduction approaches, such as distributing naloxone, a lifesaving medication to reverse overdose, and fentanyl test strips, which people can use to determine if drugs are contaminated with fentanyl.
The research network will also examine the efficacy of moving harm reduction services and tools into communities via mobile vans, peer support specialists, internet- and smartphone-based tools and other types of outreach. By offering these services, harm reduction may be a first step interaction that also helps people access treatment for addiction and other healthcare.
Novel forms of harm reduction services may prove helpful in rural areas of the country, where people may need to travel long distances to receive care and services. According to 2020 CDC data(link is external), rural counties experienced 26.2 overdose deaths per 100,000 people, which was only slightly lower than the rates in urban counties (28.6 deaths per 100,000 people); overdose deaths involving psychostimulants(link is external) were higher in rural counties than in urban counties from 2012 through 2020. Additionally, several projects will be aimed at populations disproportionally affected by the negative impacts of drug use, including Black and Latino/Latina communities, and women.
Pages: 1 · 2