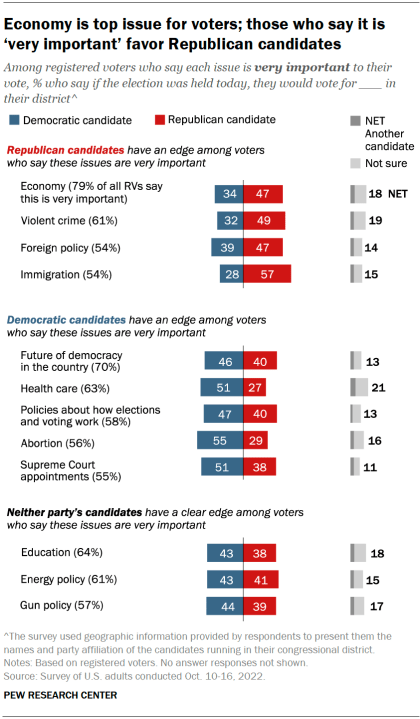 With less than three weeks to go until the midterm elections, registered voters' preferences are nearly evenly divided: 41% say they favor the Democratic candidates in their districts, while a nearly identical percentage (40%) support Republican candidates; 18% are not sure how they will vote or favor candidates other than Republicans or Democrats. And those supporting GOP candidates are somewhat more engaged this election than their Democratic counterparts: They are more likely to have thought "a lot" about the election and to say the outcome "really matters."
As has been the case all year, the economy is clearly the top issue for voters; fully 79% say it will be very important to their voting decisions – the highest share among 18 issues included on the survey. The public continues to take a dim view of current economic conditions. Just 17% of U.S. adults say the economy is in excellent or good shape, little changed from the 13% who said this in July.
Voters' preferences vary widely depending upon the issues they prioritize. Among the wide majority rating the economy as very important, more support Republican candidates than Democratic candidates by double digits (47% to 34%). The GOP's advantages among the narrower majorities of voters who view violent crime and immigration as very important are even wider (17 points and 29 points, respectively).
By contrast, registered voters who say abortion is very important favor Democrats over Republicans by nearly two-to-one (55% to 29%) and Democrats hold a wide lead among voters who prioritize health care (51% to 27%).
A sizable majority of voters (70%) say the "future of democracy in the country" is very important. Democrats hold a narrow lead among these voters: 46% support Democratic candidates, while 40% back Republican candidates.
There has been little change in voters' priorities in recent months. The share who rate abortion as very important is unchanged since August, after rising sharply following the U.S. Supreme Court's ruling that overturned Roe v. Wade.
The new national survey by Pew Research Center was conducted among 5,o98 adults, including 3,993 registered voters, from Oct. 10 to 16, 2022, on the Center's nationally representative American Trends Panel.