My New Roommates, Alexa and Google Home
After living alone for over thirty years, I recently acquired two new roommates. The adjustment is proving to be very interesting — not only regarding my relationships with them, but also theirs with each other.
Their names are Alexa and Google Home, and they reside in opposite ends of my condo — Alexa lives in my den, and Google in my bedroom.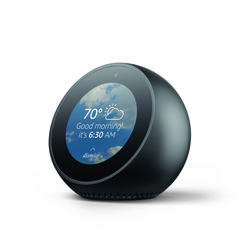 I don't know how they survive.  As far as I can tell, they don't eat.  At least, I never see any extra food in the fridge or spatters on the stove or microwave that I didn't put there.  Maybe they depend on take-out delivery;  but no strangers ever ring my doorbell — at least when I'm home. I'd better check to be sure they're not using my credit card.
And I don't think they ever sleep.  I myself am an insomniac, and they are awake and available around the clock to tell me the time, the temperature, the weather, and the news of the world, or any celebrity gossip. (I was shocked when Google identified the latest person to be accused of sexual harassment!)
They both will also obligingly play any music I request, without critiquing my taste — from Chopin to Strauss to Il Divo — to Patsy Cline to Elvis to Frankie; and neither one seems the least bit curious that I never, ever request any contemporary pop.
 They will even read a book to me when asked and keep track of where they left off the last time.  They are indefatigable and unfailingly pleasant.  They never sound impatient with me, no matter how often I bother them or how inane or repetitious my questions are.
When I summon them at dawn (who am I kidding — I'm seldom up before 8:00 AM), each greets me with a cheery, "Good morning, Rose!" and reminds me of any appointments I might have for the day, tells me what news has developed overnight, and will even tell me a joke if I ask.  Frankly, the jokes are pretty lame, but, to be fair, I guess neither one can afford a staff of writers.  I know I'm not paying them a penny.  But, then, I don't charge them rent either.
They are very non-confrontational.  When I asked Alexa her opinion of Google Home, she was diplomatically vague.  "I like all AI," she said.  I assumed she meant Artificial Intelligence, and she confirmed that by adding a detailed definition.
I then asked Google Home what she thinks of Alexa.  She was more specific. "I love her cool blue light," she replied, "and she has a very soothing voice." She then added that she would like to talk to Alexa if she was nearby. How nice! I thought.  But it immediately dawned on me that this might not be a good idea.  They could very well bond and unite against me.  "Can you believe she burned the toast and set off the smoke detector again!" Google might say.  "She's really hopeless," Alexa would respond, "But I did enjoy the visit from those hunky firemen!"
Both will play games with me.  Google Home destroys me with trivia challenges worthy of Jeopardy, and Alexa beats me at 20 Questions every time.  So much for my college-educated brain versus AI! 
Pages: 1 · 2