More States Lean Toward Medicaid Expansion; Florida and Texas Are Long Shots
The federal government [this week]  approved Indiana's plan to expand Medicaid under the Affordable Care Act, increasing the number of expansion states to 28, plus the District of Columbia. With enrollment starting Feb. 1, Indiana's plan could add an estimated 350,000 low-income adults to the nearly 5 million expected to enroll in the 27 states that expanded Medicaid last year. 
Image of a new vaccine patch that can be self-administered and does not produce biohazardous waste. The microneedles in the patch inject the vaccine into the epidermis layer and then dissolve. Source: Mark Prausnitz, Georgia Tech
In accepting Indiana's plan, the Obama administration demonstrated its determination to increase the number of expansion states, even if it means waiving traditional Medicaid rules. For example, under Indiana's plan, people with incomes above the federal poverty level ($11,670 for an individual) must contribute to a health savings account or be locked out of coverage for six months.  
The penalty for not paying into a health savings account, which has never before been approved by the US Department of Health and Human Services, reflects an important GOP health care tenet: People who receive Medicaid benefits should take personal responsibility for their care. Republican Gov. Mike Pence called his plan "the first-ever consumer-driven health care plan for a low-income population."
Judith Solomon, health policy director at the Center on Budget and Policy Priorities, which advocates for low-income people, noted that Indiana's plan is derived from a successful demonstration project that has been in effect since 2007, so its green light doesn't necessarily apply to other states.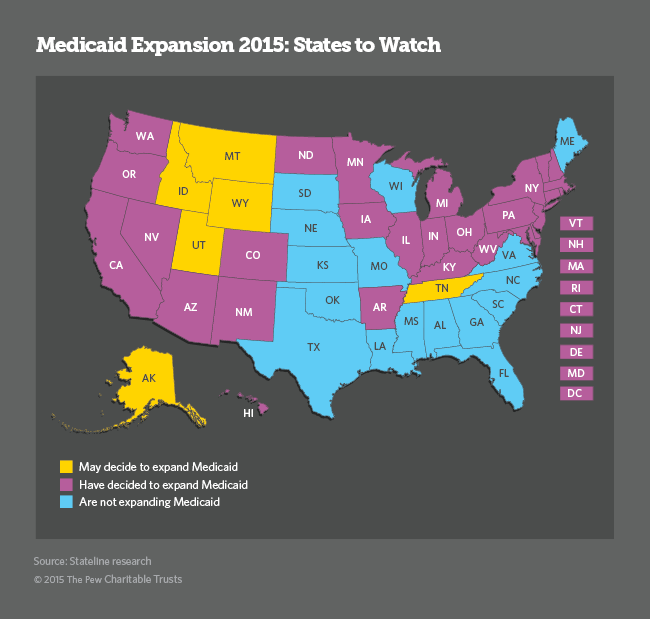 Under the Medicaid expansion that is part of the Affordable Care Act (ACA), the federal government pays the full price for covering newly eligible adults with incomes up to 138 percent of the federal poverty level ($16,105) through 2016 and then gradually lowers its share to 90 percent in 2020 and beyond.
Since the Supreme Court's 2012 decision making Medicaid expansion a state option, the issue has become more political than practical. Despite the offer of billions in federal dollars, Republican governors and lawmakers in many states have rejected the deal, fearing they could lose their jobs if they were seen cooperating with the Obama administration on a law most conservatives disagree with. Some states also worry that even the 10 percent share may be too much for them to afford, or that the federal government will scale back its contribution sometime in the future.