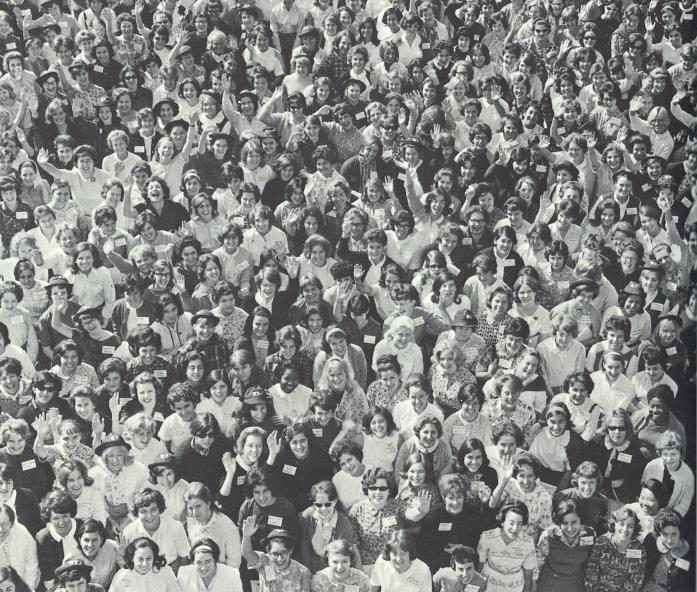 May 5, 2017:  As the University honors the milestone of 125 years of women on campus, the Pembroke Center's Brown Women Speak archive celebrates 35 years of collecting their oral histories.
There were notable exceptions, such as, of course, Mary Emma Woolley, a Brown graduate who went on to serve as the president of Mount Holyoke College, and Ethel Robinson, the first black woman to graduate from Brown, who taught English at Howard University. Helen Butts, from the Class of 1928, taught natural sciences at Smith and later zoology at Wellesley, the beginning of a long and productive career as a biological researcher. Another exception was Betty Stafford, the aunt of my husband, George. She grew up in Providence, earned bachelor's and master's degrees at Brown in mathematics and then rather adventurously headed west, teaching at two universities in Texas in the 1920s before completing her Ph.D. and then teaching at the University of Wisconsin.
Despite the widespread sentiment against women, particularly married women, working outside the home and with the limited opportunities available to them, women did enter the labor force in greater numbers over this period, with participation rates reaching nearly 50 percent for single women by 1930 and nearly 12 percent for married women. This rise suggests that while the incentive, and in many cases the imperative, remained for women to drop out of the labor market at marriage when they could rely on their husband's income, mores were changing. Indeed, these years overlapped with the so-called first wave of the women's movement, when women came together to agitate for change on a variety of social issues, including suffrage and temperance, and which culminated in the ratification of the 19th amendment in 1920 guaranteeing women the right to vote.
Between the 1930s and mid-1970s, women's participation in the economy continued to rise, with the gains primarily owing to an increase in work among married women. By 1970, 50 percent of single women and 40 percent of married women were participating in the labor force.7 Several factors contributed to this rise. First, with the advent of mass high school education, graduation rates rose substantially.8 At the same time, new technologies contributed to an increased demand for clerical workers, and these jobs were increasingly taken on by women. Moreover, because these jobs tended to be cleaner and safer, the stigma attached to work for a married woman diminished. And while there were still marriage bars that forced women out of the labor force, these formal barriers were gradually removed over the period following World War II. Another innovation was the introduction in the late 1940s of part-time schedules, which combined with the proliferation of modern appliances to make it more feasible for married women to work outside the home.9
Over the decades from 1930 to 1970, increasing opportunities also arose for highly educated women, such as the graduates of what was by then called Pembroke College, to work in professions. That said, early in that period, most women still expected to have short careers, and women were still largely viewed as secondary earners whose husbands' careers came first. Thus, while it was becoming more common for women such as Betty Stafford to teach at colleges and universities, their career prospects were not the same as those for men. After earning her Ph.D. at Wisconsin, Betty married a fellow student and over the next decade coauthored five important papers with him and a well-regarded reference work. But, while her husband progressed from instructor to professor at Wisconsin, Betty worked as an instructor on an ad hoc basis. During World War II, while he worked for the government in Washington and New York, Betty stayed in Madison, teaching math to servicemen. When he took a job teaching in California after the war, they divorced, and it was only then that she was a given a position as assistant professor.
As time progressed, attitudes about women working and their employment prospects did change. As women gained experience in the labor force, they increasingly saw that they could balance work and family. A new model of the two-income family emerged.10 Some women began to attend college and graduate school with the expectation of working, whether or not they planned to marry and have families, as did Rita Schorr-Germain, an immigrant who survived Auschwitz, graduated from Pembroke in 1953, and went on to teach European history while her husband also had a successful academic career. In her oral history, Rita says she was encouraged by many Brown professors and never considered the possibility that her gender would stand in the way of an academic career, a shift in outlook that was becoming increasingly common in the 1950s. As did most women's colleges at the time, Pembroke continued to produce nurses, schoolteachers, and social workers, and many women who worked only until they married and had children. But, from the late 1950s on, it also increasingly graduated writers, doctors, lawyers, diplomats, physicians, psychotherapists, and archeologists, and, in 1959, the first female faculty member of Brown University. Among those women fortunate to attend Pembroke in this era of dramatic change was me. I enrolled at Brown fully planning to attend graduate school and have a career, as did many of my classmates in the Class of 1967.
By the 1970s, a dramatic change in women's work lives was under way. In the period after World War II, many women had not expected that they would spend as much of their adult lives working as turned out to be the case. By contrast, in the 1970s young women more commonly expected that they would spend a substantial portion of their lives in the labor force, and they prepared for it, increasing their educational attainment and taking courses and college majors that better equipped them for careers as opposed to just jobs.
In surveys of young people about their expectations of their futures, young women during this era increasingly placed an emphasis on career success.11 Susan Graber Slusky of the Class of 1971 said in her oral history that she chose Pembroke for Brown's excellence in chemistry and physics, because she was already planning the career she went on to have as a researcher. Perhaps unsurprisingly, this is also the period in which many all-male colleges admitted women or combined their women's and men's undergraduate schools, as Brown did when it merged Pembroke and Brown College in 1971.
These changes in attitudes and expectations were supported by other changes under way in society. Workplace protections were enhanced through the passage of the Pregnancy Discrimination Act in 1978 and the recognition of sexual harassment in the workplace. Access to birth control increased, which allowed married couples greater control over the size of their families and young women the ability to delay marriage and to plan children around their educational and work choices.12 And in 1974, women gained, for the first time, the right to apply for credit in their own name without a male co-signer.13
By the early 1990s, the labor force participation rate of prime working-age women--those between the ages of 25 and 54--reached just over 74 percent, compared with roughly 83 percent for prime working-age men. By then, the share of women going into the traditional fields of teaching, nursing, social work, and clerical work declined, and more women were becoming doctors, lawyers, managers, and, yes, professors. As women increased their education and joined industries and occupations formerly dominated by men, the gap in earnings between women and men began to close significantly.14
Positive Spillovers from Women's Increased Participation in the Workforce
Looking back, the story of the past 125 years is one of slow but steady progress toward women's full participation in the economy and the fulfillment of their career goals. Unfortunately, the success of women has often been seen as coming at the expense of men. Indeed, regularly in the late 19th and 20th centuries there were calls to protect men from women's entry into the labor force. The early female graduates of Brown faced such attitudes from fellow students and even from faculty. Ruth Pederson, a member of the Class of 1919, said some professors did not want to teach women and prohibited women from taking their classes. Margery Leonard remembered one Boston University professor who urged her to drop out of law school. When she refused, this professor punished her by forcing her to recite the details of rape and seduction cases before her jeering, stomping classmates. And it wasn't only men who had this attitude. Among the women who were fighting for better labor standards early in the 20th century, many were heavily influenced by elite cultural standards that viewed a woman's place as in the home and argued that men should be paid a "family wage" that would allow them to support their family singlehandedly--a standard that many working-class families could not afford. Moreover, many of the labor protections promoted to protect women were often based on theories about women's weaker nature, and these protections served to circumscribe their work.15 During the Great Depression, limiting women's role in the workforce was considered a way to address the high rates of unemployment, although the experience of those years showed the importance of women in supporting their families financially.16 Similarly, women who had successfully worked during World War II, either as part of the war effort or to support their families while their husbands were fighting, often were pushed out of their jobs to make room for returning soldiers.17
After the war and then single, my relative, Betty Stafford, remained an assistant professor at the University of Wisconsin despite an enviable body of research. She married another Wisconsin professor, an eminent chemist, and collaborated with him on his research. But, in 1954, she gave up her assistant professorship, she said, to be able to accompany her husband on his frequent international travels. Betty later moved with her husband to California, and after his death, she endowed a graduate fellowship in the sciences and a prize in theoretical chemistry. Although Betty's accomplishments were considerable, against the backdrop of increasing opportunity for women over her lifetime I believe that Betty Stafford Hirschfelder was denied opportunities and greater success simply because she was a woman.
Despite the fears of some that women entering into the workforce would crowd out men, the evidence shows that the rise in women's participation has contributed to widespread improvements in the safety and productivity of our workplaces, to the health of families, and to the macroeconomic success that our country has enjoyed over the past 125 years.
In the first decades of the 20th century, the struggle to improve the working conditions of young women drawn into factories was a pillar of the overall movement toward improved labor standards. Women's demands for safer factories, humane workweeks, and higher pay, which were often pursued through organizing and striking, contributed substantially to the social upheaval and public debate of that period that eventually led to the passage of stronger labor standards. These efforts also produced generations of women who went on to be leaders in the broader labor movement and in the broader movements for equality.
The rise in female labor force participation was an early focus of and helped establish the fields of statistics and labor economics in their modern incarnations. Carroll Wright, the first commissioner of what is now known as the Bureau of Labor Statistics and who established the high standards for data collection and analysis for which the bureau is known, devoted his agency's fourth annual report, for the year 1888, to the topic of Working Women in Large Cities.18Moreover, the issues surrounding women's work, such as the minimum wage, pay equity, and maximum workweeks, were topics of great interest to early practitioners of labor economics.19
It is often said that we should welcome women's presence in the workplace because it allows us to capitalize on the talents of our entire population, and this is certainly true. But it is also good business. A number of studies on how groups perform indicate that workforces that vary on dimensions such as gender, race, and ethnicity produce better decisionmaking processes and better outcomes.20
Evidence also suggests that women's work has positive spillovers to their family lives and to the success of their children, which in turn benefits all of society. It is a well-established finding in the literature on development that maternal education and work are positively associated with better health and educational outcomes for children.21 A recent meta-study also suggests that children in the United States with working mothers do as well if not better in school, both academically and behaviorally, than children with mothers that stay home full time. This effect is particularly strong for families that have fewer social and economic resources, including single-parent families.22 As time goes on, girls with working mothers are more likely to be employed and hold supervisory positions, and they earn somewhat more. In addition, sons raised in families with working mothers assume greater childcare responsibilities as adults than sons whose mothers did not work.23