GAO, COVID-19: Significant Improvements Are Needed for Overseeing Relief Funds and Leading Responses to Public Health Emergencies
Fast Facts
In our 9th comprehensive report on the COVID-19 pandemic, we provide updates on topics like pandemic emergency rental assistance and tax relief for businesses. We made 5 recommendations, including ways the Treasury Department can more quickly recover rental assistance overpayments.
We are also adding the Department of Health and Human Services' (HHS) leadership of public health emergencies to our High Risk List. For over a decade, we have found issues with how HHS's leadership prepares for and responds to emergencies, including COVID-19, other infectious diseases, and extreme weather events, such as hurricanes.
Reported Daily Hospitalizations and 7-Day Averages of Patients with Confirmed COVID-19 in the U.S., Aug. 1, 2020–Jan. 6, 2022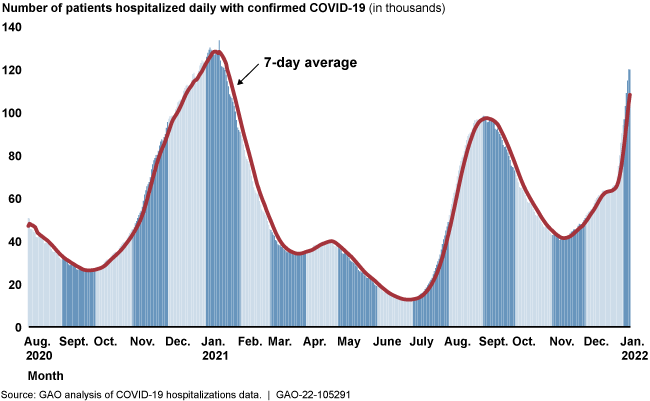 Skip to Highlights
Highlights
What GAO Found
New U.S. COVID-19 cases and virus variants continue to challenge the nation. New daily reported cases increased sharply from December 21, 2021 to January 3, 2022 due primarily to the emergence of the Omicron variant. Cases during this time generally exceeded 380,000, surpassing the daily case rate reported during the emergence of the Delta variant in summer 2021, according to Centers for Disease Control and Prevention (CDC) data. Hospitalizations of individuals with confirmed COVID-19 also increased almost twofold at the end of 2021—from an average of 50,000 daily in late November 2021 to 93,000 daily.
According to CDC data, as of January 3, 2022, about 62 percent of the total U.S. population had been fully vaccinated. In late 2021, FDA expanded COVID-19 vaccine eligibility in multiple ways, including authorizing vaccines for children 5 through 11 years old, and authorizing booster shots for vaccinated individuals 12 years and older. In addition, the federal government and private businesses began requiring COVID-19 vaccination for certain employees.
Reported COVID-19 Vaccinations by Age Group in U.S., as of Jan. 3, 2022
|   | Percentage of population | Percentage of fully vaccinated population |
| --- | --- | --- |
|   | Fully vaccinated | Booster dose |
| 5 years of age and older | 66.1 | Not applicable |
| 12 years of age and older | 71.2 | Not available |
| 18 years of age and older | 72.9 | 37.2 |
| 65 years of age and older | 87.7 | 58.8 |
| Total | 62.1 | 34.3 |
Source: Centers for Disease Control and Prevention (CDC). | GAO-22-105291
Note: CDC counts individuals as being fully vaccinated if they received two doses on different days of the two-dose vaccines or received one dose of the single-dose vaccine.
GAO's COVID-19 reports have provided analyses of broad federal efforts to respond to the pandemic and support U.S. businesses and residents, resulting in 246 total recommendations for improving federal operations. Agencies have fully or partially addressed 38 percent as of December 31, 2021, fully addressing 16 percent (40 recommendations) and partially addressing another 22 percent (54 recommendations). Fully addressing GAO's recommendations will enhance the quality and accountability of federal COVID-19 pandemic response and recovery efforts. GAO also raised four matters for congressional consideration, three of which remain open.
In this report, GAO makes five new recommendations in the areas of emergency rental assistance, nutrition assistance, and tax relief for businesses. GAO is also designating the Department of Health and Human Services' (HHS) leadership and coordination of a range of public health emergencies as high risk. This designation is in keeping with long-standing efforts to identify federal programs needing transformation, and to help ensure sustained executive branch and congressional attention so the nation is prepared for future emergencies.
Emergency Rental Assistance
As of November 30, 2021, the Department of the Treasury had disbursed nearly $38 billion of the $46.55 billion it was appropriated for Emergency Rental Assistance (ERA) programs. These programs provide funds to grantees to administer programs to assist eligible renter households that are unable to pay rent, utilities, or other expenses due, directly or indirectly, to the COVID-19 pandemic. Treasury disburses ERA funds to grantees, such as states, local governments, and tribal governments, which make payments to landlords, households, and others eligible to receive the funds.
Pages: 1 · 2