Colour: The Art and Science of Illuminated Manuscripts at the Fitzwilliam Museum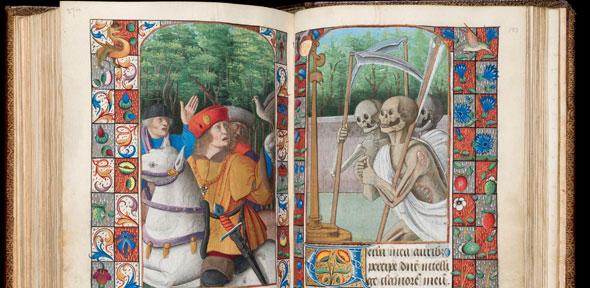 Some of the finest illuminated manuscripts in the world – treasures combining gold and precious pigments – are on display in celebration of the UK's Fitzwilliam Museum's bicentenary.  
The majority of the exhibits are from the Museum's own rich collections, and those from the founding bequest of Viscount Fitzwilliam in 1816 can never leave the building and can only be seen at the Museum. For the first time, the secrets of master illuminators and the sketches hidden beneath the paintings will be revealed in a major exhibition presenting new art historical and scientific research.
Spanning the 8th to the 17th centuries, the 150 manuscripts and fragments in COLOUR: The Art and Science of Illuminated Manuscripts guide us on a journey through time, stopping at leading artistic centres of medieval and Renaissance Europe. Exhibits highlight the incredible diversity of the Fitzwilliam's collection: including local treasures, such as the Macclesfield Psalter made in East Anglia c.1330-1340, a leaf with a self-portrait made by the Oxford illuminator William de Brailes c.1230-1250, and a medieval encyclopaedia made in Paris c.1414 for the Duke of Savoy.
Four years of cutting-edge scientific analysis and discoveries made at the Fitzwilliam have traced the creative process from the illuminators' original ideas through their choice of pigments and painting techniques to the completed masterpieces.
"Leading artists of the Middle Ages and early Renaissance did not think of art and science as opposing disciplines," said curator, Dr. Stella Panayotova, Keeper of Manuscripts and Printed Books. "Instead, drawing on diverse sources of knowledge, they conducted experiments with materials and techniques to create beautiful works that still fascinate us today."
Merging art and science, COLOUR shares the research of MINIARE (Manuscript Illumination: Non-Invasive Analysis, Research and Expertise), an innovative project based at the Fitzwilliam. Collaborating with scholars from the University of Cambridge and international experts, the Museum's curators, scientists and conservators have employed pioneering analytical techniques to identify the materials and methods used by illuminators.
*A young girl wanders round the empty galleries of the Fitzwilliam Museum, awestruck by the collections. She drags her hand along cases, stops in front of displays, and finally finds her way into a historic library where a stunning manuscript is propped open. Its colourful illuminations capture her attention, and make her wonder – how were those paintings made?
The Colourful Page is a short experimental documentary filmed and narrated by Alice Corner exploring the research of conservation scientist Dr Paola Ricciardi, a Research Associate in the Department of Manuscripts and Printed Books at the Fitzwilliam Museum in Cambridge, UK. Her work is part of the MINIARE research project (www.miniare.org) and focuses on the technical analysis of medieval and Renaissance illuminated manuscripts with non-invasive analytical methods.  Researcher: Paola Ricciardi, Department: Fitzwilliam Museum;  Cambridge Shorts
Pages: 1 · 2