Colors of the Universe: Chinese Hardstone Carvings
Tucked away in a discreet corner on the third floor of the Metropolitan Museum of Art is a small room devoted to the display of some 75 Chinese hardstone carvings, all dating from the Qing dynasty (1644-1911) when the craft experienced a resurgence due to imperial patronage.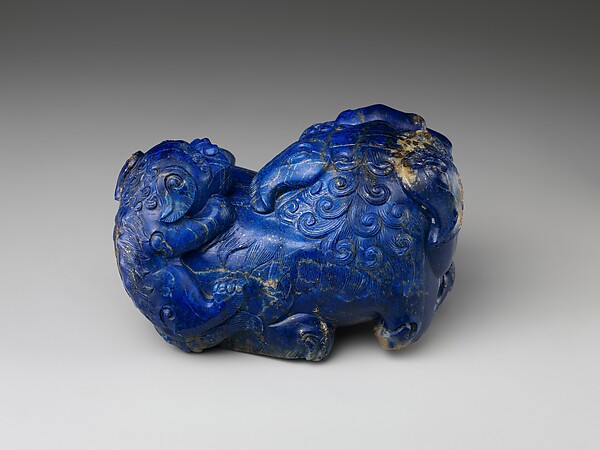 Curators have culled the works from the museum's permanent collection, but most have never been seen before. Colors of the Universe, on view until January 6, 2013, in the Florence and Herbert Irving Galleries for Chinese Decorative Arts, pays homage to an ancient Chinese art form — the art of carving polished gemstones such as jade, malachite, carnelian, coral and lapis lazuli, to name a few. The pieces, some decorative, some utilitarian, are mostly small and depict animals, figures (Buddhas and Daoist immortals, in addition to ordinary mortals), fruits and everyday objects (bowls, vases, ink pots, brush holders and the like).
The carved imagery is highly stylized, drawing on traditional Chinese motifs such as mountains, lotus leaves, dragons, pomegranates, and, most distinctively, the hand of the Buddha (with gorgeous long, idealized fingers). Symbols abound: the peach, signifying longevity, is one favorite motif and is featured in several pieces, notably Water Dropper in the Shape of a Crane (agate), in which the crane grasps a peach branch in its elegant, elongated beak.
The jade pieces, too, are of exceptional beauty and variety, including both nephrite and jadeite and ranging in color from pearly white (Buddha's Hand) to emerald green (Elephant and Two Boys), with a multitude of shades in between (Horse Carrying Books).
Visitors should take special note of two mother-and-child carvings: the exquisite Daoist Immortal and a Boy, crafted from brilliant red coral, and the charming Lion with a Cub, made from lapis lazuli imported from Afghanistan.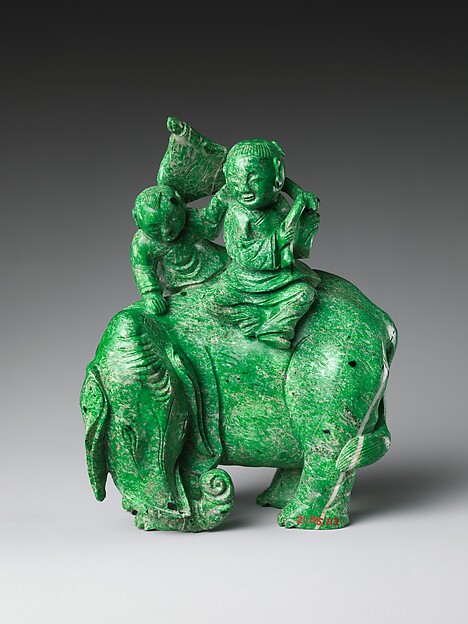 Like everything in this show, they dazzle.
©2012 Val Castronovo for SeniorWomen.com
Objects at the Metropolitan Museum of Art:
Lion and Cub, China, 18th century; medium lapis lazuli. Gift of Heber R. Bishop, 1902
Elephant and Two Boys, China, 19th century; medium Kosmochlor jadeitite. Bequest of Edmund C. Converse, 1921