An Elegant Society: Adam Buck, Artist in the Age of Jane Austen
Adam Buck, First Steps, 1808. Watercolour, 28 x 35 cm. Private collection 
Well-known to collectors and Jane Austen enthusiasts, Irish artist Adam Buck (1759–1833) was one of Regency England's most sought-after portrait painters. He worked in Ireland for twenty years, becoming an accomplished miniaturist; but moved to London in 1795 and immediately gained a roster of star clients including the Duke of York and his scandalous mistress, Mary Anne Clarke. This summer exhibition at the Ashmolean Museum, Oxford, England  continues until 4 October 2015 and celebrates Adam Buck's influence on Georgian art and style, showing over sixty works from private collections including watercolors, small portraits and miniatures, examples of his decorative designs for porcelain and fans, and his prints. Curated by Peter Darvall.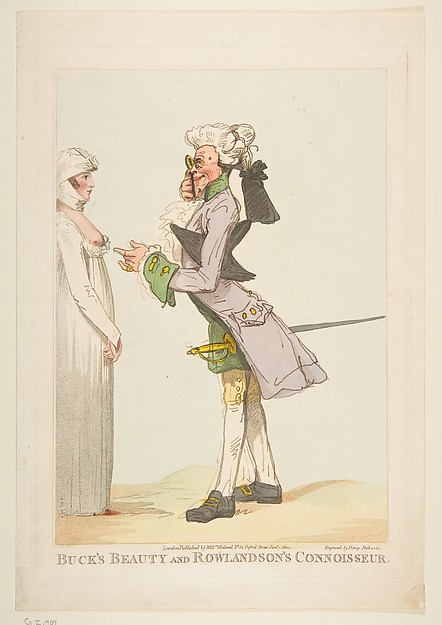 Buck was born to a family of silversmiths in Cork, the second of four surviving children. His younger brother, Frederick (1765–1840), became an established miniature painter who worked in Cork his entire life. Details of Adam's career before he moved to London are elusive, but his early work is in many ways that of the quintessential Regency miniaturist. His first known pictures, dating from the late-1770s to the early-1780s, show an innate appreciation of the established Neoclassical style: his sitters are often shown in profile; their gowns styled like Grecian goddesses; group portraits arranged like a frieze. In emigrating to London in 1795, Buck took the route of many fellow Irishmen including several Cork-born artists and writers such as James Barry (1741 – 1806) and Alexander Pope (1759–1847). Buck's first London home was in Piccadilly. As soon as he arrived, he began to exhibit at the Royal Academy where he showed a surprising total of 179 works over the following 38 years.
Buck's Beauty and Rowlandson's Connoisseur (1800) by artist Piercy Roberts (British, active 1794–1828). The Metropolitan Museum of Art
His success as a society artist was almost instant. By 1799 he had executed a full-length portrait of the Prince of Wales in his Garter Robes. He exhibited two portraits of Prince Frederick, Duke of York, at the Royal Academy in 1804 and 1812. Buck was also introduced to Mary Anne Clarke (1776–1852), the most celebrated of the Duke's well-known mistresses. She was a famous beauty and maintained a fabulous household in London, subsidising her extravagant lifestyle by selling her influence with the Duke who was Commander in Chief of the Army.
Rumours claiming that she could obtain commissions and appointments for a fee culminated in a parliamentary enquiry into the Duke's conduct. While the Duke was ridiculed in caricatures and lampoons, Mary Anne, who put up a spirited defence of her role in the affair, became a public heroine. Her image was circulated in flattering portraits by Buck and other artists which were engraved and widely published. In 1813 she finally overreached herself and was imprisoned for nine months for libel, before leaving the country for Boulogne where she died in 1852.
Mary Ann Clarke; Alicia Lambert © Private Collection
Buck's work was made popular largely through prints after his watercolours, chiefly published in London by William Holland and Rudolph Ackermann. His images, refined and elegant, contrasted with the savage caricatures and ribald pictures of contemporary artists like James Gillray and Isaac Cruikshank. The difference was humorously summed up in a Thomas Rowlandson print with the title, Buck's Beauty and Rowlandson's Connoisseur (1800), in which a rake in wig and frock coat, one of Rowlandson's stock characters, leers through an eye-glass at a demure, pink-cheeked girl, drawn in Buck's distinctive manner.
With his name made in association with the colorful ranks of Regency society, Buck, from 1810 onwards, made a new reputation for himself with his sentimental images of women and children under titles such as The First Steps in Life and Mother's Hope. By 1829 his work had been reproduced by at least twenty-eight different printmakers in England and by several in France and America.