Aging in Place, Co-Housing, Villages, Alternative Housing for Seniors: Grocery Stores, Grab Bars and 'Golden Girls'
 By Jenni Bergal, Stateline, Pew Charitable Trust
© The Pew Charitable Trusts
Golden Girls Carol Gee, Landa Williams, Paula Gee and dog Ace share a suburban home in Overland Park, Kansas.
 Carol Gee loves her sprawling four-bedroom white ranch house in this Kansas City suburb, she sees herself living in it forever.
Just like the Golden Girls, she shares the house with other older, single women. Carol Gee, her sister, Paula, also unmarried and retired, and their close friend Landa Williams, a widow, all are in their mid-60s.
They moved in together for companionship and support. They chose the house because it has lots of room and is a single story, so there are no stairs to climb. Carol Gee purchased it and hired a contractor to add grab bars to the bathrooms and widen hallways and doorways, just in case one of them ends up in a wheelchair.
Someday, they understand, they may not be able to drive. So they made sure to pick a house within walking distance of shops and restaurants.
"We wanted to live near a neighborhood where we could walk to a grocery store and a pharmacy," Carol Gee said. "Any suburb that wants to keep boomers living there, the more little'mini-communities they can create, the better."
Unlike many of her baby boomer peers, Gee is planning ahead. But some of the suburban communities where tens of millions of boomers live — and want to remain — are struggling to do the same.
There is much to do. Most of the 75.4 million boomers live in the suburbs. As they get older and can no longer drive, they will need better public transportation. One study estimated that spending on public transit would have to increase 81 percent, to $8.6 billion, by 2030 to meet the needs of seniors who want to stay in their homes.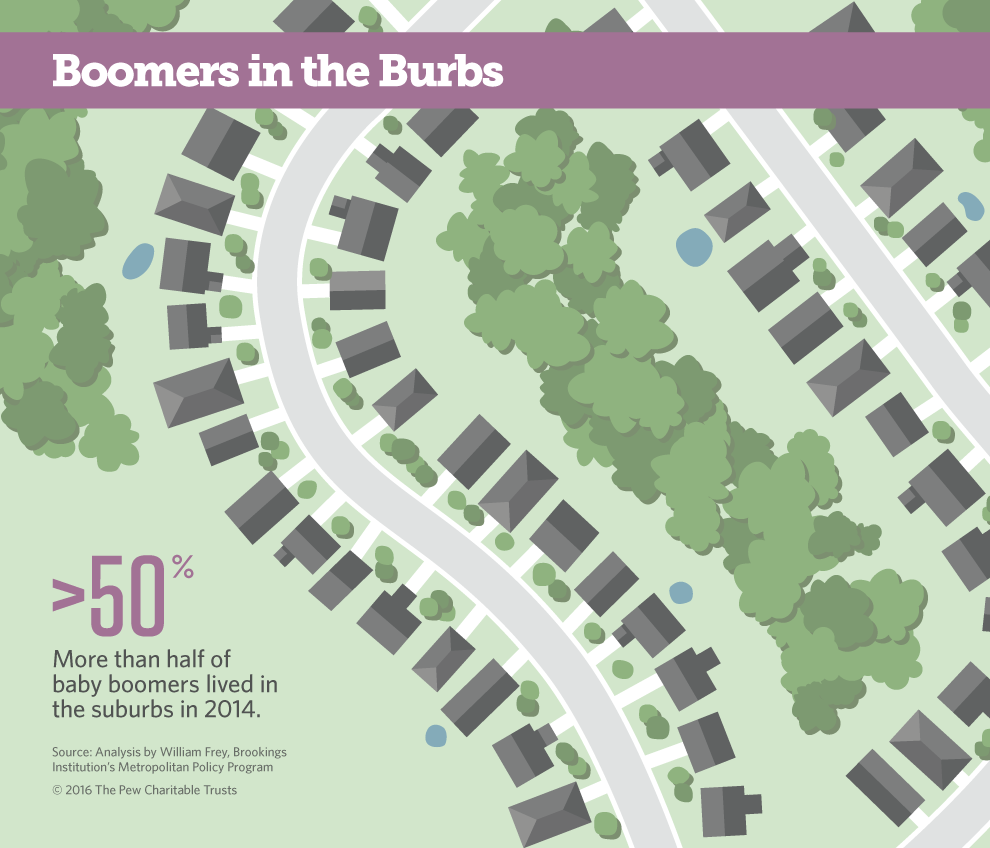 Suburban seniors with less money will need more affordable housing within walking distance of grocery stores and doctors. Local governments may have to help boomers maintain or repair their homes, or else contend with declining property values and tax revenue.