Abstract Painter Alma Thomas Work Resonates With Vibrant Color, Dense Paint and Energetic Pattern
Alma Thomas, Scarlet Sage Dancing a Whirling Dervish, 1976. Acrylic on canvas, 72 × 52 in Courtesy Michael Rosenfeld Gallery LLC, New York, NY
A trailblazer in both her art and her career, the distinguished African-American abstract painter Alma Thomas (1891–1978) is the subject of a major exhibition at The Studio Museum in Harlem, on view to October 30, 2016. Featuring more than fifty paintings and works on paper spanning all phases of the artist's evolving practice, Alma Thomas will offer the first comprehensive overview in almost two decades of this singular artist's achievement.
Thelma Golden, Director and Chief Curator of The Studio Museum in Harlem, said, "Alma Thomas's distinctive fusions of vibrant color, dense paint and energetic pattern remain as influential with artists, and as resonant with audiences, as they were in her remarkable lifetime. For many years a teacher by profession, she continues to teach us through her example about the possibilities of art and of African-American life. We are extraordinarily proud that the Studio Museum can now introduce a new generation of viewers to her work."
Alma Thomas is organized by Lauren Haynes, Associate Curator, Permanent Collection, at The Studio Museum in Harlem, and Ian Berry, Dayton Director of the Frances Young Tang Teaching Museum and Art Gallery at Skidmore College, where the exhibition debuted in February 2016.
The first graduate in fine arts from Howard University, the first African-American woman to have a solo exhibition at the Whitney Museum of American Art and the first African-American woman to be represented in the White House art collection, Alma Thomas was born in Columbus, Georgia, in 1891. In 1907, she moved with her family to Washington, DC to escape growing racial tensions in Georgia and to pursue better educational opportunities. She graduated from Howard University in 1924 and in 1934 received an M.A. in arts education from Columbia University.
Through most of her adult life, when she earned a living as an art teacher at Washington's Shaw Junior High School, she was able to pursue her art only intermittently. But she participated in the late 1940s in Lois Mailou Jones's salons for artists, was instrumental in forming the Barnett-Aden Gallery (at the time one of the country's few private galleries presenting the works of AfricanAmerican artists), took studio classes at American University (from which she received an MFA in 1960) and circulated with noted Color Field painters including Morris Louis and Kenneth Noland. After retiring from Shaw Junior High School in 1960, she at last began to paint full time, at age sixty-nine. Alma Thomas charts the full course of the artist's career from the late 1950s to her death in 1978.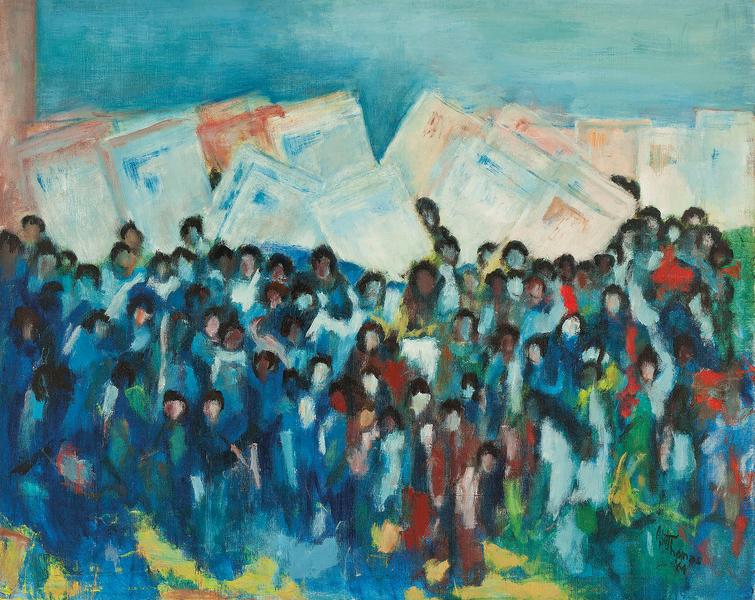 Alma Thomas, March on Washington, 1964. Courtesy Michael Rosenfeld Gallery LLC, New York, NY
Pages: 1 · 2