North Dakota
Photo ID required to vote
Tennessee
More restrictive Photo ID requirement
Virginia:
Photo ID required to vote
Restrictions on third party registration 
Summary of Pending Restrictive Voting Legislation (see a detailed list of passed/pending 2013 bills)
Identification laws

Photo ID laws. At least 22 states have introduced legislation either requiring voters to show photo ID at the polls or making existing photo ID laws more restrictive.[2]

Making voter registration harder. At least seven states have introduced bills to end Election Day or same-day voter registration, limit voter registration mobilization efforts, and reduce other registration opportunities.[4]
Reducing early voting opportunities. At least seven states have introduced bills that limit existing opportunities to vote early in person.[5]
Making it harder to restore voting rights. At least two states have introduced legislation that would further restrict the right to vote to persons with criminal convictions.[6]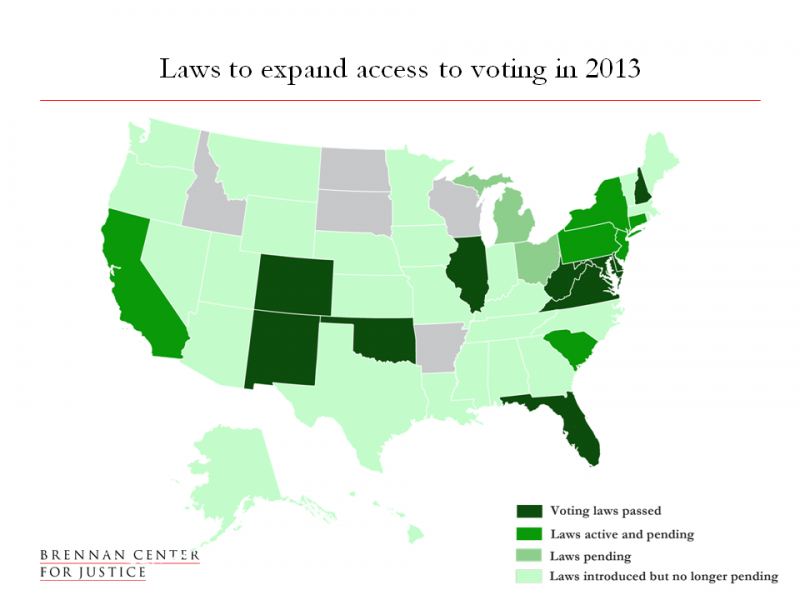 Note: In the cases where more than one piece of expansive legislation has been introduced in a state, the map reflects the state's passed, active, or pending status based on its most active piece of legislation.
A new influx of bills to enhance voter access is drawing support on both sides of the aisle.  Efforts to modernize voter registration are particularly active. The GOP introduced an online registration bill in Pennsylvania and passed such a bill into law in Virginia. And the automation bill that passed in New Mexico was cosponsored by a Republican and a Democrat. Additionally, a wide-ranging bill to modernize voter registration was passed in Colorado.
Expansive Voting Laws Passed in 2013 
Colorado:
Broad-based modernization of voter registration process, including, among other elements, Election Day registration and portable registration. More information is available here.
Preregistration of eligible 16- and 17-year-old citizens.
Delaware:
Constitutional amendment expanding opportunities for people with criminal convictions to regain their right to vote
Florida:
Expansion of early voting opportunities.
Illinois:
Online voter registration
Maryland:
Expansion of early voting, introduction of same-day registration during early voting, study methods to reduce long lines at the polls.